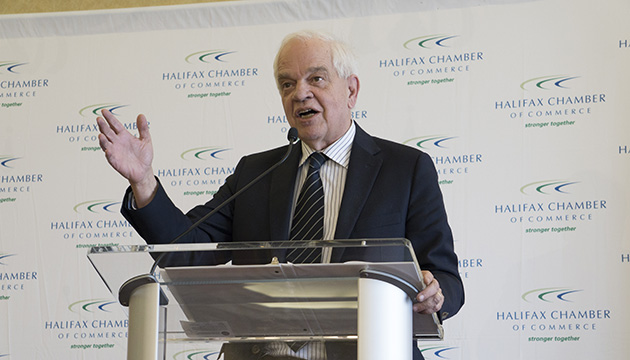 Page 1 of 2
Eleanor Guerrero Campbell: First, tell us more about the Prime Minister's 'Mandate Letters' to his Ministers. Are they merely a repetition of the election platform?
Rey D. Pagtakhan: Mandate letters are more than simply a replica of an election platform. They are official government documents which authorize and order the Minister to implement certain goals and objectives within a certain time frame. An election platform consists of promises championed by a given political party during an election. Mandate letters of a winning political party are expected to reflect and implement in more specific terms the election platform of the winning party.
EGC: What does the Prime Minister say in his Mandate Letter to the Minister of Immigration, Refugees and Citizenship (IRC), Honourable John McCallum, about fulfilling the election promises?
RDP: The Prime Minister acknowledges the election promises in his mandate letter to Minister McCallum:


"Canadians expect us to fulfill our commitments, and it is my expectation that you will do your part in delivering on those promises to Canadians."

Thus, fulfilling the election promises is clearly part of the IRC Minister's individualized marching orders.
EGC: Could we then expect that the Liberals' specific commitments in their election platform are fully mirrored in the IRC Minister's mandate letter?(Readers may wish to refresh their recollection of the litany of commitments in Part I.)
RDP: All commitments, except for the one on remittances, have been re-affirmed in the Minister's mandate letter. Yes, we have identified a potential failure on one specific commitment. I say 'potential' because I am yet waiting for a reply on my request for a progress report directly from the Minister's office and I am yet to exhaust my visit to the Canada Gazette for any regulatory alert respecting this particular issue. Also, there is the consideration of timeline within which to expect delivery on all the promises. I make thislatter point because of what the Prime Minister has also underscored in the mandate letter, that is:


"Our platform guides our government. Over the course of our four-year mandate, I expect us to deliver on all of our commitments."

EGC: We will follow-up later on the issue of remittances. Immigrants and newcomers who send money overseas to help their families need protection against gouging remittance fees.
RDP: I agree. Newcomers are easily vulnerable. Liberals have already acknowledged the gravity of the issue. More so it must be addressed with urgency.
EGC: Meanwhile, what additional importance should we attach to mandate letters beyond being merely the minister's individualized "marching orders"?
RDP: Mandate letters also state the values and performance measures against which the Minister will be held to account, in the case of Prime Minister Trudeau's mandate letter to the CIC Minister, he speaks of the following: the need for constructive dialogue and decency, inclusion and professionalism, openness and transparency, and effectiveness and accountability in governance among ministers, and between them and the public servants, ministerial exempt staff, parliamentary colleagues, media, civil society, stakeholders including business, organized labour, and the not-for-profit and charitable sectors, and the broader Canadian public. Last but not least, the mandate letter speaks of the Minister's duty "to report regularly on the progress toward fulfilling the government's commitments and do their part to fulfill the government's commitment to transparent, merit-based appointments, gender parity and to better reflect Indigenous Canadians and minority groups in positions of leadership."
EGC: That's good to know. We understand that this was an open mandate letter.Was this the first time mandate letters have been made public in Canada?
RDP: Prime Minister Justin Trudeau is the first federal leader to make public the traditionally secret mandate letters for ministers. Some provinces like British Columbia, Alberta, Saskatchewan, New Brunswick and Ontario have paved the way.
Conceivably, public servants could curtail their creativity and be over cautions and altogether afraid to challenge with new evidence government goals that have been published.I do not anticipate such would be the norm since the Prime Minister has clearly emphasized in his 'marching orders' to ministers"torely on public servants for advice…to inform their work by performance measurement and evidence… and to engage constructively and thoughtfully with … the public service."