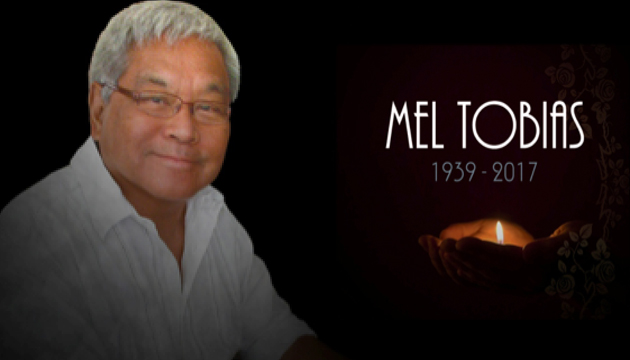 Mel Tobias (1939-2017), a world wanderer, was a man of many parts with many friends who loved him. He was always looking for "a place where his spirit can run free." He found "his corner of the sky" in Vancouver, British Columbia. He became the quintessential Vancouverite – learning, earning, yearning and living for life. He made every minute of his life count.
Mel's international career started on November 16, 1969 when he left Manila at age 29 and a high-profile academic job as Director of External Affairs at the Asian Institute of Management (AIM). An only child, university educated in an exclusive boys' school, financially stable, envied and admired by his peers, over-protected and spoiled by loving parents, he wanted to recreate himself in a place where no one was judged by his birthright or pedigree. That place was Hong Kong, just an hour and a half away by plane from Manila, where people were too busy to talk about the past because what mattered only was the present.
In Hong Kong Mel worked as Promotions Director at San Miguel (Hong Kong) Brewery and as a film writer for many publications. He was the only one in Hong Kong who organized film screenings with complimentary Magnolia ice cream. He was a movie critic with connections all over the world and was a regular at the Cannes Film Festivals in the South of France. He authored a trilogy of books on Asian cinema: Flashbacks: Hong Kong Cinema After Bruce Lee, Memoirs of an Asian Moviegoer, and One Hundred Acclaimed Tagalog Movies.
Mel moved to Canada on November 16, 1993 and settled in Vancouver where he practiced his many moving parts as movie critic, lifestyle and entertainment editor, author, foreign correspondent, amateur actor, broadcaster, festivalier, impresario for the arts, proprietor of a vintage collectibles boutique, frustrated saloon singer, gourmet who knew where all the good eating places were, and an avid collector of esoteric and nostalgia recordings and books. In his last article for CFNet and Dahong Pilipino titled, "Filipinos in Lotusland," about the history of Filipinos in Canada particularly in Vancouver, he would likely belong to the third group of expatriate Filipinos that he called "The Nouveau Immigrants" who arrived in the 1990s.
In Vancouver Mel created for himself a family of friends who shared with him the joyful life of living it and bonded with him through the power of friendship. We at CFNet and Dahong Pilipino are honoured to be part of his vast Vancouver family.

Precious Mel, your passing has left a big hole in my heart that cannot be filled no matter how much I eat of the Lotus plant which you said could "induce a dreamy and contented state." I will miss your thoughtful phone calls and generous time spent with us in illness when we needed a caring shoulder to lean on. I will remember you most every holiday throughout the year when you were always the first to call with your best wishes. God bless, dearest friend. We love you.

Eleanor and Prod, grieving with your heartbroken Vancouver family

Through a Vancouverite eyes: Filipinos in Lotusland
By Mel Tobias

Filipinos are passionate travellers, cinema lovers and shoppers. They explore the world either as tourists or immigrants. Filipinos have also romanticized the idea that living abroad can be a prime status symbol, a socio-economic elevation revered perhaps with a distorted sense of value. To be in the U.S.A., complete with green card and recently acquired American accent, can be a passport to the patronizing social columns of countless publications in Manila and in the ethnic press abroad. It could also mean hello hamburgers, goodbye bagoong and adobo, "I am from Makati, my cousin is a congressman, and a general too, and my uncle was an extra in a Joseph Estrada movie."

The transformation is complete with substitutions for provincial-sounding names. Thus, Encarnacion becomes Emmy after the TV awards, Milagros turns into Millie after a movie star, Miguelito becomes Mike and Mang Nicolas is now Sir Nick, after Nolte.
In the past, most Filipinos dreamed about residing in America, supposedly the land of milk and honey, money, streets paved with gold, bargain basement prices and fake Gucci. But these illusions are shattered as alternatives appear, from Hong Kong to Australia, Italy to Spain. Now many Pinoys have discovered the vast Canadian landscape, totaling 9,976,186 sq. kms. as compared to the Philippines' total of 300,000 sq. kms of land area.

It is now fashionable for a Filipino to boast of having relations in Canada, where Filipino immigration is rapidly rising. Vancouver, B.C. is much preferred over the bustle of Toronto, or the French-inspired lifestyle in Montreal and Quebec.

According to Canada Census in 1995, Filipino Canadians numbered 300,000 nationwide, with 40,000 in British Columbia. Last year, The Philippine Chronicle, the largest Filipino-Canadian newspaper in B.C., conducted an informal survey and estimated that the local Filipino community had grown to over 65,000. This would include thousands of Filipino Canadians who relocated to British Columbia from other provinces for economic or social reasons, as well as to enjoy the mild weather that is quite similar to that of San Francisco with less rain.

So why Vancouver, often referred to as Lotusland by Canadians east of the Rocky Mountains? Perhaps it is the slow-paced, laid-back way of life. It's a place where you can watch your toes while sipping a latte in the lotus position, and where no one admonishes you for not doing something more active, or something that may generate income. But hey, remember that eating of the lotus plant is supposed to induce a dreamy and contented state.

Types of Filipino immigrants in Vancouver
Some come to Vancouver for money and employment; others do so for the pleasures of living. The local cult of leisure encourages activities such as skiing, year-round golfing, fishing, sailing, cycling, or just contemplating one's coffee in countless cafes. Indulging in a "mind's-eye" view of sea birds catching fish can also be a legitimate part of the daily routine. Vancouver is still rated as the World's Most Livable City over 192 other cities, with a list of 42 factors considered such as political stability, economic outlook, culture, and health and education resources. Some Filipinos come over by choice rather than necessity, drawn as they are by the environment, Vancouver's greatest treasure. For Vancouver is certainly not Disneyland or Las Vegas, thank God for that.
Residents are generally polite, to the point of being bland. They value privacy - yours and theirs, which means they leave you alone. They also value and respect human rights, yours and theirs. Compared to other cities around the world, Vancouver's environment remains clean, green and inviting. It is the perfect place to raise a family and enjoy semi-retirement.

Filipinos in Vancouver can be classified into four types. The first recorded Filipino immigrants into B.C. were a family of six who officially landed in 1958. They were followed by professionals, doctors and nurses, laborers, or war veterans seeking better socio-economic opportunity and fuelled by a desire to sponsor the rest of the family. After all, in the provinces of the Philippines, having a successful relative abroad meant an upgrading of one's social standing in the community.

Early settlers arriving in the '50s and '60s have retained a strong Filipino working-class identification in their religious, cultural, and often outdated provincial traits. Most are now in their 70s and 80s. They still dominate their families and can be more Filipino than the Filipinos back home. They can be categorized as the old timers or The Traditionalists.

The second wave of Filipinos came in the early '70s and '80s, many as domestic helpers (caregivers, to be politically correct). These arrivals were the politicized immigrants and activists who were against the Marcos regime or the Aquino administration. This group injected into Vancouver a more visible presence, and a more political and progressive outlook. They helped eradicate the image of the servile Pinoy previously held by North Americans. This group may be called The Exiles, or the Canadianized Filipinos.
Coming from the upper- or middle-income groups, the Exiles infused new blood into the city, advocating reforms within both the Philippine ethnic and mainstream communities. These Canadianized Filipinos totally adapted to their new life in Canada, although they retain a strong emotional bond with the Philippines. Often they still do business in an informal fashion, meaning they are habitually late for engagements, while bill payments are taken lightly owing to perceived interpersonal relationships. The Exiles, with their dual patriotism and loyalties, have become less militant in thought and have adjusted after having enjoyed the fruits of their past efforts.

The third group of expatriate Filipinos is more varied and cosmopolitan in their outlook. Either they are simply adventurous, or are seeking a better quality of life. Many belong to the world-weary era of baby boomers, and are now fully aware that Generation X has taken over. Some are wealthy and pragmatic Chinese-Filipino businessmen seeking both personal and business safety. They are alert to contemporary expectations and are cognizant of the '90s boom in the Pacific Rim let alone that Vancouver is centrally situated to serve the future. This group is mostly in their 30s to 50s, with some being early retirees. I call them The Newcomers or The Nouveau Immigrants. They have a global vision, are more flexible, and can very easily assimilate into the Canadian way of life. They do not depend on Filipino groups for emotional, social, or cultural support.

The fourth category would be the Second Generation Pinoys who look Filipino but are actually Canadian Gen-X'ers. Many do not speak Tagalog, and are afraid of being dominated by parents and grandparents who still hold on to old ideals and traditions. Many lack direction in life, not unlike the Gen-X'ers from other ethnic or mainstream groups. Among these are long-term students hesitant or unable to find entry into a career path. Others, while often highly educated, hold low-paying jobs mainly in the service sector. Economically, they survive at subsistence levels by sharing living costs with friends, or are subsidized by family.

Contradictions abound with this Generation X group. While rejecting the realities of hard work and sacrifice that were the lot of their parents, they want to enjoy the benefits of economic independence. No clear explanation of this dichotomy has emerged from books on the subject, including the bestseller Generation-X authored by Vancouverite Douglas Coupland. Critics say they are spineless and lack drive. Others say they are caught in a world of rapidly changing technology, ethics and morals. Perhaps not surprisingly, this group is genuinely interested in rediscovering their Filipino roots.

Uniting Filipinos abroad is difficult, often nearly impossible. Filipinos multiply, but will never unify. Young and old, poor and rich, educated and illiterate just don't mix easily in Philippine society, and the same is true abroad. However, as consumers, Filipinos can be a potent market. In Canada there are more than 300 Filipino Canadian community organizations, and over 25 Filipino Canadian newspapers or tabloids - when perhaps five of each would suffice - each with a sense of commitment, collaboration, and dedication to unite, inform, educate, and advance the growing society of Filipino Canadians.

In the 2011 National Household Survey, 662,600 people reported being of Filipino ethnic origin. Filipino Canadians are the third largest subgroup of the overseas Filipinos and one of the fastest growing groups in Canada. From 2006 to 2015, 321,742 new permanent residents from the Philippines landed in Canada. About 120,000 of those immigrants of Philippine ancestry reside in British Columbia in 2017.

Vancouver is home to the second largest Filipino community in Canada with nearly 94,000 Filipinos residing in the Greater Vancouver Area where the jobs are concentrated. About one in five Filipinos in Canada call Metro Vancouver home. Filipinos in Vancouver make up the third largest Asian Canadian and visible minority group behind the Chinese and South Asians. They contribute to the city's economy greatly like many of the Asian-Canadians. Indeed, they have taken roots in Lotusland.
(This article was originally published by Publico, Inc. of Pasig City, Metro Manila, Philippines in 1999. It has been revised and retitled by Dahong Pilipino to update it to 2017.)