(This is Part 21 of Dr. Pagtakhan's column, Medisina at Politika, on Covid 19.)
December 16, 2020 - Pfizer/BioNTech's COVID-19 vaccine, safe and effective, is here! At long last we have a major tool with which to help curb and contain the deadly pandemic in all its aspects – the devastating medical, social, financial and economic consequences.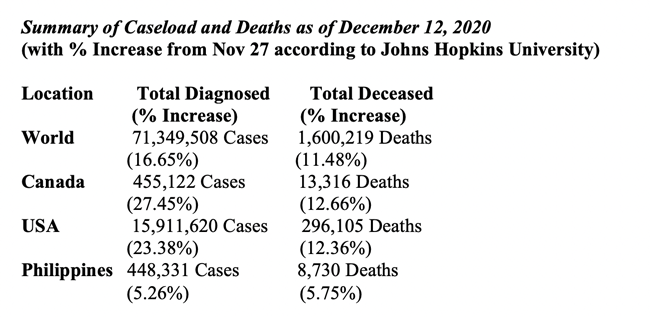 Let us, at this juncture, remind ourselves of the current grim situation in Canada and in the world. The past half month has shown no reprieve from the pandemic as new cases and deaths kept increasing.
Globally, more than 10 million citizens have been added to the infected group and close to 165,000 more added to the list of the dead that now total to just over 71 million cases and 1.6 million deaths, respectively. The caseload for USA is over 3 million more (about 200,000 cases daily) and new notices of deaths have averaged more than 2,100 daily, making the total caseload closer to 16 million and death toll closer to 300,000. The Philippines's share of cases and deaths increased by a little over 5 percent. Canada has been hit hard during the past two weeks, averaging 6,500 cases and nearly 100 deaths daily.
Three Alarming Headlines
"Canada on track for 12,000 daily COVID-19 cases by January as first vaccines arrive Monday"
- Laura Stone: Globe and Mail. December 11, 2020; and


"Canada could see close to 15K deaths by Christmas Day"
- Rachel Aiello: CTV News. December 11, 2020


Alberta is leading Canada's brutal second wave of COVID infections. How did we get here?
- Jason Herring: Calgary Herald. December 12, 2020
These projection numbers reflect the alarming surges ahead and invite us all to heed the advisories from public health authorities. Let us not be the cause of illness and death of others.
A Triumph of Science and Human Commitment
Now the good news. Health Canada has certified that the Pfizer/BioNTech's COVID-19 vaccine has met the safety, efficacy, and quality control standards required. The Interim Order (IO) signed on December 9 makes Canada the second country in the Western nations greenlight said vaccine, a week later after Britain had given its approval on the 2nd day of the month, and a day earlier before the United States of America gave its Emergency-Use Authorization (EUA)on the 10th.
"This is a triumph," aptly wrote Drs. ER Rubin and DL Longo in their editorial on the accompanying scientific paper, Safety and Efficacy of the BNT162b2 mRNA Covid-19 Vaccine (called Pfizer/BioNTech's COVID-19 vaccine in the lay press) published in the December 12, 2020 issue of the New England Journal of Medicine (NEJM). It continues: "What appears to be a dramatic success for vaccination holds the promise of saving uncounted lives and giving us a pathway out of what has been a global disaster."
Indeed, these are landmark and gratifying moments for humanity that now is in the midst of one of the worst global public health emergencies. It is in this context that I would like to discuss in some detail the story about the Pfizer/BioNTech's COVID-19 vaccine clinical trial and how the regulatory process adopted the rolling review approach to its application for interim order or emergency use. Now the country has started to embark on mass vaccination to help contain the worsening pandemic. Hopefully, we would have the adequate supply of vaccines early in the new year, enough to move from targeted vaccination due to scarcity of supply to full swing nationwide campaign. We need to vaccinate at least 70% of the population to achieve the desired community or population immunity (also known as herd immunity). By sharing more details about the results of the clinical trial on the safety and efficacy of the vaccine and about the standards and requirements to be met before an interim order or emergency-use is permitted by the regulatory agencies – by having this greater transparency on the data and the process – we can help strengthen public trust in the vaccine and achieve the desired vaccination level for population immunity.
What Is an IO or EUA?
Canada's IO and U.S.A.'s EUA are not exactly the same. Their goals, however, are identical: to ensure a vaccine approved for public use is both safe and efficacious. Britain, Canada, and USA have their regulatory agencies for specified emergency certification of certain products – in contrast to full licensure – during a public health emergency. In Canada, the authority rests with Health Canada's "Interim Order (IO) Respecting the Importation, Sale, and Advertising of Drugs for Use in Relation to COVID-19" signed by the Minister of Health on September 16, 2020. These agencies could permit the use of a vaccine, pending completion of the full clinical trial.
There is a high degree of equivalency among the three national agencies. The standards they require for safety are much higher for a vaccine than for a drug to treat a specific illness. And that is because a vaccine is given to millions of healthy people rather than a drug for the duration of an illness in a limited number of patients. The higher standard is crucial in maintaining public trust in vaccines and vaccination.
Understanding the Requirements for Granting IO or EUA:
It is truly reassuring that this particular vaccine had received the scrutiny for interim use not only by Health Canada but by the two other agencies – the US and the U.K.
Based on the vaccine data that Pfizer/BioNTech vaccine-maker had (i) published in the New England Journal of Medicine, issue of December 10, 2020; (ii) filed with Health Canada and subsequently analyzed and released to the general public; and (iii) released to the mainstream media, we can be assured that Pfizer/BioNTech's COVID-19 vaccine has met the requirements for interim order. Below are the four basic requisites:
A grave national public health threat exists;
There is reason to believe that the vaccine will be effective in preventing serious illness or death;
The known or potential benefits from the vaccine outweigh the risks; and
There is no adequate, approved, and available alternative
Evidently, the unmitigated COVID-19 pandemic and the Pfizer/BioNTech's vaccine favorable data provide the basic rationale for an IO or EUA. Moreover, the vaccine data and the vaccine-maker have satisfied the following four additional prerequisites:
The specified minimum efficacy of 50% has been substantially exceeded;
The specified minimum period of safety follow-up before interim order or emergency-use application has been met;
The pharmaceutical companies have provided data on the production of the vaccine, including the manufacturing process and quality controls, and the supply chain; and
Plans for continued safety follow-up have been provided.
According to Dr. Supriya Sharma, the chief medical advisor to the Health Minister, three scientific teams usually review a candidate-vaccine and the review process takes years to finalize.To speed up the review of application without sacrificing safety, Health Canada had allowed a "rolling review" of application, as earlier indicated by Minister of Health Patty Hajdu. This new approach significantly cut on the processing time by allowing completed segments of data to be filed and immediately reviewed.
The Pfizer/BioNTech COVID-19 Vaccine Clinical Trial
This is a double-blind, randomized, controlled clinical trial of this vaccine. The preliminary results have been published as a scientific paper, Safety and Efficacy of the BNT162b2 mRNA Covid-19 Vaccine (referred to as Pfizer/BioNTech 's COVID-19 vaccine in the lay press) in the December 12, 2020 issue of the New England Journal of Medicine (NEJM).
The clinical study had recruited 43,448 participants who were randomized at 152 sites in six countries: 130 sites in the United States; 9 in Turkey; 6 in Germany; 4 in South Africa; 2 in Brazil; and 1 in Argentina. They were 16 years and older, with the median age of 52 years, and 42% of whom were older than 55 years of age. Forty-nine percent (49%) were female, 83% were White, 9% were Black or African American, 28% were Hispanic or Latinx, 35% were obese, and
21% had at least one coexisting condition. They were healthy and those with chronic medical conditions were stable. Key exclusion criteria included a medical history of Covid-19.
"The primary outcomes were safety and the incidence of symptomatic Covid-19 with onset occurring at least a week after the second dose of vaccine or saline placebo,
They had been followed over a 2-month period at the time the data were submitted for an EUA applicationin the U.S. or for IO use in Canada. This preliminary report on the clinical trial forms the basis for the published article.
The accompanying editorial by Dr. EJ Rubin and Dr. DL Longo, SARS-CoV-2 Vaccination — An Ounce (Actually, Much Less) of Preventions summarizes the safety and the efficacy of the vaccine and reflects their review of the scientific paper. [SARS-CoV-2 is the acronym for Severe Acute Respiratory Syndrome Corona Virus 2 – the COVID virus.]While the clinical investigators and authors of the clinical trial have designed the study to follow participants for both safety and efficacy for 2 years after the second dose, the editors' analysis and commentary could only reflect on the data as gathered over the 2-month period and, therefore, has the usual limitations of a preliminary report.
Although the study was designed to follow participants for safety and efficacy for 2 years after the second dose, it is now acknowledged that given 1) the demonstrated high vaccine efficacy with no serious concern about safety and 2) the recommendation and encouragement by public health authorities for the public to participate in the planned mass vaccination program, it appears apparent that ethical and practical considerations would prevent following placebo recipients for 2 years without offering active immunization. Thus, assessment of long-term safety and efficacy for this vaccine – while it will occur – cannot now be done in the context of maintaining a placebo group for the originally planned follow-up period of 2 years after the second dose.
The diagram below shows the temporal relationship between the doses of vaccination and the development of full immunity.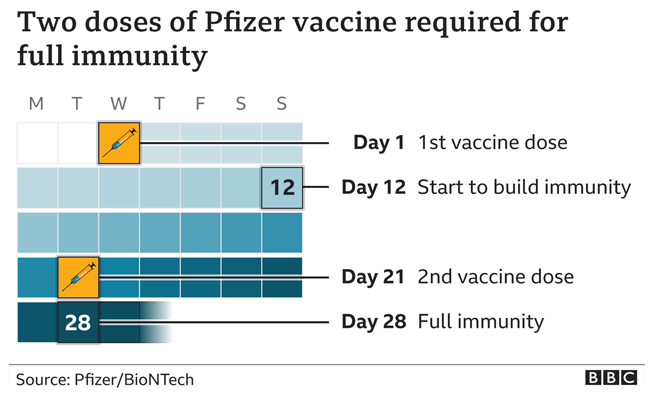 On the Safety of Vaccine
I distill and literally quote from the NEJM editorial and the investigators' original article to comment on the safety of vaccine:
"Site staff observed the clinical trail participants for 30 minutes after vaccination for any acute reactions. Participants recorded in daily diaries any adverse events they experienced over a 2-month period. Adverse events are either solicited or unsolicited (those reported with or without prompts from the electronic diary, respectively). Safety data through approximately 14 weeks after the second dose are included in this report.
"Most of the events consisted of mostly transient and mild local reactions: injection-site pain, swelling and redness which resolved within 1 to 2 days.
"Systemic reactions such as fever, fatigue, headache, and lymphadenopathy were uncommon and were reported more often by younger vaccine recipients (16 to 55 years of age) than by older recipients (more than 55 years of age). But when seen, they were more common and severe after the second dose than after the first. Lymphadenopathy generally resolved within 10 days.
"The incidence of serious adverse events was similar in the vaccine and placebo groups (0.6% and 0.5%, respectively). Two vaccine and four placebo recipients died from either arteriosclerosis, cardiac arrest, hemorrhagic stroke, and myocardial infarction, but no deaths were considered by the investigators to be related to the vaccine or placebo. No Covid-19–associated deaths were observed.
"This trial and its preliminary report have several limitations. The follow-up time of 2 months at this juncture does not allow for detection of less common adverse events reliably. Safety monitoring will continue for 2 years after administration of the second dose.
"Since only about 20,000 participants have received this vaccine, important questions of course remain: Will unexpected safety issues arise when the number grows to millions and possibly billions of people? Will side effects emerge with longer follow-up?"
Summed up the editorial: "The level of safety the vaccine has demonstrated thus far is remarkable. With this number of participants and this follow-up period, safety does not arouse specific concern."
[I note here that the recent (December 8) British experience of adverse events in two patients with history of serious allergic reactions at the start of their vaccination program has led them to advise not to give, henceforth, the vaccine to those with similar allergy history.]
On the Efficacy of Vaccine
"In this clinical trial, 21,720 participants received the vaccine and 21,728 received placebo. Both groups received two intramuscular injections spaced 21 days apart. They notified trial sites if they had symptoms that were consistent with Covid-19, and they were tested to diagnose infection.
"The first primary end point was the efficacy of the vaccine against confirmed Covid-19; the second primary end point was efficacy in participants with and participants without evidence of prior infection. Confirmed Covid-19 is defined according to the Food and Drug Administration (FDA) criteria as the presence of at least one of the following symptoms: fever, new or increased cough, new or increased shortness of breath, chills, new or increased muscle pain, new loss of taste or smell, sore throat, diarrhea, or vomiting, combined with a respiratory specimen obtained during the symptomatic period or within 4 days before or after it that was positive for SARS-COV-2.
"Major secondary end points included the efficacy of the vaccine against severe Covid-19. Severe Covid-19 is defined by the FDA as confirmed Covid-19 with one of the following additional features: clinical signs at rest that are indicative of severe systemic illness; respiratory failure; evidence of shock; significant acute renal, hepatic, or neurologic dysfunction; admission to an intensive care unit; or death.
"The findings include the first 170 cases of Covid-19 detected in the primary population. In the analysis, only 8 cases of Covid-19 were seen in the vaccine group, as compared with 162 in the placebo group. This calculates to an overall efficacy of 95% (with acredible interval of 90.3 to 97.6%). Efficacy appeared to be similar in low-risk and high-risk persons, including some from communities that have been disproportionately affected by disease, and in participants older than 55 years of age and those younger than 55. The rate of asymptomatic disease (that is, infected by the virus but without symptoms) has not yet been reported. More comprehensive information on the duration of protection remain to be determined. Nevertheless, the trial results to date are impressive enough to hold up in any conceivable analysis. This is a triumph.
"Of course, important questions remain. Implementing a vaccine that requires two doses is challenging. What happens to the inevitable large number of recipients who miss their second dose? How long will the vaccine remain effective? Does the vaccine prevent asymptomatic disease and limit transmission? And what about the groups of people who were not represented in this trial, such as children, pregnant women, and immunocompromised patients of various sorts?"
Supply and Distribution of Vaccine Supply
"The logistic challenges of delivering this particular vaccine remains daunting. Its requirement for storage at −70°C may limit its deployment in some areas of Canada. However, we can have great confidence that Major-General Dany Fortin, a former NATO commander who is leading the distribution, will deliver to the logistic challenge. He said that "doses of Pfizer-BioNTech's COVID-19 vaccine will be here shortly and will be delivered to 14 hubs in the country.
Finding the best strategy for the initial rollout of the vaccines can be a complex task. The allocation of the scarce supply of vaccines is best guided by three ethical principles, namely: 1.) benefit to protect and promote the public's health and socioeconomic well-being; 2.) equal concern so that every person be considered and treated as having equal dignity, worth, and value; and 3.) mitigation of health inequities to explicitly address the higher burden of Covid-19 in populations at high risk of exposure and compounding health inequities. In addition, there are three procedural principles that should also govern the choice: 1.) fairness; 2.) transparency; and 3.) evidence-based.
I believe Canada's decision to distribute to provinces based on the per capita formula and to target groups based on vulnerabilities and essential urgent needs reflects the foundational principles alluded to above.CBC News and Public Health Agency of Canada have published this diagram to show the per-capita distribution among provinces of these first 249,000 doses.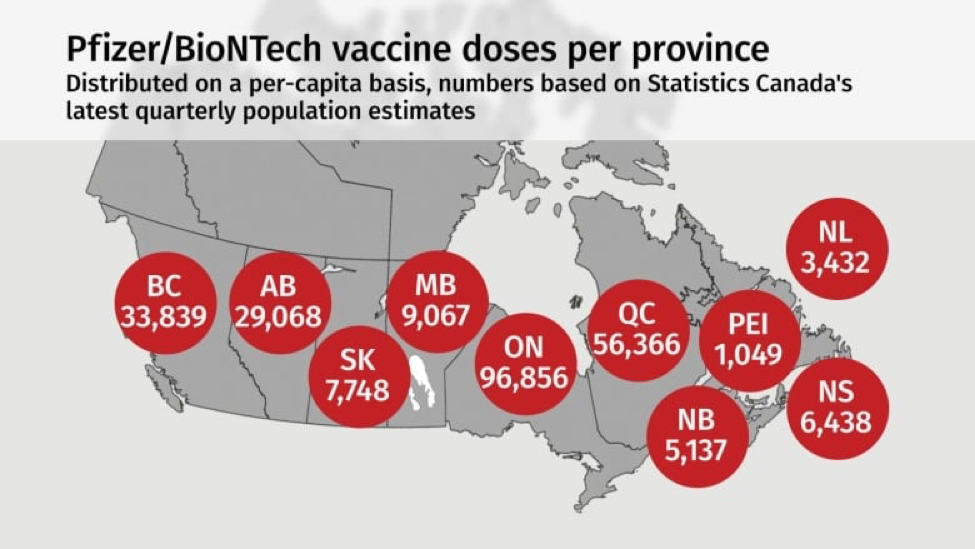 When the provincial allocations are distributed, who would be targeted to receive them first? The diagram below shows the targeted groups and reflects the recommendation of the National Advisory Committee on Immunization (NACI).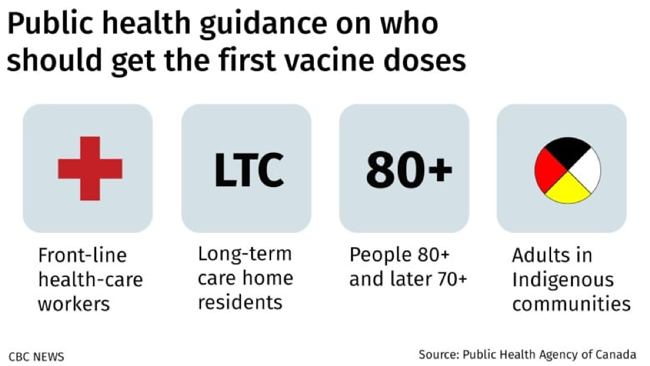 Finally, the diagram below portrays vaccination timeline we envision with respect to pan-Canadian immunization by the end of the coming year 2021.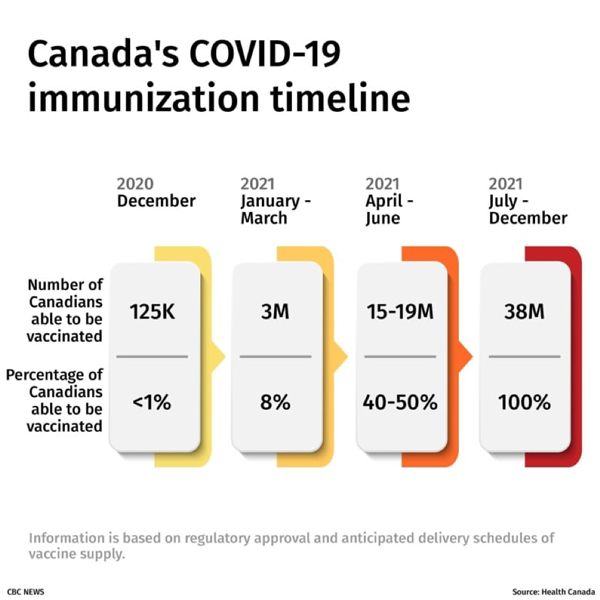 ---
(Rey D. Pagtakhan, P.C., O.M., LL.D., Sc.D., M.Sc., M.D. – a retired lung specialist and professor and former cabinet minister and Parliamentary Secretary to the Prime Minister – graduated from the University of the Philippines and did postgraduate studies/training at Washington University, University of Manitoba and University of Arizona. He had authored/co-authored chapters and papers for medical textbooks and journals and presently writes the column"Medisina at Politika" for two community publications. Widely lectured, he spokeon "The Global Threat of Infectious Diseases" at the G-8 Science Ministers/Advisors Meeting on June 13-15, 2003 in Berlin, Germany. This email address is being protected from spambots. You need JavaScript enabled to view it.
---
Canadian Filipino Net is an independent, non-profit digital magazine produced by volunteer writers, editors and web masters. You can subscribe for free. To keep us going, we need your help. Donations of as little as $5 or $10 will go a long way so we can continuously write and publish stories about Canadian Filipinos. Just click on a donate button and proceed either through PayPal, Debit or Credit Card. You will receive a receipt at the end of the transaction. Thank you for your support.