The Nanaimo Art Gallery is holding an exhibit exploring how languages "transform, evolve, disappear, and rebound".
The show titled athut/Words Bounce is the gallery's final exhibition around the theme, how can we speak differently.
Canadian Filipino artist Patrick Cruz is one of three exhibitors in the show that opened on January 24, 2019.
Cruz's floor-to-ceiling mural called Step Mother Tongue is featured in the exhibit that runs until March 31 this year.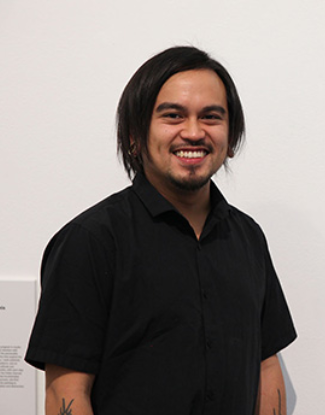 In a media release in advance of the show, the Nanaimo Art Gallery noted that the Toronto-based Cruz "employs a maximalist approach to painting and sculptural installation that engages cultural and linguistic hybridities".
Cruz has done earlier versions of Step Mother Tongue, and has executed a new iteration for the Nanaimo, B.C. show.
"Recent projects under the title Step Mother Tongue include immersive floor to ceiling wall paintings of glyphs and symbols inspired by graffiti, cave drawings, alchemical symbols, and written languages, including the pre-contact Tagalog syllabary Baybayin," the gallery noted in the media release.
"In athut / Words Bounce Cruz will create a new version of Step Mother Tongue that will include ceramic vessels based on an ancient pottery practice called Pagburnayan from the Northern-West region of the Philippines," the gallery continued. "Cruz thinks of clay as akin to language—they both possess a physicality that is malleable.
"For this installation, potters from the Nanaimo area have been commissioned to make vessels, translated from images of Pagburnayan pots, that will then be painted by Cruz," according to the gallery. "The Nanaimo Step Mother Tongue installation will also be activated during the exhibition with poetry readings, language classes, and other events."
The word 'athut' in the show's title is Indigenous.
"The Hul'q'umi'num title, athut, was provided by Gary Manson and Adam Manson, language advocates from the Snuneymuxw Nation," the gallery explained. "athut is not a translation of Words Bounce, but rather a parallel title responding to the exhibition on its own terms."
In a report by the Nanaimo News Bulletin, Cruz explained the concept behind Step Mother Tongue means.
"The title refers to how the Spanish colonized the Philippines and basically took our original language and replaced it with Spanish, therefore Spanish became our stepmother tongue to a point," Cruz said. "And then when Americans came and took out Spanish, replaced it with English, that also became another stepmother tongue."
"So in a way it's kind of about that narrative of replacing languages and hybridizing them … where the translation is lost but there's some familiarity with it," Cruz said in the Nanaimo News Bulletin report.
The two other artists in athut/Words Bounce are Joi T. Arcand, and Susan Hiller.
Arcand is from Muskeg Lake Cree Nation in central Saskatchewan, Treaty 6 Territory. She currently resides in Ottawa.
"Through photographs, sculptural installations and public artworks, Arcand centralises the revitalization of the Nēhiyawēwin (Plains Cree) language in her work," according to the gallery.
Hiller is originally from Talahasse Florida, and she lives and works in the United Kingdom.
"Her work often engages intersections between language and technology," according to the gallery. "athut / Words Bounce features Lost and Found (2016) an immersive video installation built around an audio compilation of voices speaking in 23 different languages, including Aramaic, Comanche, Livonian and other endangered idioms."
---
Canadian Filipino Net is an independent, non-profit digital magazine produced by volunteer writers, editors and web masters. You can subscribe for free. To keep us going, we need your help. Donations of as little as $5 or $10 will go a long way so we can continuously write and publish stories about Canadian Filipinos. Just click on a donate button and proceed either through PayPal, Debit or Credit Card. You will receive a receipt at the end of the transaction. Thank you for your support.