February 1, 2021 – "Matchmaker, matchmaker, make me a match!" So goes a line from the musical Fiddler on the Roof's iconic "Matchmaker" song. And doing just that is what matchmaker, relationship expert and dating coach Carmelia Ray has been doing for close to three decades.
Ray not only maintains her matchmaking business on https://www.carmeliaray.com/ which has more than ten professionals in her team, but also currently produces The Better Love podcast and not too long ago, hosted and produced TV reality series Mom vs Matchmaker which aired for four seasons until 2019. "I am so grateful for the opportunity to share a sneak peak of the challenging work involved with matchmaking millennials and competing against opinionated and competitive moms!" She likewise is the chief matchmaker and partner of Censio, an AI matchmaking app based in LA.
Based in Toronto, Ray was born in the Philippines but moved to Canada with two brothers and their parents David, who was the eldest of 12 siblings, and mom Lucy, who was the eldest of 11. "My parents were the first in their families to leave the Philippines to start a better life in Canada," intimates Ray in an exclusive with Canadian Filipino Net (CFNet). In a tribute to her dad David who passed away in 2020, she remarked, "I gave my parents a hard time in my teens (especially) and he struggled to teach me his ways at times. I inherited dad's stubborn genes."
At age 20, Ray already knew what her career would be. "I applied for a job as a matchmaker and quickly fell in love with helping people and connecting people to their life partner," shares Ray who is also a proud mom to four kids: Mikayla (22), Brandon (16), Nilia (4) and stepdaughter Candace (21).
Of her children, she adds, "My kids have only known me as a matchmaker as I've been working in the dating industry since 1992. I have already been my kids' "dating coach" and confidante. When I was hired to be the host of my own reality TV show Mom vs Matchmaker, the kids actually thought it was cool to see their mom on TV and in the media."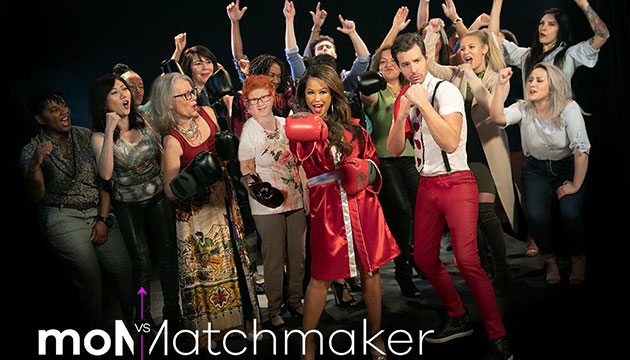 Hosted by Carmelia Ray, Mom vs. Matchmaker challenged moms to find suitable dates for the show's contestants for four seasons. Image by Mom vs Matchmaker via Facebook.
Ray also talks openly with her children about relationships. In fact, daughter Mikayla guested in one of Ray's The Better Love podcast talking about her first break-up from her high school sweetheart and the lessons she learned about love and relationships.
Ray has been busy guesting on shows such as Breakfast Television (BT) Toronto and CNN's HLN where she shares tips on dating and on maintaining healthy relationships during the pandemic.
Ray notes that physical distancing actually helps couples in taking things slowly while dating. In an interview with BT Toronto, she observed, "This is a time for people to choose true compatibility beyond what is physical." She likens the pandemic to cuffing season when the weather is cold and people prefer company than being on their own. Alluding to online dating apps, she adds, "During COVID, it's natural for someone to seek a partner and a steady partner versus doing this swiping thing."
Ray tells CFNet, "The pandemic has really highlighted the need for singles to connect. Many singles who are in isolation are also feeling lonely and would rather quarantine with someone special than on their own."
Having worked with Filipinos in Canada and the US, Ray also shares with CFNet that "Filipino men and women are typically traditional with lifestyle and personality requests," adding that Filipino women in particular are generally concerned about their safety and privacy. "Also, they ask a lot of question about when it is appropriate to move the relationship forward physically."
The tireless, self-proclaimed serial entrepreneur recently launched a digital matchmaking academy in October 2020 with business partner and dating coach Hunt Ethridge to train new and existing matchmakers in the industry, focusing on the business operations cycle of matchmaking and date coaching. Ray quips, "I love the business of love!"
---
---
Canadian Filipino Net is an independent, non-profit digital magazine produced by volunteer writers, editors and web masters. You can subscribe for free. To keep us going, we need your help. Donations of as little as $5 or $10 will go a long way so we can continuously write and publish stories about Canadian Filipinos. Just click on a donate button and proceed either through PayPal, Debit or Credit Card. You will receive a receipt at the end of the transaction. Thank you for your support.