January 16, 2021 - In 2018, the provincial government of Alberta announced the appointment of its first Advocate for Persons with Disabilities.
Tony Flores, a Canadian-Filipino and an international para-athlete, was given the task to raise awareness of the rights of Albertans with disabilities and the services available to them.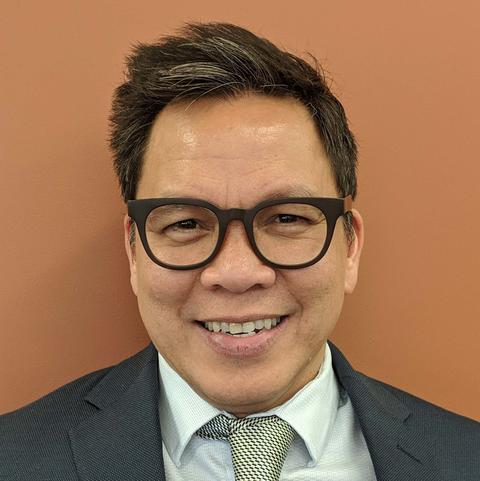 Tony Flores competed internationally as a Canadian para-athlete. Photo by Alberta government.
"We have a road ahead to become full equal citizens in our communities, but I believe we can make this happen," Flores said at the announcement on October 30, 2018.
Flores has no use of his right leg. He moved to Canada from the Philippines with his parents when he was 18 years old.
As a para-athlete, he competed as a wheelchair racer. He also contended in para-nordic skiing. An elite athlete, Flores was a member of Canada's national para-canoe team from 2009 to 2013.
Flores also holds a bachelors of arts degree in economics and political science.
"We can make this happen by making voices of Albertans with disabilities central to all that we do, following nothing about us without us," Flores said at the 2018 announcement of his appointment by the Alberta government.
On his office's website, Flores is described as a "self-advocate who believes strongly in empowering people with disabilities to reach their full potential".
Flores is an "accomplished athlete, has extensive experience working with a non-profit organization and has volunteered – both locally and internationally – mentoring and coaching athletes with disabilities".
Flores' story has inspired a new picture book titled Tony's Wheels.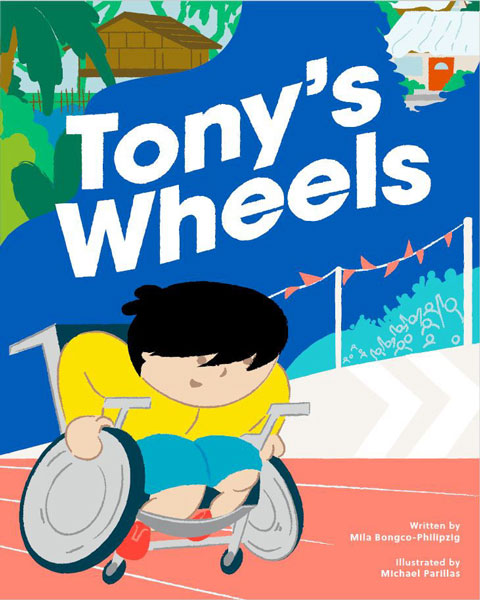 Tony's Wheels is written in English and Tagalog.
Written in both English and Tagalog, the book was authored by Mila Bongco-Philipzig.
Bongco-Philipzig has authored other bilingual children's books celebrating migration, culture, traditions, and travel.
She was born and raised in Manila. She now lives in Edmonton with husband Jan and son Mats.
Tony's Wheels was illustrated by Michael Parillas, a graphic designer raised in Canada in a Filipino household.
The book was published by Anak Publishing. The work is supported by the Edmonton Arts Council, and the City of Edmonton.
Bongco-Philipzig has known Flores for a long time.
After Flores' appointment, the author reported on this landmark event in the Alberta Filipino Journal.
In her 2018 report, Bongco-Philipzig recalled that the para-athlete traces his roots to the town of Camalig in the Bicol region of the Philippines.
Bongco-Philipzig wrote:
"I was so happy for Tony when this announcement was made last week. I remembered when we first met at the University of Alberta about 35 years ago. Tony was completing a Bachelor of Arts in Economics and Political Science and I had just started graduate studies on Comparative Literature. We were contemplating the future, and were cautiously optimistic, but also very realistic. Edmonton was not as diverse then as it is now. 35 years ago, if you were a female Asian or an Asian with a disability, you became very much aware of the additional challenges and difficulties ahead of you. Tony's disability is an atrophied leg due to contacting polio when he was 3 years old. When he graduated from university, Tony weighed only 96 lbs. and yet, he did not let his disability stop him from shaping his future.
"He decided to get stronger and was working out at the university gym when he met wheelchair-bound athletes who got him interested in para-sports. Soon, Tony took up wheelchair racing. This changed his life — he became more and more serious with para-sports and ended up competing in elite levels and national competitions. In addition to wheelchair racing, Tony competed locally and internationally in para-Nordic skiing, and he also became a member of the national team for para-canoeing".
Bongco- Philipzig also related the work Flores did for people with disabilities:
"Despite the demands of training as an athlete on a national level, Tony volunteered in many non-profit organizations. He was active in the International Wheelchair Foundation based in Calgary that provided equipment as well as training programmes for athletes from Tahanang Walang Hagdan back in the Philippines. More recently, he was a member of the Board of Directors for Alberta Sport Connect, advocating for equal opportunities for para-athletes. He has also served as the Director General for the Whang Youn Dai Achievement Award for eight Paralympic Games. Tony also took the time to mentor other athletes with disabilities, both locally and internationally – for example, China and the Philippines, to name a few countries."
Bongco- Philipzig likewise provided a glimpse about Flores' immigrant family:
"Tony is the eighth of nine children from Tony and Teresita 'Tita' Flores. When she was still alive, Nanay Tita was always welcoming to newcomers in Edmonton. She was very generous with her time and her cooking, feeding poor students like me, and other newcomers who did not have families here. Tony's dad did not say much but was just as hospitable and helpful. He was principled and upright, and doled out advice one could rely on."
For more details: http://www.anakpublishing.ca/TonysWheels.html
---
Canadian Filipino Net is an independent, non-profit digital magazine produced by volunteer writers, editors and web masters. You can subscribe for free. To keep us going, we need your help. Donations of as little as $5 or $10 will go a long way so we can continuously write and publish stories about Canadian Filipinos. Just click on a donate button and proceed either through PayPal, Debit or Credit Card. You will receive a receipt at the end of the transaction. Thank you for your support.