This is the second of four installments of a series about a Via Rail train trip labelled The Canadian or Le Canadien, which you can board at Vancouver and take all the way to Toronto.
At around 3 a.m. on May 17, 2018, my journey across the continent began. People from all over the world do this train journey as part of their bucket list. I decided to return from Toronto to Vancouver by The Canadian as well. I was back on June 3, 2018.
Each way was 4,466 kilometres. It takes four to five nights, and three to four days if without stop depending on train traffic. I did two breaks - a few days in Winnipeg, Manitoba on the way to Toronto. Back to Vancouver, I hopped off Saskatoon, Saskatchewan. I chose these cities in provinces I have not touch foot on. I have wandered in Alberta in earlier road trips. Part I of this series was about the Vancouver to Winnipeg segment. Part II talks about the Winnipeg to Toronto train ride and the sights and tastes of Toronto.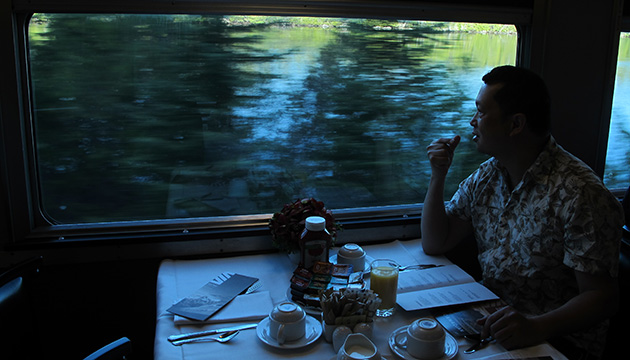 Planning My Trip
To prepare yourself for the trip, I suggest watching several Via Rail related train videos on YouTube – I found the most comprehensive one was called Mighty Trains - The Canadian, produced by Discovery Canada (view the full 46-minute version).
At Vancouver's Public Library, I borrowed an excellent 2016 edition book titled Canada By Train by Chris Hanus and John Shaske.
Watching the video and reading the book made me super-excited about my adventure.
By the way, The Canadian or Le Canadian is featured at the back of a $10 denomination banknote as the Via Rail travels through the Canadian Rockies.
I re-boarded Via Rail from Winnipeg to Toronto – to repeat the delightful experiences I had two days ago.
All Aboard at Winnipeg of "Friendly Manitoba"
Although I was going to Winnipeg and later Toronto, for me the destination was the train itself – the adventure begins the second you board The Canadian.
Winnipeg was a compact yet friendly city living up to the province's slogan "friendly Manitoba" seen on car plates.
I was scheduled to leave Winnipeg bound for Toronto at 9:30 p.m. Sunday but the train arrived 10 hours later the following morning at around 7:30 a.m. To check train status you can go to Via Rail's web site https://www.viarail.ca/en/plan-your-trip/departures-arrivals or https://asm.transitdocs.com/ .
This time I was assigned to a highly compact cabin. During the day you have a comfortable sofa and with a tug down on a lever on the wall, the murphy-style bed settles down tucking the chair mysteriously underneath. The roomette has a wash sink and a toilet seat with a faux leather cover thereby doubling as a footrest or a stool. For viewing while lying down, the roomette is the best as the bed foot to head is alongside the window. This means I am always looking in the same direction to where the train is going while still lying on bed with my head on the pillow. I slept and woke up to the passing panorama. There were nights when I would just look out for an hour or so until I doze off. Mornings would always be a surprise as to where we were. This is unlike in other cabins where the bed is perpendicular to the views.
Each train car in Via Rail has a name, which were noted administrators and explorers during the earliest days of British colonial era in what is Canada now. You will see a short bio plaque along the turn corner wall in every car.
The trip from Winnipeg to Toronto will take you through the Canadian Shield, which is the exposed portion of the continental crust covering most of Central Canada. The huge area is in the shape of a shield used by soldiers in the Middle Ages – hence the name. You can tell you are going through the shield with the multitude of rivers and lakes – which also means you have entered the province of Ontario.
We got into Toronto two nights later at around 11 p.m.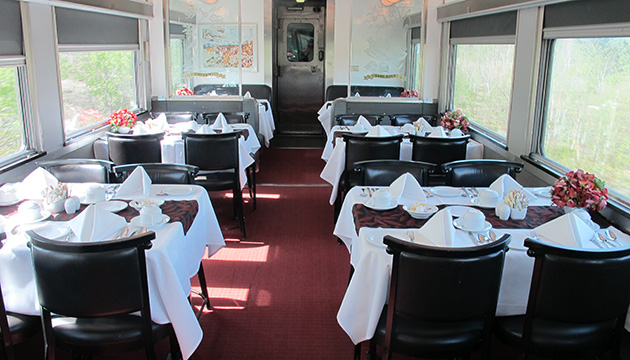 Toronto at "Yours To Discover Ontario"
The largest city in Canada, Toronto in Ontario is big and does project like New York City in many ways as many claim, except the buildings in Manhattan are more huddled, taller and its streets considerably more crowded.
Nonetheless, Toronto feels big and has that world-class city vibe.
Toronto in the 1790s was a small town named York. At that time, a possible invasion by the United States led to the construction of a garrison called Fort York (see www.fortyork.ca). The Fort still stands today albeit puny amidst the skyscrapers. Walking through the grounds of the military fortification, I felt the beginnings of a nation waking up to its identity.
For modern Toronto, one should stroll along Yonge Street, which has been mistakenly referred to in the past as the longest street in the world. It is not. Yonge Street is peppered with a global array of restaurants, shoe and clothing boutiques. Yonge-Dundas Square has tons of huge neon marquees reminiscent of Times Square in the Big Apple. Torontonians strut about with a similar sophisticated élan with New Yorkers.
Talking of shoes, visit the Bata Shoe Museum (www.batashoemuseum.ca). The museum features shoes or footwear since the hunter-gatherer era to ancient Egyptian sandals up to today's elite shoe purveyor Manolo Blahnik. The Spanish designer has elevated a human protective gear as wearable art.
Nearby, the ROM or Royal Ontario Museum (www.rom.on.ca) greets you at the lobby with a gigantic dinosaur fossil beckoning you to a collection of historical and cultural artefacts from all over the world. You must see the Daphne Cockwell Gallery dedicated to First Peoples Art & Culture, and the Sigmund Samuel Gallery of Canada, which displays Canadian heritage pieces from French and British settlers. Don't forget to look at the 100-kilogram, 99.999% pure gold bullion coin worth $1 million.
Toronto loves acronyms. From ROM to AGO (see online: ago.ca). The Art Gallery of Ontario (AGO) highlights Canadian art including paintings by British Columbia artist Emily Carr and the Group of Seven - a group of Canadian landscape painters from 1920 to 1933.
(For Part 1: https://canadianfilipino.net/sections/travel/559-cross-country-on-board-the-canadian)
---
Canadian Filipino Net is an independent, non-profit digital magazine produced by volunteer writers, editors and web masters. You can subscribe for free. To keep us going, we need your help. Donations of as little as $5 or $10 will go a long way so we can continuously write and publish stories about Canadian Filipinos. Just click on a donate button and proceed either through PayPal, Debit or Credit Card. You will receive a receipt at the end of the transaction. Thank you for your support.