The CanadianFilipino.Net (CFNet) Team



President/CEO of Maple Bamboo Network Society (MBNS), and founding Editor of CanadianFilipino.Net


Prod Laquian is professor emeritus of community and regional planning at the University of British Columbia. He was a former director of the UBC Centre for Human Settlements. After retiring from the university in 2000, Laquian served as acting director of the Massachusetts Institute of Technology's special program in urban and regional studies in Cambridge. He was also resident scholar at the Woodrow Wilson Center for International Scholars in Washington, DC, a consultant at the Asian Development Bank in China, and a coordinator for a study of basic urban services in seven hundred cities and towns in sixteen Asia-Pacific countries, which was funded by United Cities and Local Governments (UCLG) in Barcelona, Spain. Laquian has a BA degree in public administration, cum laude, from the University of the Philippines and a PhD in political science with a major in urban studies from MIT. He has authored twenty books and numerous articles on urban planning, governance, and delivery of urban infrastructure and services (water, sewerage, transport, sustainable energy, solid waste management, and affordable housing).

Vice-President and Director of MBNS, and former of CanadianFilipino.Net


Eleanor R. Laquian has written four bestselling books and co-authored four others with her husband, Prod Laquian. Over ten years, she served in various capacities at the University of British Columbia's Institute of Asian Research: as manager of administration and programs, editor and chair of the publications committee, and primary researcher of the Asian Immigration to Canada project. She did her BA degree in journalism at Maryknoll College in the Philippines, a master's degree in public administration at the University of the Philippines, and postgraduate studies at the School of Public Communications at Boston University in the US. Before coming to Canada, she worked with the UN Food and Agriculture Organization, the World Health Organization, and the UN Information Center. She was a researcher and bureau manager of The New York Times in Beijing, China from 1984 to 1990. She was the first and only Filipino to conduct a nationwide survey of Filipinos in Canada, in 1972, for her master's thesis at UP. It was published as A Study of Filipino Immigrants in Canada, 1952–1972. She updated the survey in 2005 for a book, co-authored with her husband Prod: Seeking a Better Life Abroad: A Study of Filipinos in Canada, 1957–2007, published by Anvil Publishing in Manila. She and Prod have visited over a hundred countries for work and pleasure. They immigrated to Canada in 1969.
Director of MBNS responsible for Fundraising and Fund Development, and Social Media Director of CanadianFilipino.Net


Emmy Buccat is a donor relations professional at the University of British Columbia's Development and Alumni Engagement Office. She supports the communications, stewardship, and events team in keeping donors informed, involved, and engaged. She moved to Canada in 2008, with ten years of experience in marketing communications, public relations, and event management for brands Fuji Xerox and Speedo. She has a degree in journalism from the University of Santo Tomas, Asia's oldest university, a certificate in integrated marketing strategy from UBC's Sauder School of Business, and an associate certificate in fundraising management from BCIT.
Advisor to the MBNS board


Eleanor Guerrero-Campbell is a city planner, community champion, and writer. She came to Canada in 1977 with a degree in English and Comparative Literature, and a Masters's Degree in Urban and Regional Planning, both from the University of the Philippines. She went on to work as a planner manager in Edmonton in Alberta, and Surrey, Richmond and Vancouver in British Columbia. Guerrero-Campbell co-founded the Multicultural Helping House Society, where, as executive director, she established programs to assist newcomers in Canada. As chief executive of the Minerva Foundation for B.C. Women, she managed leadership programs for women in various stages of their careers. She currently co-convenes the City of Vancouver's Immigrant Partnership Program Committee on Access to Services. Her first novel Stumbling Through Paradise: A Feast of Mercy for Manuel del Mundo depicts the struggles of a Filipino family's immigrant journey in Canada through three generations. Eleanor is a recipient of many awards including the Vancouver Civic Merit Award (the only Canadian Filipino to receive this award thus far) and the Queen Elizabeth Diamond Jubilee Medal for community service.
More details about Eleanor and her novel can be seen at www.eleanorguerrerocampbell.com


Honorary Legal Counsel


Melissa Briones, barrister and solicitor, is a lawyer licensed to practice law in British Columbia and the Philippines. A graduate of the University of the Philippines College of Law, she also received a degree in HR Management at Ashton College (with honours) and obtained a Chartered Professional in Human Resources (CPHR) designation. A lawyer for ABS-CBN Broadcasting Corporation, she became the first editor-in-chief of the Philippine Canadian Inquirer, a nationwide publication that focused on the Filipino diaspora, when she arrived in Canada. She is a director and member of the Rotary Club of Vancouver Mountainview and a former UPAABC President. She practices Corporate Law, Employment Law, Real Estate Law, Wills and Estates, and Family Law in her Vancouver law firm, Northam Law Corporation
MBNS founding member, director, and current Editor of CanadianFilipino.Net

Carlito Pablo iin addition to being a founding member of the Board of Maple Bamboo Network Society, was a staff writer with Canada's biggest urban weekly, the Georgia Straight paper of Vancouver from 2006 to 2022. He has also been editorial consultant for Metro Vancouver-based Filipino community newspaper, Philippine Asian News Today, since 2005. He was a national reporter with the Philippine Daily Inquirer before coming to Canada in 2005. He started as a journalist for Ang Pahayagang Malaya in the Philippines.
Managing Editor


Rachel Ramos-Reid started writing for magazines and newspapers when she was still a junior in the University of the Philippines' communications degree program, majoring in journalism. She continued to write in a public relations/corporate communications capacity for private and government offices until moving out of the country in 1997 to work as programme officer for the arts and culture branch of the Southeast Asian Ministers of Education Organization in Bangkok, Thailand. At the end of her term, she immigrated to Canada in 2000 and again searched for new beginnings. She is a governance professional at a small community college on Vancouver Island.


Webmaster



Arlene Wright is an independent website designer. She has developed sites for various companies over the last ten years. She is responsible for the CFNet's new look for 2022, which makes the website more accessible to mobile device users.

Social media and newsletter coordinator


Iona Santos-Fresnoza has worked in government, IT, academe, and the non-profit sector. She specializes in program and community development, communication strategy, and advocacy. She believes in diversity and inclusion. A relentless learner, she is also a fair-trade coffee advocate.



Jo Leuterio Flac, a graduate of the University of the Philippines, came to Canada to attend the University of Toronto's graduate school. She adores her family, which includes seven grandchildren, and loves books, food, and travel. A regular contributor, she is in charge of lifestyle trends for CFNet.





Dr. Mike Rayel —author, entrepreneur, and psychiatrist—has helped many individuals and families with their mental health and family issues. Aside from his clinical practice, he has dedicated his time to writing articles and books, such as the Shrink series, publishing webinars on mental health and emotional intelligence, and creating educational games and products to promote emotional health. Certified in psychiatry, with a sub-specialty in geriatric psychiatry and psychosomatic medicine, he has written a number of psychiatry review books designed for the American Board of Psychiatry and Neurology certification examination. He loves the great outdoors, sports, music, politics, and photography. For details about Dr. Rayel, visit DrRayel.com

Mary Ann Reyes-Mandap has over three decades of experience in journalism, public relations and corporate communications work, and was a staff member and writer for Mr. & Ms. Magazine, Malaya, and Free Press in the Philippines. While living in San Francisco in 2003-2007, she worked as Associate Editor of Philippine News, the oldest and most widely circulated Filipino newspaper in the United States, and as Editor of the Filipino Insider Magazine. In Vancouver, she is associate editor of Dahong Pilipino and had worked as community news editor of Philippine Canadian Inquirer. She has also authored a book, the soon-to-be published Lakbay: Immigrant Seniors Find Their True North. She took up Bachelor of Arts in Communications (major in Journalism) and Master of Arts in Asian Studies from the University of the Philippines (Diliman), and was granted scholarships by the Japan Foundation and the Local Scholarship Program of the Philippine Civil Service Commission. She likewise earned the California Health Journalism Fellowship from the Annenberg School, University of Southern California.

Adelaida Lacaba-Bago, Ph.D. is a retired professor of education at De La Salle University in the Philippines where she handled courses in the graduate programs. She has published four books on curriculum development, supervision of instruction, social dimensions of Philippine education and the most recent one, Thesis Writing with Confidence.

A youth program coordinator at the Multicultural Helping House Society in Vancouver, BC in 2006-2007, Maria Veronica "Vernie" G. Caparas wrote a syndicated column for three bilingual newspapers that were circulated in the West Coast. Her articles focused mainly on South Asian newcomer-youth and their families. Vernie moved to Edmonton where she taught ESL at the University of Alberta and eventually joined the Alberta Children and Youth Services (aka Social Services or Children Services). Her curiosity on the plight of skilled immigrants from Canada's top three source countries (China, India, and the Philippines) lead her to a research journey that - through her Critical Theory lens - uncovered plots of Canada's undelivered promises; international immigrants, however, successfully navigate their way around social mazes and do their home countries proud.
Veronica finished her PhD in Educational Policy Studies (Theoretical, Cultural, and International Studies in Education) at the University of Alberta on a full SSHRC-Bombardier scholarship, Presidential Prize of Distinction, and GRA Rice Scholarship in Communications. She taught for more than two decades at the University of the Philippines Diliman where she retired with the rank of Professor.

Dulce Amba Cuencais, a lawyer in British Columbia was also admitted to the Philippine Bar prior to immigrating to Canada in 1996. She has worked in the field of human rights and employment and labour law since 2006, travelling across BC and the Yukon, representing workers and human rights complainants. She is a grateful immigrant who got her first job in Canada in 1996 by volunteering. She is passionate about civic engagement and contributing to the community. She served as trustee of the Richmond Public Library Board for eight years, and was a member of the board of Richmond Cares Richmond Gives. She also volunteers with Access Pro Bono. She believes that volunteerism completes any immigrant's integration in the community and unites people from diverse backgrounds to work toward a common goal.

Meyen "Marilynn" Quigley has a bachelor's degree in English from the University of the Philippines. In Victoria, she has worked for BC public services and in programs for persons with mental health and substance abuse issues and persons experiencing homelessness. She has a master's degree in intercultural administration from the School for International Training in Vermont and a graduate certificate in professional communications management from Royal Roads University.

Leonora (Nora) Angeles is cross appointed faculty at the University of British Columbia School of Community and Regional Planning and Institute for Gender, Race, Sexuality and Social Justice. She taught at Queen's University, where she did her doctoral studies, University of Regina, and University of Saskatchewan before moving to Vancouver. She was president of the National Pilipino Canadian Cultural Centre for 2020, vice president of the University of the Philippines Alumni Association of BC, and member of the Company Erasga Dance board of directors and Critical Asian Studies editorial advisory board. She also helped convene the Daloy-Puso Youth Network and the Filipino-Canadian Futures: Education, Leadership and Capacity-Building.

Mel Tobias was a movie critic, lifestyle and entertainment editor, author, foreign correspondent, broadcaster, amateur actor, festivalier, impresario for the arts, proprietor of a vintage collectibles boutique, frustrated saloon singer, gourmet who knew where all the good eating places were, an avid collector of esoteric and nostalgia recordings and books, and a fundraiser for charitable causes. He passed away in October 2017.



Leonardo B. Cunanan was the founding editor of Dahong Pilipino, the only Filipino-Canadian community and business directory in Canada. Started in 1991, it is the only such directory that has published annually for almost thirty years. When Cunanan became an Immigration and Refugee Board member (1997–2005), his son Leo Jr. took over the publication, but he remained editor. He passed away in June 2022. In keeping with the technological advances of the time, Leo Jr. transformed the directory in 2011 from a traditional print publication to a modern digital directory but continues to distribute printed copies to advertisers ( DahongPilipino.ca).

Emmie Joaquin and colleagues Rey-ar Reyes and Paul Morrow established The Pilipino Express, Inc., and began publishing the Pilipino Express News Magazine in Winnipeg. Joaquin is currently the company's president and the news magazine's editor-in-chief. Joaquin was a recipient of the Queen Elizabeth II Golden Jubilee Medal in 2002, and the Queen Elizabeth II Diamond Jubilee Medal in 2012 for media and community service. She earned her degree in broadcast communication from the University of the Philippines. She worked in media and public relations before immigrating to Canada in 1988. In Winnipeg, Joaquin produced and co-hosted the daily morning drive-time show Good Morning Philippines on CKJS Radio 810 AM. She also produced and hosted the daily weekday afternoon show Manila Sound and the Saturday show Tunog Pinoy Pang Sabado. After almost fifteen years in radio broadcasting, Emmie left CKJS in December 2003 to serve as special assistant for communications for then federal minister of Western economic diversification, Dr. Rey Pagtakhan. She had a brief stint as executive assistant to deputy mayor and councillor Mike Pagtakhan on the City Council of Winnipeg.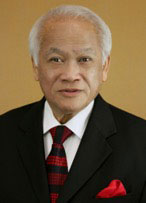 Dr. Rey D. Pagtakhan, PC, OM, LLD, ScD, MD, MSc, is a retired lung specialist, professor of child health, author of articles and chapters in medical journals and textbooks, former health critic, parliamentary secretary to the prime minister, cabinet minister as Secretary of State for Science, Research and Development. He graduated from the University of the Philippines, did postgraduate training and studies at the children's hospitals of Washington University in St. Louis and the University of Manitoba in Winnipeg, and spent a sabbatical year as visiting professor at the University of Arizona Medical Center. In June 2003, he spoke on "The Global Threat of Infectious Diseases" at the G-8 Science Ministers/Advisors Carnegie Group Meeting in Berlin. His ongoing series on the COVID-19 pandemic, which started in February 2020, is published by Pilipino Express in Manitoba and by CanadianFilipino.Net in BC.

Joe Zagala is an active participant in Greater Toronto's Filipino community. He is a past president of the University of the Philippines Alumni Association (Toronto), former vice president of the Kalayaan Cultural Community Centre, a former (and the only Asian) director of the Riverwood Conservancy, and one of the original organizers and a past presidents of the Philippine Chamber of Commerce in Toronto. He is a holder of chemical engineering degree and a business administration degree from the University of the Philippines. He has held high positions at large corporations in Canada, including as vice president for global business at CipherSoft, Inc. He is managing director of Lily Framarc Management Consultants, based in Mississauga, Ontario.

Rose Tijam lives in Toronto. She is a founding member of the Philippine Press Club of Ontario and served a second term as president of the club in 2016. She is a former president of the University of the Philippines Alumni Association Toronto. She was associate editor of two community publications. She worked for twenty-five years at a social work setting for women and continues to do so on a part-time basis at a crisis line service for women. She graduated from the University of the Philippines and has a master's degree in communications. She speaks Spanish and French.





Carissa Duenas moved to Canada in 2006, leaving behind a career in the management technology consulting space. She pursued her master's in business administration at Queen's University in 2008 and has since worked in various finance and marketing positions for companies based in Toronto, Manila, and Hong Kong. Despite being rooted in the corporate world, she has always maintained a passion for writing. She writes essays in her spare time that delve into everyday life experiences. Her work has been published in the Philippine Daily Inquirer and the Globe and Mail. More of her writing pieces can be found at CarissaDuenas.com. She hopes to complete her book of personal essays soon.

Jaime A. FlorCruz is a veteran China-watcher and foreign correspondent in China. He was CNN's Beijing bureau chief and correspondent, (2001–2014), TIME magazine's Beijing bureau chief and correspondent (1982–2000) and Newsweek's Beijing reporter (1981). Twice he served concurrently as the China chairman of the Fortune Global Forum, a meeting of global business and political leaders in Beijing in 2005 and in 2013 in Chengdu. In 2017, he again served as China chairman of the Fortune Global Forum in Guangzhou. He was considered the dean of the foreign press corps in Beijing, having been the longest-serving foreign correspondent in China until his retirement in 2015. He was a two-term president of the four-hundred-member Foreign Correspondents' Club of China (1988–90 and 1996–99). He is the founding president of the Peking University International Students' Alumni Association (2010–present). In November 2017, he was elected for a four-year term as one of the vice chairs of the Peking University Alumni Association, the first-ever foreign alumnus elected to the position. He is the co-author of Massacre at Beijing (Warner Books, 1989), a book about the crackdown in Tiananmen Square and Not On Our Watch (2012), a book about campus journalists during the martial law years in the Philippines. He is fluent in English, Filipino, and Mandarin Chinese. He has retired and now lives in Manila.

Ellen T. Tordesillas is trustee and writer for VERA Files (VeraFiles.org), a group that undertakes in-depth reporting on current issues and does fact-checking to fight disinformation. She writes opinion columns that appear in Malaya Business Insight, ABS-CBN online and VERA Files. As a reporter, she covered education, health and science, the PCGG and foreign affairs beats, before she was assigned to cover politics. She has covered all Philippine elections since the 1986 snap elections that triggered the ousting of Ferdinand Marcos. She continues to watch closely anything relevant to the Filipino people..

Manolo Abella, a Filipino economist, was formerly the director of the International Migration Programme of the International Labor Office based in Geneva and a member of the Advisory Board of the Centre for Migration Policy and Society at the University of Oxford. He also served on the board of the Migrating out of Poverty Programme of Sussex University. He has been actively involved in international efforts to develop a multilateral framework for the management of labour migration and spent many years writing, speaking, and rendering advice to governments on policies and best practices. He heads the working group that developed, under the World Bank and the ILO's auspices, the methodology for measuring what workers pay to migrate, which is envisaged for inclusion as one of UN's Millennium Development Goals. He now lives in Vancouver, BC.