The girl next door is a young scientist. Her name is Ann Makosinski, who, for the last five years, has not only come up with two energy-saving inventions but also started a company called Makotronics Enterprises with her father.
On top of all that, she made it to this year's Forbes 30 Under 30 and in 2013, when she came out with her first invention at age 15, made it to that year's Time Magazine's 30 Under 30.
Makosinski got her inspiration for her fist invention, the hollow flashlight, when she visited the Philippines where her mother Sandra is from. The inspiration came out of a desire to help a friend there where the constant power outages prevented her friend from finishing homework. Makosinski recalls, "She had no light to study with at night."
The hollow flashlight is made of Peltier tiles that produces energy when one side is heated using heat from a hand holding it, while the other side within the hollow inside part is cooled to power the flashlight's led bulb. Makosinski won in her 15-16 age category in the 2013 Google Science Fair. In 2013, the flashlight could hold power for 20 minutes. Today, she promises a much better version of the flashlight designed with a brighter light and longer-staying power.
Winning the popular international science fair brought Makosinski to the forefront of international recognition. Aside from being named in the two prestigious magazines' 30 Under 30 lists, she went on a series of TV guesting, TEDx Talks and speaking engagements. In the Tonight Show with Jimmy Fallon, Makosinski demonstrated the use of the hollow flashlight as well as another invention, the eDrink Mug which acts as a charger using heat from the drink.
Makosinski recently joined the Canada 150 C3 (Coast-to-Coast-to-Coast), a shipping research expedition that went from the East Coast of Canada in Toronto up through the Northwest Passage and down the West Coast through the Inside Passage, finally ending in Victoria. In August, Makosinski joined Leg 9 of the 15 legs, hopping onto the ship in Pond Inlet and off in Cambridge Bay in Nunavut. Makosinski recalls, "It was life-changing. It was an amazing experience that I can't imagine being topped by anything else I do."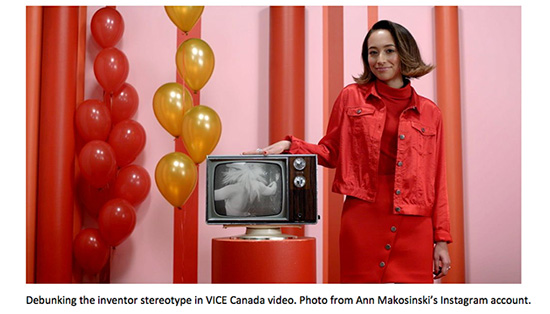 Makosinski now attends an English Literature degree program at the University of British Columbia, a surprising choice of studies given her penchant for the sciences. "I want to have a balance of both the arts and sciences in my life, as I believe that the arts and sciences complement one another very well," she explains. "I learn about art and writing inside of school and manage my business and work with technology outside of school."
Her father, Art, is recently retired and now helping her with the patents of her two inventions through their company Makotronics Enterprises which also manages licensing deals and release other inventions.
In a short video she made with Vice.com in November, Makosinski expounded on the idea of what an inventor is. She points out, "It is not always someone who's really good in science and gets straight A's. For me, I really struggled in my chemistry and physics classes. It's really about loving to tinker and finding solutions to problems." In summary, she says, "It's really about taking that crazy, creative idea you have and not be afraid to follow it through."
Despite university schoolwork and business, this young lady still finds time to chill. She watches Netflix and reruns of TV shows like Friends and The Office. Makosinski adds, "Otherwise, I enjoy dancing and singing in my room."
Asked what the next big project would be after the hollow flashlight and the eDrink Mug, Makosinski exclaims, "A surprise!" For someone who started so young, that could mean not just one but many more surprises.
---
---