Chef Audie Louie Banania first caught the attention of local news in early March when the Alaska Highway News featured Banania, his restaurant and the promise to support charitable causes in Fort St. John, B.C., something he had already started as soon as the business opened in 2019.
Banania and wife Jenny moved to Fort St. John in 2013, working towards Banania's dream of opening a restaurant. The couple realized their dream in 2019 and Banania was soon giving back to the community he now calls home: donating half of every burger sold to help a couple of young cancer patients with their medical expenses, donations to the Fort St. John Women's Resource Society and salvation Army and another burger fundraiser for the North Peace Seniors Care Foundation.
Chef Audie Banania gives back to Fort St. John community
Banania never forgets his homeland. He fundraised and initiated donation drives for victims in the Philippines of Typhoon Tisoy in December and of the Taal volcano eruption in January. He is currently helping another small business owner fighting to survive by giving Audielicious Restaurant patrons between 10 and 15 percent discount upon proof of purchase from the other business.
Things rapidly changed since March with the closure of most businesses throughout Canada after cases of COVID-19 started to rise. The Audielicious Restaurant was not spared from the uncertainty. Soon, Banania was forced to lay off most of his restaurant staff but, like most immigrant Filipinos, he is no stranger to hardships.
In his interview with the Alaska Highway News, Banania shared what it was like growing up in the Philippines. "I had a tough childhood," he recalled. "We could not afford to buy rice or bread of coffee; we were really starving." He said that the motivation to help those in need stems from his childhood. "I give back because I know that feeling when you have nothing."
Banania grew up in Albay, Bicol while wife Jenny (Gayo) is from La Union. The pair met while both worked as OFWs in Singapore. It was there that Banania built his career as a chef. It was Jenny that found a job in Fort St. John and Banania did not hesitate to leave his career in Singapore to start over.
On March 20, Banania set up a mini-food bank inside the restaurant with a note that says, "Please take what you need…We are all in this together." The food bank consists of cereal, canned goods, toiletries and an offer of cooked meals. Encouraged by Banania's initiative, several Fort St. John residents started donating to his cause so much so that by early April, he was able to deliver food for health workers at the Fort St. John Hospital and Peace Villa Care Home using his own money and funds donated by locals.
On the Easter weekend, it was grocery workers that got fed with pansit and lumpiang shanghai. "I just want them to feel appreciated," says Banania.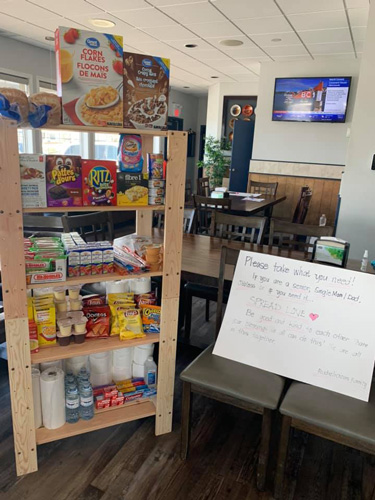 Audielicious Restaurant keeps its "food bank" regularly stocked for community members in need.
In a feature on Dawson Creek's CTV News, Banania confirmed the community's participation and support for his initiatives. "Some customers would give us cash when they go (to the restaurant) to pick up their food or they'd say, 'add this to your fund'". He makes every effort to deliver food twice a week.
On his Facebook page, Banania muses, "If you can't find the sunshine, be that sunshine to others. Thank you to this community l call home, without all your support we won't be here at all." Fort St. John definitely feels that love from Banania.
As one resident posted on the Audielicious Facebook page: "Thank you for being a pillar in our community. It makes it all seem a little easier to bare. Keep up the wonderful job."
---
---