He usually presides over the evening mass on Saturdays and Sundays at Saint Andrew's Cathedral in Victoria, British Columbia.Before mass, he would sometimes sit at the piano, playing hymns, classical music and even pop tunes like "Moon River" and "Hallelujah."
He is famous among mass congregants for the hearty "Amen" that he starts his homilies with (and that congregants happily shout back), and beloved for homilies that are engaging and down to earth, communicating God's word through humor and anecdotes from reallife. He is also famous for his smile.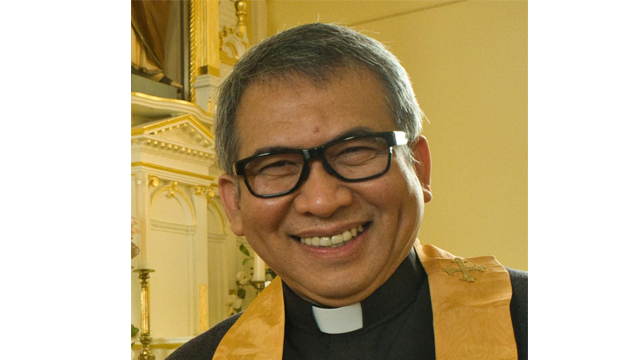 Father Dino Villadiego is the first rector of Filipino ancestry of Saint Andrew's Cathedral. Originally from Quezon Province in the Philippines, Fr. Dino began at St. Andrew's in 2016 as associate priest, on loan from his home diocese in Lipa City, Batangas. In 2021, he was appointed the cathedral's rector.
Saint Andrew's was consecrated in 1892. It is one of the largest Catholic churches in Western Canada and is considered the "mother church" of the Diocese of Victoria. Between 400 to 500 people attend each mass at Saint Andrew's, held at various times on Sundays and Saturday evenings.
Fr. Dino marks twenty-nine years in the priesthood in November 2022. He is a man of many talents, with years of study and training, and experience in ministering to the faithful in various parishes in Canada and in the Philippines, but still findsthe rectorship of St. Andrew's to be a challenge. Overnight, he had to assume leadership of an existing bureaucracy and spend more time than he expected in administrative duties and responsibilities, tasks that are very different from being a pastor ministering directly to parishioners and enquiring after their lives and well-being.
Fr. Dino wondered whether the fact that he is from a minority ethnic group would be an issue for parishioners and whether his ethnicity would be a barrier in his work. It was not too long ago, after all, that he had been asked if he even spoke English.
He need not have worried. Fr. Dino has been warmly embraced by the Saint Andrew's community, who are drawn to him by his clear, confident, and encouraging communication of God's word. And yes, he speaks English very well, thank you. His warm-hearted and smiling persona keeps parishioners regularly coming back, grateful for a welcoming presence in a place where they can seek comfort and peace.
While he has successfully built bridges within the larger community at Saint Andrew's, Fr. Dino has been a particular gift to many Canadians of Filipino origin who attend church. He has shepherded various Filipino groups who have turned to him for counsel, including members of Couples for Christ and El Shaddai. He organized a Filipino catechism group that meets regularly online. In 2021, he helped make possible the first-ever Simbang Gabi at St. Andrew's, a Filipino novena tradition of nine days of massesheld from December 15 to 23, in anticipation of Christmas.
He led a celebration of 500 years of Christianity in the Philippines at St. Andrew's. He has nurtured a loyal crew of altar servers and ushers who used their precious days off helping the church.Fr. Dino is a household name among families of Filipino descent in Victoria that keep him busy with baptisms, wedding anniversaries and even car blessings. Canadian Filipinoparishioners find him approachable, accessible, and kind. "Hindi mayabang," says one. "Madali kausapin." (He is not arrogant and is easy to talk to.)
His approachability and accessibility are attributes that can only help the Church, an institution which more and more people are finding to be alien and inhospitable. Perhaps Fr. Dino draws his communication skills from years spent studying mass communications prior to entering the priesthood. Or perhaps it is from the stage presence he acquired as a member of the Bayanihan Dance Troupe, also prior to the priesthood. Years spent at a small parish in Newfoundland and the communities of Alert Bay, Port Slice, Port McNeill, Campbell River and Port Hardy (where he led the Flores De Mayo celebrations at the St. Bonaventure Parish) would also have honed his people skills.
Or perhaps the sum is greater than all its partsand Fr. Dino's experiences combine to make him who he is, with a special flourish added by the Holy Spirit.
---
---