It is one thing to have a war hero in your family and another to be one yourself.
Mike Fuentespina is both that as well as a Team Canada member in this year's Invictus Games held in Toronto from September 23 to September 30, finishing a respectable fifth place in the men's road cycling criterium event. Like all participants in the Paralympic-style sporting event, Fuentespina is a wounded warrior.
Fuentespina also participated in the 2016 Games held in Florida where he garnered a bronze medal in road cycling criterium.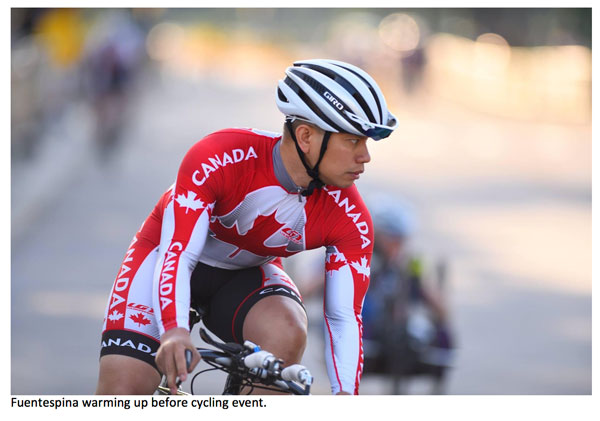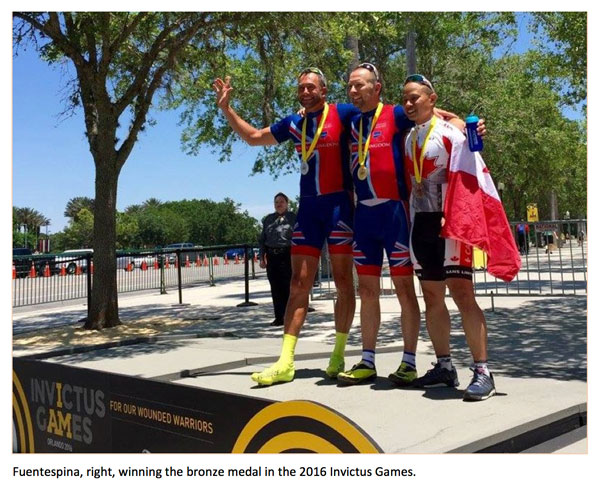 "Competing in the Games is always awe-inspiring," Fuentespina reflects. "Seeing hundreds of my fellow brothers and sisters in arms competing and moving forward in life with severe injuries like missing most limbs or have brain injuries puts what I have gone through into proper perspective – my disability is minor compared to most."
Having a solid 26-year career with the Canadian Armed Forces (CAF), Fuentespina was recently promoted to the position of Chief Warrant Officer (CWO) which is the most senior non-commissioned officer rank. He lives and works in Ottawa where, as CWO, he serves as advisor for all Reserve Medical non-commissioned members of the CAF responsible for the development and implementation of policies related to professional development, training and education. However, his entry into the Armed Forces had little to do with being inspired by or related to a war hero. Like most 19-year olds thrust into the adult world, Fuentespina recalls, "I joined the CAF for a job and to earn money."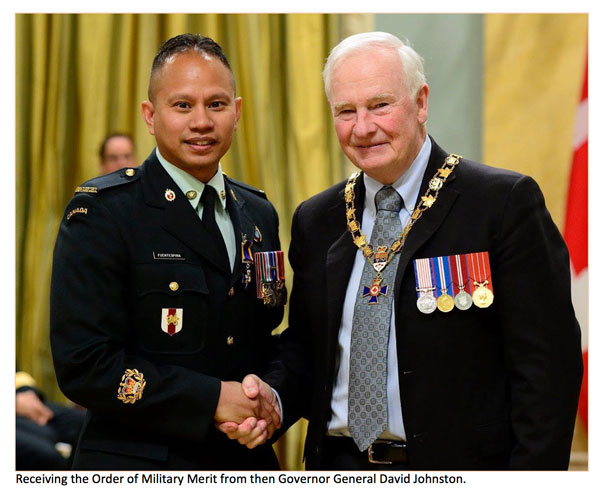 His views about the service changed when training for a 1999 tour in Bosnia transformed the "job" into a profession. "During training to go overseas in Bosnia, I quickly realized that this was what I wanted to do and that I wanted to be the best medic I could be because mistakes could cost people's lives," Fuentespina recollects.
It was also in Bosnia when exposure to small arms fire started affecting his hearing. However, a tour of duty in Afghanistan in 2008 made his hearing worse. He recounts, "When I went to Afghanistan, I was exposed to more small arms fires, explosions, mortars and rocket attacks that led to further hearing loss." He has partial hearing loss in both ears and is wearing hearing aids.
It was the darkness of the war in Afghanistan working as an analyst/operator for counter-improvised explosive devices (C-IED) that again changed Fuentespina's views on being a soldier. "When I witnessed the death and destruction in Afghanistan, I realized that there is that very real possibility that I may not come back or may be grievously injured and, at the same time, I saw what Canada was doing to stand up for those who could not stand up for themselves – it was then that this job which became a profession has now transitioned into a calling," he asserts.
Fuentespina believes that men and women in uniform put their lives on the line so that people can vote, go to school, enjoy basic rights and civil liberties and not be persecuted or killed for their religion, sexual preference of simply voicing their concerns over the government. He adds, "These are simple things that we take for granted in the Western world."
Fuentespina was already in his teens when he was told that the family left the Philippines because of the instability brought about by the imposition of Martial Law in 1972. He was barely a toddler. Many years later, the family honoured his dying father's wish to spend his last years in the Philippines and when the patriarch passed away in 2015, Fuentespina went home for the first time since coming to Canada in 1974. He recalls that it was bittersweet in that aside from dealing with a death in the family, it was also his first visit back and he enjoyed visiting family.
Fuentespina's grandfather was Captain Emilio Liwanag, a Philippine naval officer who fought in World War II and in the Korean War as part of the United Nations forces. In recognition of Liwanag's historical contributions to the Philippine Navy in protecting the country's maritime interests, a naval patrol gunboat was christened BRP Emilio Liwanag and the naval station on Thitu Island in what is now called Philippine West Sea was renamed Naval Station Emilio Liwanag.
Because of this kinship and acute sense of belonging to his Filipino roots, Fuentespina remains interested in Philippine current affairs. He maintains, "I definitely identify with the Philippines as my homeland and even go out of my way to do what I can for other Filipinos in the military."
The CAF allowed Fuentespina to spread his wings in and out of Canada. Before his current assignment in Ottawa, he was appointed Sergeant Major for the Joint Personnel Support Unit (JPSU) Prairie Region. The JPSU is tasked with the care of ill and injured soldiers to assist them in their rehabilitation, recovery or reintegration into either civilian life or back into the military. After his tour in Afghanistan in 2008, he was sent to the NATO school in Norway to teach C-IED and counter-insurgency operations. As an aeromedical evacuation specialist and throughout his career, Fuentespina has traveled to almost every Canadian province, half of the United States, all over Europe, the Middle East and the Balkans.
He encourages young Canadians to seriously consider a future in the CAF. "You can literally be anything you want to be – infantry, pilots, doctors, lawyers – the list is endless," he asserts. He adds that the CAF is the workplace for anyone who wants to work for an organization that will stand up for those who can't stand up for themselves and upholds Canadian societal values enshrined in the Charter of Rights and Freedom.
Lastly, Fuentespina who was awarded Canada's Order of Military Merit in 2016, believes being disabled should never hold anyone back from pursuing his dreams. "Disability or not, we live in a great country that provides endless opportunities if you go out and seek them." He ends, "Just strive to do your best in an ethical manner and great opportunities will come to you."
---
---