Youth is certainly not wasted on the young, not on someone like 29-year-old Phil De Luna. For the last decade or so, De Luna has been focused on getting ahead of the rapidly changing world by way of clean, renewable energy.
Of his many hats, the most recent and current is as program director of National Research Council Canada's(NRC) Energy Materials Challenge Program, a seven-year $57 million multi-disciplinary collaborative research program aimed at developing made-in-Canada materials solutions to "de-carbonize" the country to transition to net-zero emissions by year 2050, a goal legislated by the Canadian government in late 2020.His appointment in 2019 makes De Luna the youngest ever to hold such an executive level position at NRC.
De Luna also sits as vice chair of the Carbon Management Canada (CMC) Research Institutes' board of directors, member of Canada's Organisation for Economic Co-operation and Development's (OECD) Advanced Materials Steering Committee andfounding mentor of Creative Destruction Lab, a non-profit organization helping science-based startups bring technology to market on top of speaking engagements at various seminars and conferences and writing for scientific publications.
The many awards to his name include 2019 Forbes Top 30 Under 30, 2020/21 Action Canada Fellow and a Governor General's Gold Medal Award.
But simply enumerating De Luna's achievements will not give justice to the work, dedication and personal conviction he conveys to the bigger world.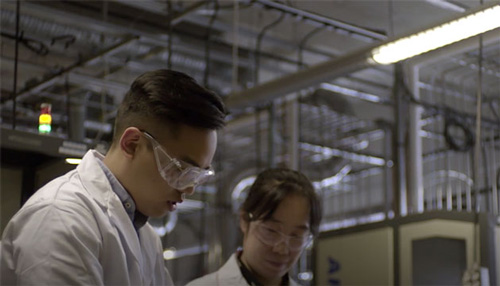 Forbes 30 Under 30 in 2019, Phil De Luna leads a 40-member staff at the National Research Council's Energy Materials Challenge Program.
De Luna's career path, which eventually led him to specialize in clean energy, is one that is deeply rooted in his own personal experience. "Moving to Canada and not having much money growing up, my parents always told me that education was the one thing they could give me since they couldn't give me much in terms of material things," he shares exclusively with Canadian Filipino Net (CFNet). He was only five when the family left the Philippines. Growing up in suburban Windsor, Ontario, he remembers watching The Magic School Bus, a children's animated educational television series, and knowing he was going to become a scientist. He muses, "I'm not sure where it came from, I just always knew I liked it."
De Luna accepted this gift of education from his parents and plunged headfirst into the academe, earning degrees in quick succession: a bachelor's degree in chemistry from the University of Windsor in 2013, a master's degree in chemistry in 2015 and a postgraduate degree in materials science and engineering in 2018 – both from the University of Toronto.
The NRC program director's approach in supporting Canada's goal of zero emission by 2050 is steeped in the harsh economic realities that his own family faced during the 2008/2009 recession when his hometown of Windsorsuffered from the closure of car manufacturing factories (US Motor City Detroit in Michigan is located across the Canadian border from Windsor). The De Luna patriarch was among thousands that were laid off due to the closures.
The experience drives De Luna's conviction that in order for any country to truly respond to climate change, the transition to clean energy must be economically sustainable. In an interview with Corporate Knights, he expressed this conviction: "What I am really passionate about is ensuring this transition (to a low-carbon economy) is a just one and there is economic opportunity for everyone in this energy transition."
Explaining NRC's mission, De Luna confirms that the program portfolio currently consists of 20 collaborative research projects across four countries including Canada, the UK, Germany and the US. He tells CFNet, "The areas we cover include new materials to convert carbon dioxide into renewable fuels and chemicals, new materials to produce low-carbon hydrogen, and robotic self-diving labs to help accelerate the pace of discovery." He explains that typically, the process from idea or hypothesis to actual commercial rollout takes about 20 years. "We're trying to make it faster, especially by using artificial intelligence and robotics to help automate some of these experiments. The impact will be technologies that help us meet our net-zero by 2050 climate goals and results in a healthier and more sustainable Canada for everyone."
Pre-pandemic, De Luna would hang out with friends, travel, go to theatres, festivals and live concerts in his spare time. Right now, he has been finding other things to fill his free time like recently starting a podcast called "What's Next In" about the rapidly changing world and how to get ahead of it.
There will not be a slow day anytime in the near future for the climate action advocate, pandemic or not. De Luna notes, "I've always been driven by big hard problems, and there isn't a bigger or harder problem to solve than climate change."
---
---