November 1, 2023 — The University of Manitoba has announced that assistant professor Dr. Denise Koh is getting a new recognition for her work.
A media release on October 23, 2023 stated that Koh was set to receive a Most Influential Filipina Woman in the World award.
"Koh, a second-generation Canadian Filipina, is a specialist in Public Health and Occupational Medicine and a passionate trailblazer in helping physicians and medical learners avoid burnout and overcome barriers to living extraordinary lives," the release noted.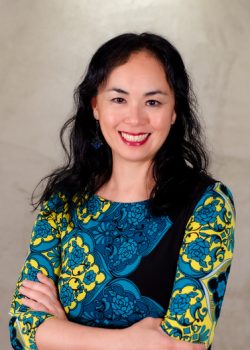 Denise Koh is a specialist in public health and occupational medicine. Photo by University of Manitoba.
"A successful life coach, author and motivational speaker, she is the founder of MedResRx, which runs a support network for Canadian physicians and medical trainees and a Canadian Physician and Medical Trainee Suicide Log. In addition to her numerous roles, Koh is also a highly sought after Hypnotherapist, and recently launched the MedResRx Hypnotherapy App to help more people get access to the support they need, making her hypnotherapy, motivational recordings and programs available anytime, anywhere at a fraction of the price of regular therapy.
"She is also a co-author of the #1 Best-Seller (multiple categories) 'Artificial Intelligence in Medicine: a compilation of stories from doctors across multiple disciplines on the challenges, breakthroughs and potentials of artificial intelligence in the healthcare system', which launched October 17."
Commenting on her chapter, Rising Through the Data: An Occupational Health Journey Amid Pandemic and Prejudice, Canadian Filipino Net columnist Dr. Rey Pagtakhan notes: "Dr Denise Koh has touchingly distilled from her multifaceted personal and professional life experiences in multicultural Canada her humanity and passion for human healing and has aptly projected the importance of human sentience and, therefore, guardrails, in the application of AI technology to enhance public and occupational health and safety."
The media release explained that the award will be given by the Foundation for Filipina Women's Network.
The U.S.-based organization "recognizes women of Philippine ancestry who are changing the face of leadership in the global workplace".
Moreover, the network launched the Most Influential Filipina Woman in the World Award (Global FWN100™) in 2006 in the U.S., and expanded globally in 2013.
"I'm incredibly honoured to be nominated for this award and thrilled that my work is being recognized," Koh stated in the media release.
The University of Manitoba's announcement also recalled that Koh was recognized in 2022 by the Women's Executive Network, another award-giving organization, as one of Canada's Top 100 Most Powerful Women.
The said award last year was for Koh's "COVID-19 pandemic work as Manitoba's Chief Occupational Medical Officer and Medical Officer of Health and her longstanding involvement and tireless advocacy for Filipino and BIPOC communities". BIPOC stands for Black, Indigenous and People of Colour.
---