Traditionally, Filipinos observe a number of occasions throughout the year that entails certain rites and the serving of particular types of food. Even Filipinos abroad follow some of these traditions as the older folks remember and pass them on to younger generations.
January – The first day of the year is for starting the year with a clean slate. It is believed that one's disposition on the first day of the year will determine how one fares the rest of the year. Thus unpleasantness is avoided at all cost on this day. People start the year with clean homes and money in their pockets. Children wear new clothes and shoes to be well dressed throughout the year. Families celebrate with a New Year's Day brunch, a combination of breakfast and luncheon foods. Guests bring more food so it becomes a pot luck buffet for friends and extended family. The brunch menu may include the following: hot beverages, fresh fruits, pan de sal or ensaymada, menudo and queso de bola or egg/ham casserole and desserts of rice cakes or cookies and pastries.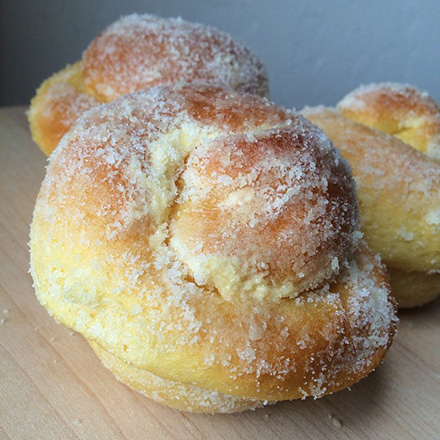 February – For lovers in the Philippines, Valentine's day is usually celebrated with a romantic dinner in a fancy restaurant, often in a five-star hotel where some of the finest restaurants are located. For those who prefer to dine at home, they may order a takeout main dish and serve it with their own home-cooked sides and dessert. Such a menu may include: a hearty soup, grilled steak or roasted chicken, vegetables, heart-shaped cookies, fresh strawberries and ice cream.
March – usually ushers in the 40 days of Lent or cuaresma. Although the abstinence from meat on Fridays of Lent has been lifted by the Vatican, the practice persists in predominantly Catholic Philippines and even restaurant s often go meatless on Fridays.
April – Usually the hottest month (weatherwise) in the Philippines, is still cuaresma season. Holy week is as widely celebrated as Christmas in the Philippines. On Good Friday, the Passion of Christ is read in all the churches and sang in private homes in the beautiful tradition called pabasa. It culminates in the joyous renewal of faith on Easter Sunday.
For the food aspect of Good Friday tradition, a day-long meatless buffet is served to those who attend the pabasa. It may include adobong isda, escabecheng talakitok, guinatang munggo at daing, bacalao, sinanglay na tilapia, sinigang na hipon, and pritong lumpiang gulay.
May – The start of the rainy season in the Philippines is also the month of flowers and fruits. There are two major flower festivals in honor of the Blessed Virgin Mary. One is a month-long Flores de Mayo when families of the parish take turns in sponsoring the daily church floral offering, usually in the afternoon. After the ceremonies, the sponsor serves a merienda of snacks to those who participated in the offering.

The other May festival is called Santa Cruz de Mayo or Santacruzan, a colorful custom with religious beginnings but which has become a social event and spectacle for tourists. The procession of costumed biblical characters, usually held in the evening, dramatizes the search for the Holy Cross. After the procession, the sponsor serves snacks of native delicacies to those who helped. Among the popular snacks are: bibingka, puto, kutsinta, palitaw, guinatang bilo bilo, halo-halo, empanada, turon, maja blanca, suman, gulaman at sago.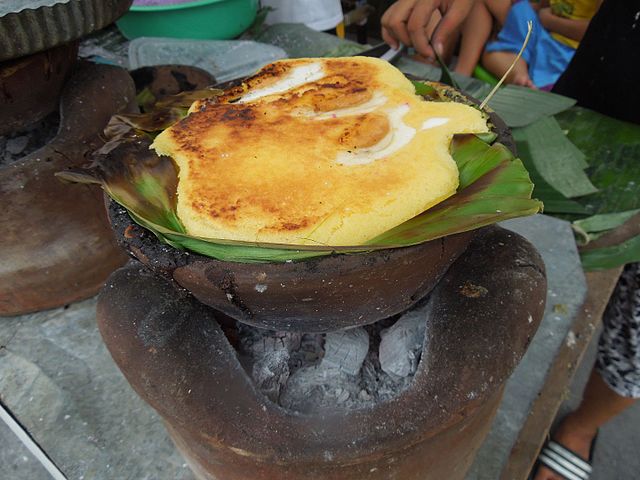 June – Philippine independence Day is celebrated on Jun 12. There is usually a parade and fireworks at the Luneta. Since it is a holiday most families celebrate it with a picnic lunch in one of the many resorts outside the city. A simple Filipino picnic lunch is a binalot of rice and chicken/pork adobo with salted eggs and tomatoes all wrapped in banana leaves.
July – is the start of typhoon season in the Philippines but for Filipinos in North America, it is barbecue season. Most common barbecue dishes are spareribs, chicken, hot dogs and hambuger patties served with either macaroni or potato salad and desserts.
August – is the height of summer in North America and Filipinos usually flock to the beach with family and friends. For a beach party, sandwiches, cooling beverages and fresh fruits are favored.
September –may mean a fiesta in honor of the town's patron saint. Every home opens its door to guests and strangers alike with food and drink from morning till night in keeping with the traditional Filipino hospitality. For the rich, a town fiesta is usually the occasion to serve lechon, rellenong bangus, morcon, embutido, arroz a la Valenciana, lengua and other fiesta fares.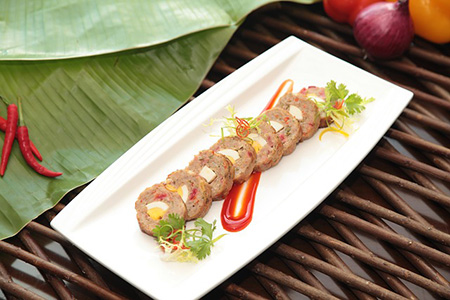 October – The practice of hosting a Block Rosary group has spread from Manila to Filipino communities abroad like Toronto. Every night in October, a family sponsors the praying of the rosary at its home. A small statue of our Lady of the Rosary is carried from house to house where the prayer is held. After prayers the group stays for snacks and conversation. A simple snack like lugaw with assorted topping is usually served.
November – starts with a major holiday in the Philippines, All Souls Day, when people honor the dead by visiting the graves of loved ones. Along with flowers and candles to decorate the graves, they bring a picnic basket with fruits in season like lanzones and dalandan for the day's vigil. Many vendors hawk drinks, sandwiches and chips. At night the cemeteries glow with thousands of flickering candle lights.
December – is the main festive season in the Philippines. The official religious start of the Christmas season is December 16 with a novena of Masses called Simbang Gabi or early morning Mass. An added incentive to wake up early for church are steaming hot rice cakes (bibingkang galapong and puto bumbong) sold outside the church after Mass. This is often followed by a farmer's breakfast (agahang magbubukid) of garlic fried rice, longanisa, tapa or tocino and eggs. Christmas day itself is traditionally a family-meal day with light, easy to prepare food. Dalandan, a sweet native orange with green skin even when ripe, grace many a Christmas table for good fortune and blessings in the coming year.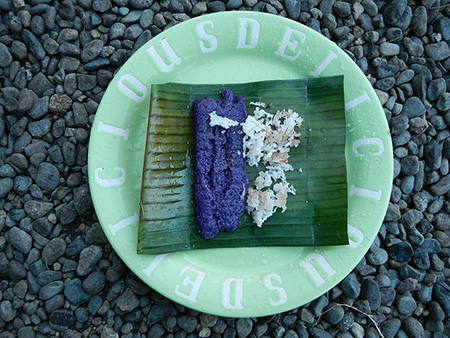 (From Filipino Cooking and Entertaining Here and Abroad by Eleanor R. Laquian, published by National Book Store: Manila, 2005)

---