On March 1 this year, Canadian Filipino Net reported about a young Toronto chef who is getting a lot of attention for his pop-up dining event.
Keanu Francisco, 23, runs his monthly gig called Kusinera (English translation: female cook) out of Sara, the restaurant where he works as a chef.
The report also mentioned that Francisco collaborates with Filipina baker Shannon Nocos at his event.
Nocos, who renders artful designs on traditional Filipino cakes, has been drawing recognition as well.
The online publication blogTO recently reported about Nocos, who makes cakes and pastries under the brand name Kwento (translation: story).
"Her decoration can take the form of patchwork, pointillism, artfully placed flower petals or even new takes on old school piping techniques," the report noted.
Nocos told blogTO that she was enrolled in a culinary school in Manila when the COVID-19 pandemic hit in 2020.
"I had to come back to Toronto to wait out the lockdown. I was anticipating going back to Asia by the summer, so I started Kwento to keep practicing what I had learned from school," she related.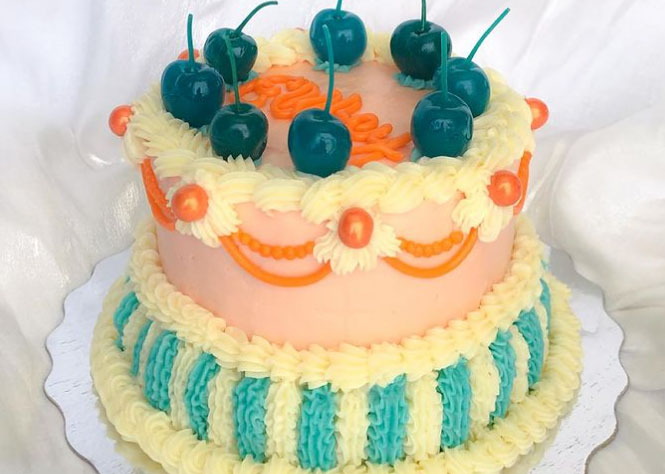 Kwento cakes are known for their unique design.
Nocos recalled that Kwento was meant to be a temporary business. However, she soon realized that she's not going to be able to return to the Philippines to resume her culinary training.
The blogTO report noted Nocos' cakes are "far from ho-hum chocolate and vanilla".
"Her best-selling flavour is ube macapuno, made with ube halaya, covered in a light meringue buttercream and filled with coconut sport, a jarred macapuno product," the report stated.
Nocos related that she went to art school for her undergrad degree.
"So with decorating, I feel like my tactile skills naturally come into play. I also try to utilize colour and composition to create designs that are visually appealing," she said.
Nocos was also featured in a story by NOW Magazine in February 2021.
"She ices the cakes as if the piping bag were a paintbrush, creating checkered designs that mimic pointillism or 3D fringe designs that look like an explosion," the magazine reported.
"She adorns her tarts and cakes with edible flowers from her garden. She puts her graphic design background to use, implementing design principles like colour theory and composition when creating," the report added.
NOW Magazine recalled that when Nocos started Kwento, she wanted to focus on Filipino flavours and her original cakes were all ube macapuno.
"I'm always trying to explore new things with Filipino desserts," Nocos said.
She has started to branch out to "more western flavours like vanilla and chocolate, but also added mango float, inspired by a treat she ate on the hot days in Manila".
Her brand was inspired by her experience as an international student in the Philippines, where she and her friends would hang out and "make kwento" or swap stories.
Nocos can be found on Instagram: https://www.instagram.com/make_kwento/?hl=en
---