Colin Asuncion's foray into amateur (and eventually competitive) baking is inspired by his mom Elizabeth's mastery in the kitchen.
"She was a very confident baker: she would bake things from memory, combine elements from different recipes, make bold substitutions-all without batting an eye," Asuncion shares exclusively with Canadian Filipino Net (CFNet).
Asuncion was one of three finalists upon the conclusion of CBC's third season of The Great Canadian Baking Show, which fielded 10 home bakers from across the country.
The contestants battled through a series of challenges: technical, signature and showstopper bake until its finale in early November.
As a kid, the Toronto native would observe his mom working in the kitchen, but never really shared the space with her until he and his siblings were all grown up.
"As my sisters and I entered our twenties, my mother stopped baking -and that's when I started. It was like a passing of the torch - or whisk, rather," Asuncion said.
Asuncion's parents Elizabeth and Benjamin immigrated from the Philippines in the early 1970s and raised their children Colin, Denise and Lizzie in Toronto.
Marketing communications is what Asuncion writes down as his occupation, but because his parents also find value in music education, Asuncion went to a private music school for elementary and high school.
"When I was in university, I started performing in musical theatre and eventually found a second career in music and theatre performance," he tells CFNet.
Asuncion is also a member of a group called the Asian Riffing Trio.
"I met Chris Tsujiuchi while working on a production of HAIR together and then I met Kevin Wong at a musical theatre open mic night," Asuncion recalls. "The name (ART for short) started out as a joke, but it eventually stuck and now we've been performing together for over six years."
Through the show, Asuncion would be humming and riffing through a baking challenge.
Asuncion's spot in the finals proved he belongs to the cream of the crop, but he also admits he's one who's had his fair share of kitchen fails.
"I've had cakes come out of the oven looking like rubbery pancakes because I didn't cream the butter thoroughly, Italian meringue buttercream reduced to soup because the butter was too soft and soft caramels turn out brittle because I wasn't paying close attention to the temperature of the sugar," he adds.
But through those missteps were some valuable kitchen lessons: "Pay attention to the elements of a recipe that have no wiggle room and be very precise during those steps; when you've made a mistake, find out if there is a fix; and finally, always have a backup plan."
Failing his first technical challenge on the show's first week, Asuncion knew that elimination was always a possibility, even when he won Star Baker during bread week with his chocolate spice Povitica (an eastern European type of sweet bread).
"When I made it past that week, I was truly questioning whether I was living in real life and then, before I knew it, I was in the finals!" recalls Asuncion.
He credits having a backup plan in helping him advance in the competition every week. "In almost every signature and showstopper bake, I had to employ some sort of Plan B because something didn't go exactly as planned."
Asuncion's final showstopper bake was a towering confection featuring Toronto's CN tower in honour of his hometown.
In November 2019, Natalia Shevchenko from Edmonton, Alberta, won the baking show title. Aside from Asuncion, the other finalist was Jodi Robson of Regina, Saskatchewan.
Asuncion used matcha tea for part of his final competition piece. In this cookie recipe he shares with CFNet readers, Asuncion also uses matcha tea, bringing a green holiday vibe perfect for sharing this Christmas.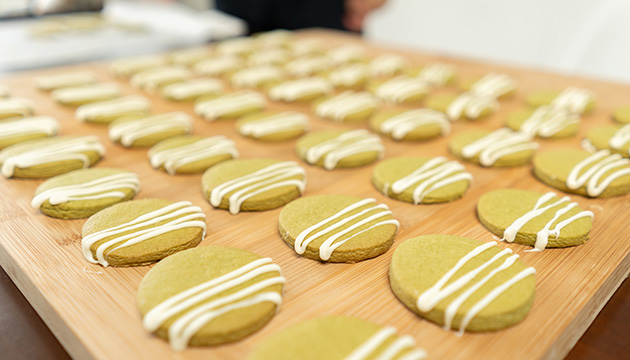 Matcha Sugar Cookies with White Chocolate
Ingredients

1 cup room temperature unsalted butter
1 cup granulated sugar
1 teaspoon vanilla extract
1 room temperature large egg
2 teaspoons baking powder
½ teaspoon salt
3 cups all-purpose flour
3 tablespoons matcha green tea powder
1 cup chopped white chocolate or candy melts
Instructions

- Preheat oven to 350 F.
- Using a mixer, cream butter and sugar together until smooth, at least 3 minutes.
- Add vanilla extract and egg and beat for another minute.
- In a separate bowl, combine baking powder, salt, flour, and matcha powder. Whisk until well combined.
- Add dry ingredients to wet ingredients and mix on medium until well incorporated.
- Turn dough out onto a floured surface and knead for a few seconds. The dough should hold together.
- Do not chill the dough. Roll out and cut desired shapes with cookie cutters or a paring knife.
- Carefully transfer cookies onto a baking sheet.
- Bake for 9-12 minutes. Edges will be slightly golden.
- Remove from oven and cool.
- While cookies are cooling, melt white chocolate in the microwave (start with 30 seconds and then in 10-second bursts, stirring in between) or on a double boiler.
- Drizzle melted white chocolate over cookies using a piping bag or a small spoon.
- Cool until chocolate is set.
---
---