A cannoli is a traditional Italian dessert consisting of a sweet and crunchy pastry tube filled with cream or sweetened ricotta cheese.
In the hands of Rechie Valdez and Susan Perras of Filipino Fusion Desserts, the cannoli takes on a different dimension.
Imagine a cannoli shell stuffed with a filling of flavours such as ube, buko pandan, red bean, and calamansi, and that's how the magic works for he Mississauga-based custom order and wholesale bakery.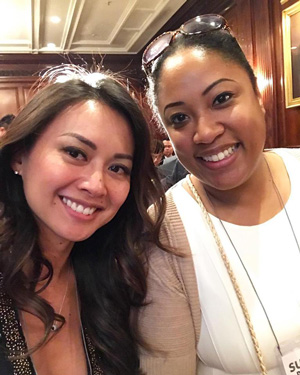 Valdez and Perras want to share Filipino dessert flavours with a wider audience, hence their business was born in June 2017.
Filipino Fusion Desserts has since earned an increasingly bigger clientele with its offerings that are all made from scratch
Even the company's logo reflects the business partners' Canadian Filipino heritage: a cupcake in the colours of the Philippine, with red maple leaf on top.
On their website https://filipinofusiondesserts.com/, Valdez and Perras state that they intend to "push the boundaries on desserts."
"We want to share our love for Filipino flavours and desserts with the world," according to them. "We understand how trying anything new can be daunting, so we've infused traditional Filipino flavours with Western desserts that are more familiar to you."
They are modernizing traditional desserts, and they have a challenge for their new patrons.
"We dare you to push yourself out of your comfort zone and try something new," according to Valdez and Perras.
Orders can be made online. Products can be delivered or picked up at the commercial kitchen where they bake. That's The Cake Collective at 1021 Meyerside Drive, Unit #2.
It was The Cake Collective where Valdez and Perras first met. The ube macarons prepared by Valdez caught the attention of Perras, and two have bonded.
They also supply their desserts to Seafood City Supermarket in Mississauga. Available at the store are: cheesecake tarts in ube and pandan flavours; pastillas in original, ube, pandan, mango, dulce de leche, chocolate, strawberry and assorted flavours; and cupcakes in ube and calamansi.
For more info, here's the YouTube channel of Filipino Fusion Desserts: https://www.youtube.com/channel/UCbpOZz53RnetLxx37AZZUKQ
---