In the Philippines and especially among city dwellers, the word kanto evokes colourful imagery.
After all, kanto means a place where two streets converge, a meeting spot as well as a corner to hang around.
It also conjures the hustle and bustle of urban life, and almost always the smell and taste of various street foods prepared before everyone's eyes.
Philippine-born and now Edmonton-based restaurateur and chef Edgar Gutierrez never forgot all of these, recreating in his own way Filipino street food through his Kanto 98 St. Eatery.
As the website of Kanto 98 states, "For Red Seal Chef Edgar Gutierrez, Filipino street food is second nature. It's grassroots, competitive, honest, and diverse. An art form as visual as it is tasteful. Kanto is about being expressive, bold, and untamed. It's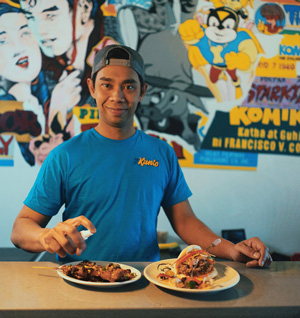 about adventure, taking chances, and not being afraid to break the rules."
Kanto 98 opened in April this year at 10636 98 St. NW as a new venture for Gutierrez, already a partner and executive to two Mexican-inspired establishments in Edmonton.
Easily among the standouts in the menu are its barbeque selections of pork, chicken, liempo (pork belly), and beef.
The meats are marinated in a distinctly Filipino way. The secret ingredient: banana ketchup.
Also included in the menu is a combo of spaghetti and chicken, with the pasta portion cooked in the sweet style of Filipino cooking.
Another quintessential Filipino fare is kaldereta, braised beef served with rice.
For desert, visitors can try halo-halo, a cold treat of shaved ice with various sweetened ingredients.
The Edmonton Journal reported in July: "If your summertime plans don't include a trip to Manila, you can at least get a fabulous taste of the Philippines — and a view of Chinatown — at Edmonton's very own kanto."
In addition to traditional Filipino fare, Kanto 98's offerings also include influences from China with its steamed bao buns with various options for fillings, and from Hawaii with its poke bowl of tuna.
In an interview with Eat North, an online publication that focuses on Canadian food stories, Gutierrez said that he wanted to showcase Filipino food in the city.
"A lot of people from Edmonton associate Pinoy food as weird or extreme and something that is only enjoyed by mostly Filipinos," Gutierrez said. "I just want to get the culture out there by highlighting the American and Spanish influences combined with the native ingredients and techniques that Filipino food is known for."
---