2016 was an exciting year for the Philippine culinary scene on the Canadian stage when two Canadian Filipinos ended up in the final three of that year's MasterChef Canada. One of them, Matthew Astorga, charmed audiences and judges alike with not only his culinary skills but also with his disarming smile and signature fedora hat.
"After the top three results of Master Chef Canada was publicized, I announced that I was hired as a corporate chef for one of the fastest growing hospitality groups in British Columbia," Astorga recalls to Canadian Filipino Net. "That was the first time this caliber of announcement was made in the MasterChef franchise globally."
Astorga was on fire having dish features at 15 different establishments across the Lower Mainland, being in the thick of his Master Series Pairing to promote a new restaurant and leading cooking events at different restaurants every week for three months.
The busy schedule came to an abrupt halt when Astorga figured in a car accident. He sustained a number of injuries, including a brain injury. "There were periods of time when I couldn't read or write," he confesses. Complete recovery hasn't come easy and the physical and mental stresses of working as a chef was proving to be difficult.
But the drive that took him to the MasterChef Top 3 never left this willful soul. Before joining the cooking competition, Astorga was already running a design and marketing company. He now has gone back to that business and enhanced it with his culinary expertise and MasterChef experience. His food media company is called "Matt Hatter Media", a fun play on his signature look. He exclaims, "I have a few big partnerships with international brands slated in 2018, with three video series coming out very soon!"
Astorga's family moved to Canada when he was four years old. While other kids watched cartoon, he was always watching cooking shows starring Christine Cushing, Anna Olson, Ina Garten and Emeril Lagasse. "But of course, nobody inspired me to cook more than my Nanay," he muses. "It's quite a gift that Filipino moms have – the ability to cook enough food for an entire village almost every night."
Of the Filipino dishes that were created out of his mother's kitchen, Sinigang na Hipon (Prawns in Sour Soup) is his favourite. "It always takes me back to family dinners at the dinner table with a big pot of sinigang and steamed rice." He sums up the experience, "That tangy, succulent broth paired with the sweetness of fresh prawns – sarap!"
Below is Astorga's personal recipe on this beloved comfort food which he calls "a one-pot wonder".

Sinigang na Hipon
Ingredients:
1 cup tamarind pulp (seedless)
1/8 cup fish sauce
1 medium yellow onion
1 lb raw prawns (shells on)
12 grape tomatoes
1/2 cup taro root
1 serrano chilli
1 cup long beans
2 cups red spinach
4 calamansi (Philippine lime/calamondin)
1 tbsp canola oil

Directions:
1. In a small bowl add 1 cup boiling water to tamarind pulp. Let sit for 15 - 30 minutes or until tamarind has completely softened. The consistency should be smooth and thick; set aside. 2. Peel and finely dice the onion. 3. Chop the taro into small cubes. 4. Trim and cut the long beans into 4 inch lengths. 5. In a big pot, add 1 tbsp canola oil and onion. Cook for 1 minute on medium high heat. 6. Add 4 cups water, fish sauce and tamarind. Bring to a boil. If you like more intensity add more softened tamarind pulp. 7. Once boiling, add cubed taro. Let cook for 5 minutes. 8. Add tomatoes, serrano chilli and long beans. Let all ingredients simmer for 3 minutes. 9. Add the prawns and red spinach. Cover and let simmer for 1 minute. 10. Turn off heat and let pot sit covered for 5 more minutes. 11. Remove and discard the serrano pepper. 12. Stir the soup to combine all of the ingredients. Season to taste with pepper. 13. Serve with the sliced calamansion the side. Enjoy!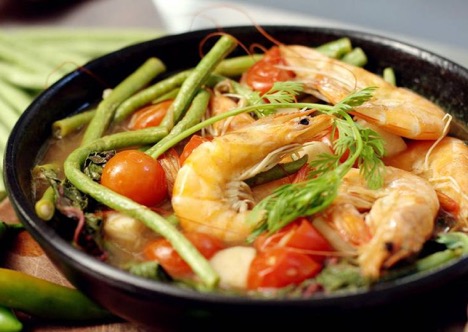 ---
---