Sisig is everything that Winnipeg chef Allan Pineda is – innovative, rebellious and totally unapologetic. And, of course, both are as Filipino as pulutan, a term for which there's hardly any direct English translation(pulutan is an appetizer or snack that go well with alcoholic drinks, one example of which is the sisig).
It wasn't love at first sight when the two met. "I remember the first time I saw a whole pig's head in the oven. I was like "Oh hell nooo!" he muses. Pineda did not like the dish as a young boy, remembering that "visually eating a pig's head was unappealing".
But like all successful partnerships, this one was made to stay. "As I grew older, I grew accustomed to it so now in every Filipino restaurant that I walk into, I'd have to order it." Pineda has been documenting these restaurant visits for his project "The Sisig Chronicles", rating and describing the different ways sisig is prepared and served.
He turns wax poetic when describing the dish. "Sisig is one of those dishes that you do not find in other cuisines, so it is unique in that sense. It brings me back to how growing up with limited means we had to learn to utilize all parts of the animal."
Pineda adds, "The different textures, hot spice and especially the fried egg on top make sisig truly special."
Pineda believes that Philippine cuisine will eventually find its way on the international stage "but it will be a long road".
Aside from keeping busy with the popular pop-up dinner series "Baon Manila Nights", he is a contributor to the forthcoming The New Filipino Kitchen, an anthology cookbook to be published later this year featuring immigrant stories and recipes by Filipino chefs and food writers from around the world.
Below he shares with us his take on the beloved sisig with a true North American twist.

Sisig Foie Gras Burger
Ingredients:
1/2 pork belly with skin (boiled till tender and chopped into small pieces)
1/2 lemon or 3-4 calamansi juice
1 medium size diced red onions (reserve a 1/4 for frying)
1 tablespoon minced fresh ginger
2 tablespoon mayonnaise
1 tablespoon polive oil
2 tablespoon coconut vinegar
1 Thai chili pepper, minced
1/4 cup diced green onions
1/8 teaspoon ground black pepper
Salt
Directions:
Boil pork belly in water till tender. Cool and then cut into small pieces
Heat olive oil in a sauté pan, fry onions and then add ginger.Add pork and fry till it's beginning to become crisp.
Remove from heat and add mayo, Thai chilis, coconut vinegar, green onions and the rest of the red onions.
Add salt and pepper to taste. Mix well. Serve piled high in a bun.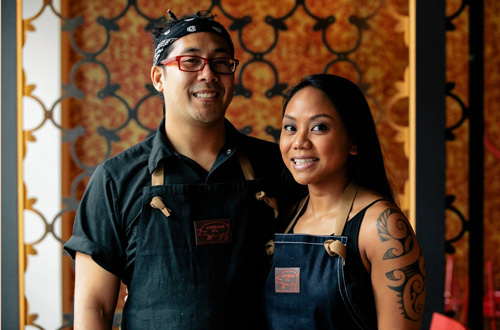 ---
---