You could not blame Vancouverites for breaking into the song "What's the buzz, tell me what's happening…." on Friday, February 25, 2022, when they woke up to a long and noisy crowd forming on Granville Street, one of the main arteries of the city.
The crowd of about 5,000 was made up of Filipino Canadians who had come to say hello to a large bee in a red and yellow outfit and sporting a chef's toque - the mascot for Jollibee, a fast food franchise with Filipino roots.
Rumors of the bee coming to Vancouver had been swirling for some years. When Jollibee finally landed at 833 Granville Street, the Filipino Canadian community made a "fiesta" of it, turning out in huge numbers. Some of the opening day customers came from as far away as Prince George, Kelowna and Victoria in British Columbia, with some spending the night waiting in line!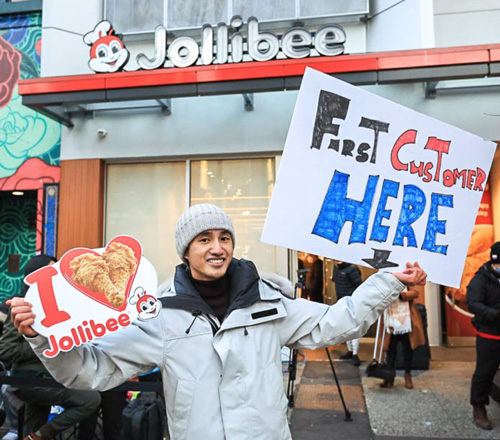 Vancouver resident Kei Kondo camped out at 833 Granville Street for over 12 hours to be Jollibee's first official customer on opening day. (Photo credit: Jollibee Canada)
Jollibee is found in over 1,200 locations worldwide, including in Southeast Asia, Hong Kong, the Middle East, North America, and Italy. The first Jollibee in Canada opened in Winnipeg in 2016, and has since branched out to locations in Toronto and the Greater Toronto Area, Calgary and Edmonton in Alberta and Regina in Saskatchewan.
Jollibee has adapted to local palates in the various countries where it can be found. Apart from its fried chicken, spaghetti and hamburger menu, Jollibee in Brunei has Garlic Chicken Curry while Middle East patrons have a choice of the Jolly Wrap – chicken tenders and veggies in pita bread, and Chickenjoy served with kabsa or biryani rice. In Vancouver, burger steaks, crispy chicken sandwich, and peach and mango pie as well as banana and jackfruit (langka) pie are all on the menu.
Two more locations in the region have been confirmed: a second in Vancouver at Cambie and Broadway, and one in the Strawberry Hill area of Surrey. Jollibee Vancouver is open seven days a week from 9 a.m. to 10 p.m.
The Vancouver branch is the 23rd store in Canada where the corporation is planning on a 100-store expansion. The opening of Jollibee in Vancouver got rave reviews from the denizens of social media. Some reviews and comments: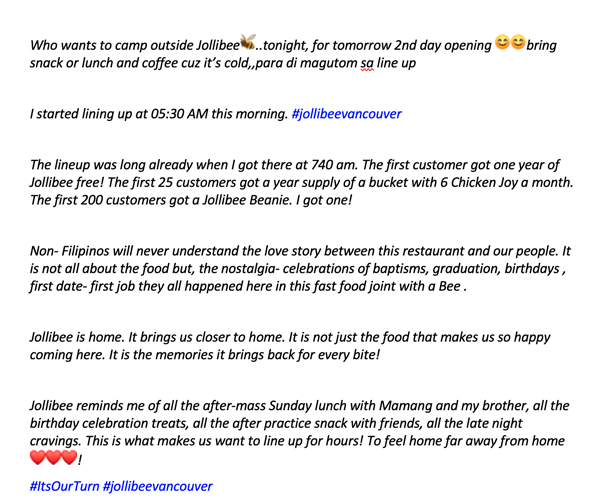 Jollibee is the brainchild of Tony Tan Caktiong, originally of Davao in the Philippines. One of seven children of a family that immigrated to the Philippines from mainland China, Tan Caktiong`s first business venture was a franchise for Magnolia ice cream, the beloved ice cream brand in the Philippines. Jollibee came into being when Tan Caktiong noted that the demand for fried chicken, spaghetti and hamburgers that he served in his ice cream establishments was much greater than ice cream.
Jollibee was born in 1978, with the Jollibee Yumburger as its first signature product. The Jolly Spaghetti followed, consisting of noodles, ground meat, sliced hot dogs, banana ketchup, and cheese, and a crunchy fried chicken called "Chicken Joy." Canadian Prime Minister Justin Trudeau received enthusiastic press reviews when, on an official visit to Manila in 2017, he stopped at a Jollibee outlet for some Chicken Joy.
Why a bee for a mascot? Tan Caktiong and Manuel Lumba, who designed the mascot, have explained that they chose a bee because bees are hard workers and produce something sweet. The bee can be a symbol for the Filipino people: hard-working, generous and happy.
---