Whether you are a nostalgic Filipino who misses the flavour of traditional Filipino dishes or someone who is about to try Filipino cuisine for the first time in a restaurant, this top 10 list of must-try dishes defines the unparalleled flavour profile of Philippine cuisine.
1. Lechon kawali or bagnet - Deep fried pork belly. Need I say more? This dish is close relative to the lechon (whole roasted pig). The skin is delightfully crispy while the meat is juicy, tender and seasoned just enough to enhance the natural flavour of the succulent pork belly.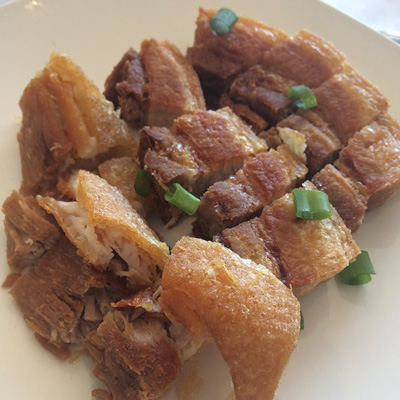 2. Adobo - There are many varieties of adobo as different regions in the Philippines have their own versions of this dish. Ironically though, this is also the national dish of the Philippines despite the different ways it can be prepared. The most popular version of the adobo is made with pork and/or chicken stewed in soy sauce, vinegar and garlic. The simple combination of ingredients somehow transforms into a flavour profile that evokes comfort, joy and nostalgia. Other variations of this dish include the addition of coconut milk, or the exclusion of soy sauce and certain vegetables. Even squid can be substituted in place of chicken and pork.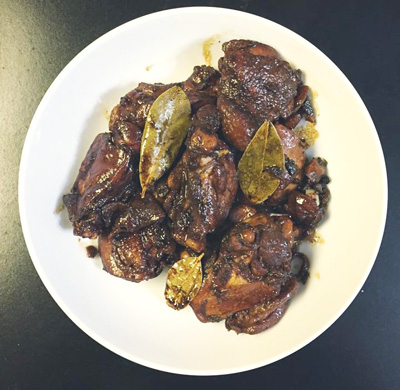 3. Sisig - This sizzling concerto of pork head parts, liver, chillies, and onions, topped with a raw egg that eventually cooks and infuses into the meat, originated from a small street eatery in the Pampanga region. Celebrity chefs such as Anthony Bourdain and Nigella Lawson have raved about this dish! The splash of calamansi (Philippine citrus fruit similar to limes) adds to the element of excitement as the juice hits the sizzling plate and the aroma of the steam prepares you for the spoonful you are about to eat. Pair it with a nice cold bottle of beer and life will never be the same!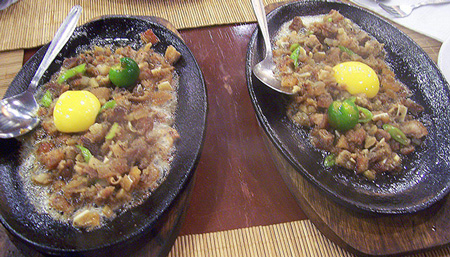 4. Crispy Pata - Deep fried pork belly is one thing, but how about trying deep fried pork hock and knuckle? Crispy pata is all about the texture. This part of the pork has the tender meat, tendons, fat and let's not forget how all that meat is inside a wrapping of crispy skin. It's crispy, chewy, meaty and it can channel your animalistic instincts as you try to pry the meat off the bone with your hands and teeth.
5. Kare-Kare - If you have peanut allergies, please skip this dish! Kare-kare is oxtail and beef tripe in a peanut and ground rice stew. Vegetables such as bok choy, eggplant and banana blossoms are also added in the stew to balance out the flavours. What completes this dish is the bagoong (shrimp paste) on the side which complements and enhances the peanut flavour and adds another element of texture to the dish.
6. Laing - Originating from the Bicol region, known for its spicy dishes and use of coconut milk, this dish introduces a very native Philippine vegetable called taro leaves. The leaves are carefully prepared and cooked in coconut milk that is thickened. The dish is spicy due to the chillies added and typically but not always, pork is added to this dish. The taro leaves have a very earthy taste and absorbs the richness of the coconut milk.
7. Dinuguan at puto - Some Filipino mothers have called dinuguan "chocolate" stew to get their kids to eat this dish. It looks like a dark chocolate stew all right, but there is no trace of chocolate in this dish. The dark brownish black colour is blood. Pork blood. The sauce has a surprisingly smooth texture as vinegar, garlic and onions are used to balance the pungent odour and taste of the pork blood. The meat is pork belly and the more authentic versions include pork intestines, tripe and stomach. Puto is a steamed rice cake made of rice flour. It is dipped into the stew and they are eaten together as gustatory partners. The sweet, salty, sour and sometimes spicy combination of flavours plus the different textures of the meat makes this dish memorable for anyone who has ever tried it.
8. Pancit palabok or malabon - This is the featured dish that is typically served on special occasions. Rice noodles are topped with an orange sauce (colour derived from annatto seeds and shrimp broth), shrimp, crumbled pork rinds, smoked dried fish flakes, grilled squid, sliced boiled eggs and green onions. Don't forget to squeeze some lemon or calamansi juice on the noodles before you take a bite to experience the full effect of flavours and textures in this dish.
9. Halo halo - The literal English translation of this dessert is "mix-mix" and really that is an understatement. This "mix-mix" of finely shaved ice, and layers of young coconut, coconut sport, sweetened beans and chickpeas, crispy rice puffs, jackfruit, gelatin and then topped with a purple yam jam and a scoop of vanilla ice cream ends up like a symphony in your mouth. It is like a "souped-up" and enhanced milkshake that not only tastes divine but is also visually appealing and creates a happy ending to your dining experience.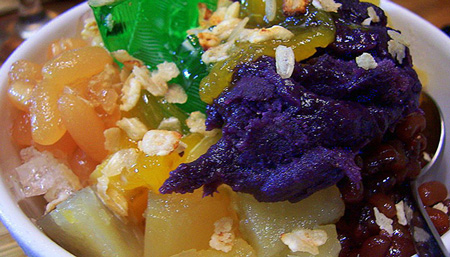 10. Leche flan - You've heard of crème brûlée and crème caramel? Leche flan is a richer, smoother and denser version of these two popular mainstream desserts. This steamed egg yolk and condensed milk custard topped with a caramel syrup will surely tickle your tastebuds especially after eating an intensely flavourful and savoury meal.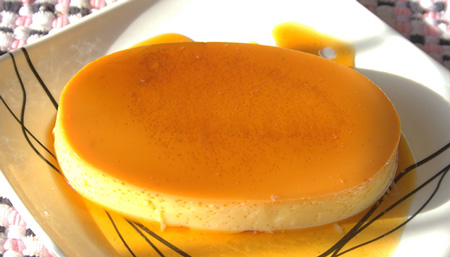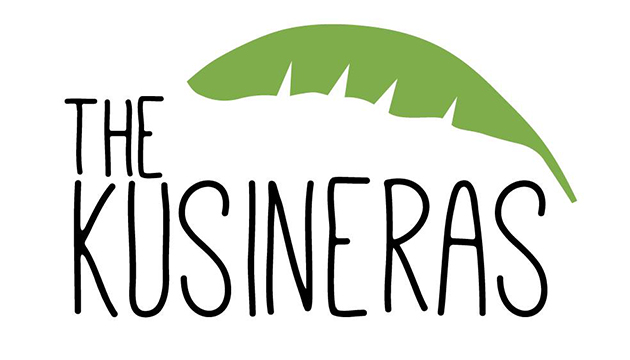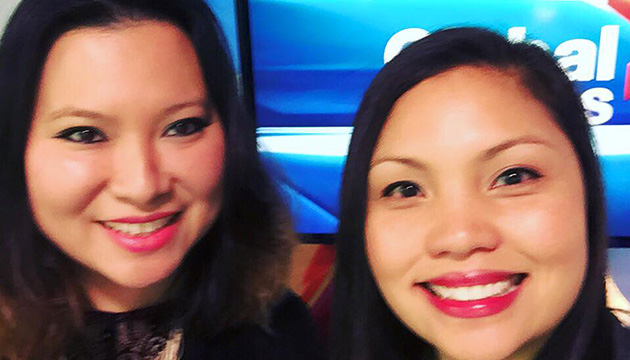 Kaye Banez and her friend Sharlene Eugenio are passionate about food and their Filipino heritage. They are The Kusineras—which means female cooks in Tagalog— with a mission to share the beauty of Philippine culture and introduce the cuisine to everyone in the Greater Vancouver area. The Kusineras are currently teaching the first Filipino cooking course in B.C. through Langara College's Continuing Studies program. The course is called "Filipino Fiesta". Facebook page /thekusineras. Twitter @thekusineras
---