How do Filipinos celebrate Christmas? Let's just say that in the Philippines, the countdown to Christmas begins in September, yes, September. They call it the start of the "ber" months, and the stores start to stock up on and display Christmas gifts and decorations for sale.
It seems to be different for the Filipinos who live outside of the Philippines as there are other special occasions that people celebrate and prepare for between the months of September and December. In Canada, we have Thanksgiving, Halloween, Remembrance Day, and then finally we see the Christmas decorations, and the festivities begin!
The one Christmas tradition, however, that is followed no matter where Filipinos are in the world is the "Noche Buena" or "Christmas Eve dinner". This dinner is not like the typical dinner that you eat everyday. This is a feast where friends and family gather around midnight and eat to celebrate the blessings received and to celebrate the birth of Jesus Christ.
This tradition was introduced into the Philippine culture when the Spaniards colonized the country centuries ago.
Why is the "Noche Buena" at midnight?
Traditionally, Filipinos partake in the "Noche Buena" after attending the "Misa de Aguinaldo", "simbanggabi" or midnight mass.
Now, the "Noche Buena" has become a part of the mainstream culture, and people gather and have a feast without religious practice.
With that bit of history explained, let's talk about the food served at a "Noche Buena" dinner. The food served varies, but there are a few dishes that serve as the hallmark of a Noche Buena menu.
Here are the Kusineras' top five Noche Buena dishes:
Lechon (roasted pig) – When you see a whole lechon served at a party, you would know that the occasion is indeed very special. Alternatives to serving a whole lechon would be lechon kawali (fried pork belly) or crispy pata (fried pork hock/feet).
Hamon (pineapple glazed ham) – This would be the equivalent of the turkey served during Thanksgiving. Pork is the more accessible meat in the Philippines, and this dish is also economical in that it serves plenty of people.
Queso de bola (Edam cheese ball coated with red wax) – This type of cheese is a staple Noche Buena food. Because of the wax coating, the cheese can be preserved longer and the red wax accentuates the Christmas theme.
Bibingka (rice cake) – This cake is traditionally made with rice flour and cooked in clay pots lined with banana leaves and topped with salted duck egg and cheese. The sweet, savoury and earthy combination tickles the tastebuds with every bite.
Buko fruit salad (creamy fruit cocktail with fresh young coconut) – This multi-coloured fruit cocktail smothered in sweet cream is a fantastic and refreshing dessert to end a Noche Buena meal.
In case you are looking for ideas on what to serve for Christmas eve dinner, make it a Noche Buena theme. Surely, you would not need a midnight snack after you have had a midnight feast!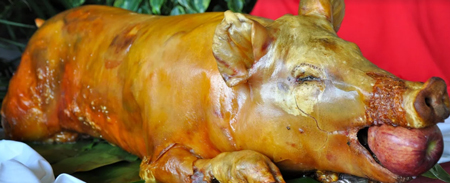 ---
---