Science brought Dr. Mayrose Salvador out of poverty in the rural Philippines. Now she's paying it forward by making science education accessible, hands-on and most importantly, fun through Pueblo Science.
Salvador and Goh founded Pueblo Science in 2010, a non-profit organization based in Toronto that delivers programs designed to make science interesting to children through active hands-on learning experiences, discovery, experimentation and problem-solving opportunities, thereby advancing science literacy.
The poor villages (pueblos) in the Philippines were top of mind when coming up with a name, thus "Pueblo Science" was born. In an exclusive with Canadian Filipino Net (CFNet), co-founder and executive director Salvador relate, "We wanted the children in these communities to get the same opportunities as the students in the cities in getting access to quality science education."
Growing up poor in the northern Philippines, Salvador shares with CFNet, "My parents only finished elementary school but worked really hard for me and my siblings to get educated." She went on to finish a degree in chemistry at the University of the Philippines (UP) and through a series of scholarships, completed her doctorate at the University of Toronto. It was at UP that she met Goh who, at that time, was her thesis adviser. It was Goh that persuaded her to pursue a doctorate degree in Toronto.
"During visits to my town after doing my PhD, I realized that very little had changed in how children were taught science since my grade school days," Salvador recalled. "Science education was too theoretical which made it too abstract and seem difficult."
The hopes and dreams of Pueblo Science were hers and Goh's: to inspire children, particularly in low-resource communities, to love and learn science, technology, engineering and math (STEM) and become the next generation of scientists and engineers.
To achieve its aims, Pueblo Science invests not only in delivering science classes but also in teacher training programs and developing hands-on teaching kits using inexpensive and locally available materials.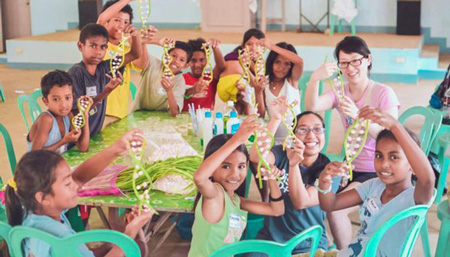 One Pueblo Science program called RISE (Rural Initiative for Science Education) sends volunteers from Canada to join local counterparts in conducting professional development training for science teachers in rural schools. RISE has been implemented in rural areas in the Philippines, Thailand, Guyana and Bolivia.
She firmly believes that a career in STEM would help youth break free of the cycle of poverty. Salvador explains, "Having a good foundation in science and math will help children develop critical thinking, allowing them to understand the world around them and make better decisions."
In less than 10 years of Pueblo Science, Salvador is already seeing results. Among its alumni, she shares that students receive scholarships to further their education, while others use what they learned to generate income, such as starting an ice cream-making business. Salvador shares with CFNet, "Through surveys with teachers, we are also seeing an increase in the number of students pursuing degrees in STEM after a (Pueblo Science) training."
Salvador's personal goal is to become a "social millionaire" – someone who positively impacts the lives of a million of others. "I would like to share my story to inspire as many children as possible; if they dream big and work hard, they can achieve anything they set their minds on."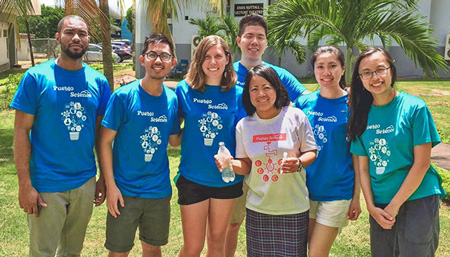 Pueblo Science is close to the halfway mark of a million beneficiaries. Since its establishment in 2010, its programs have impacted over 400,000 students in Canada and abroad, trained over 3,500 teachers and engaged over 800 volunteers in Canada, Thailand, Jamaica, Guyana, Bolivia, India and the Philippines.
To mark its 10th anniversary in 2020, Pueblo Science has plans to implement a robotics training program in Guyana and the Philippines as well as a two-year program to be called "Techno Fair" aimed at transforming the design and delivery of science fair projects in the Philippines. Teachers will receive training and students will receive mentorship with prizes to be had at both regional and national levels.
Salvador looks to the future of science. "There is so much to be done. But there is no reward like seeing the look of students and teachers changing from fear and disinterest to excitement and enthusiasm."
---