The following are remarks delivered at the Introduction of Filipino Movie Nights, a Filipino Film series presented at the Explorasian Festival of the Vancouver Asian Heritage Month, May 18, 2017, and sponsored by Dahong Pilipino, Anyone Can Act Theatre (ACAT), and Tulayan. Mel Tobias is a Filipino Film critic and author of many books and articles about Filipino Films.
Filipino movies are long. They run for 2 hours or more. Why? Movie producers know their market well. If the movie is short, like 1 hour and 20 minutes, the audience will feel short-changed. So it can be long and tedious because the main message is repeated 2 to 3 times to make sure the moviegoers get the message. In general, Filipinos like to repeat things – consider that as a positive trait.
Acting in Filipino movies is generally heightened with high melodrama, some may find the style overacting. But Filipinos are highly emotional, like the Spaniards and the Italians. They express their emotions with extra flair. There are however some Filipino actors who underact (depending on their roles) like Nora Aunor in Himala (Miracle) and Jacqueline Jose in Ka Rosa. Jacqueline Jose won the Best Actress Award at the 2016 Cannes International Film Festival. 'Under-actors' use their eyes, facial expressions and body language to communicate emotions.
A Filipino melodrama on film punishes the wicked in the end. There is redemption, and the good wins in the finale, unlike some American movies where you can get away with murder. And no open endings like in French movies.
The storyline is often a morality play, with the following ingredients – guilt, fatalism, sexual repression and eroticism, double standards, religious influences, sacrifice and acceptance of things that can't be changed. Some of the characters are victims of fate.
To sum it all, a Filipino movie is a Filipino movie. To appreciate it, one must accept its origin from a developing country. Filipinos have their own conventions, stereotypes, clichés and the Filipino way of looking at survival, poverty, socio-economic differences and life in general. Filipino movies allow us to understand the complex Filipino culture and personality. It is cinema verite, cinema of truth.
While there are numerous escapist commercial Filipino movies, there are also many outstanding Tagalog movies that remain hidden or forgotten. Filipino art films win many awards but 80% are not given a commercial release. Directed by serious Filipino filmmakers with a social conscience, these films hold up a clear mirror reflecting Filipino society.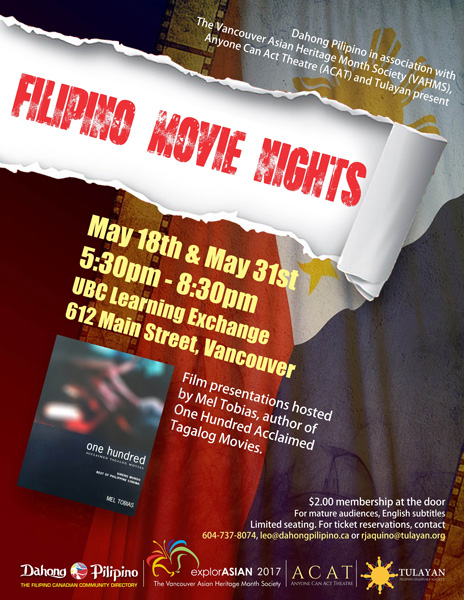 ---