As far as I can remember Christmas season in the Philippines is the most awaited celebration for young and old alike. It is the most festive, the longest, and the most memorable. The season is an endless series of merrymaking, of Christmas parties in homes, schools, public and private offices. It is also a time for family reunions as Filipinos living abroad usually come home to spend the Christmas holidays in the country.
Christmas is a time for gift giving not only for family members and friends but also for the garbage collectors, street sweepers, the mailmen and other delivery and service persons who served families throughout the year. Those who are employed usually look forward to receiving a Christmas bonus and some other perks like baskets of groceries and other food stuff.

The buildup of excitement for the season starts with the first "ber" month and continues during the other months ending in "ber." Usually at the start of September radio and television announcers begin the count down to Christmas by launching the holiday season with Christmas carols. The caroling continues throughout October, November and December with the number of carols played increasing by the day.
By mid-November some families start decorating their homes with Christmas lights and the lighted traditional parol or Christmas lantern beams or twinkles from many windows. Artificial Christmas trees are taken out of storage, decorated and displayed on bay windows of big homes.
Local governments also decorate the streets with lights and huge colorful lanterns hanging from lamp posts. Department stores, with elaborate Christmas displays, start selling Christmas decorations as well as holiday housewares. Children go around the neighborhood singing Christmas carols expecting token gifts of money or refreshments for their efforts. Young adults form caroling groups as a fundraiser. They go around well dressed and accompanied by guitars and/or accordions to serenade homes and stores in malls with carols for a worthy cause.
By early December news reports inevitably include the prices of favorite holiday foods such as ham, queso de bola (cheese), canned fruit cocktail, an essential for Filipino style fruit salad, apples, grapes, mayonnaise, and all-purpose cream. For catholic Filipinos, the nine early morning Masses or simbang gabi are an integral part of Christmas. They are held at dawn starting on December 16 and culminating on Christmas eve with a midnight mass.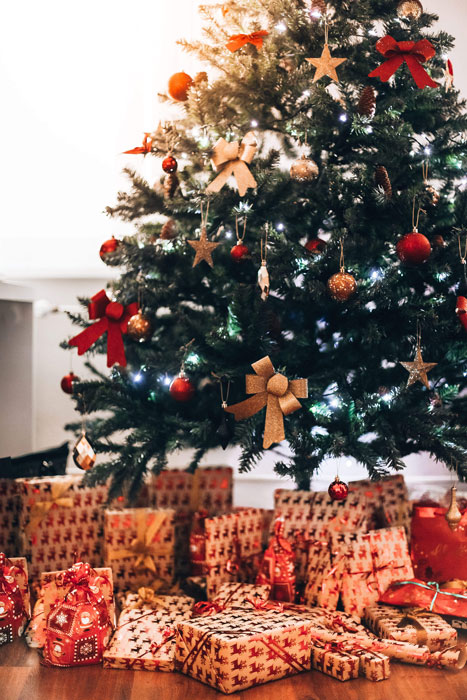 Among Filipinos, the excitement for Christmas starts with the first "ber" month of the year, which is September. Photo by Viktor Hanacek on picjumbo.com
A New Pandemic Christmas
All these traditional rites and merrymaking were the marks of Christmas past before this Coronavirus pandemic (pandemya in Tagalog) and successive catastrophic typhoons accompanied by killer floods and landslides struck the Philippines. In mid November three major typhoons, one after the other, ravaged the Luzon region with flooding that drove some homeowners to their rooftops for safety. Many lives and homes were lost.
In the face of three natural calamities on top of the Covid pandemic scourge, will the Filipinos celebrate the Christmas season in 2020? Yes, of course. It is certain that Filipinos will celebrate the holidays this year despite these happenings because the Christmas season in the Philippines is a meaningful event and not just for fun.
Christmas is the birth of the Redeemer that is why catholic Filipinos consider it an occasion for hope, thanksgiving and redemption. However, Christmas 2020 will be like no other. It will be a scaled-down celebration this year. There are just too many concerns that worry Filipinos right now. Many places in the country are still in Covid lockdown, the whole of Luzon has been declared in a state of calamity after the series of typhoons.
As a response to the three pre-Christmas natural calamities, many groups of generous people are engaged in fundraising to provide help to the victims of these natural disasters. In Metro Manila, it will be a somber celebration since all local governments have banned Christmas caroling. Simbang gabi will continue to be held at cock's crow but with restrictions as to how many would be allowed inside the church to observe proper distancing and avoid the spread of the virus.
The festive sounding radio and TV stations have been muted somehow. There are no exciting count downs till Christmas and very few Christmas carols are played on the air now. It will be a sad Christmas for many who lost loved ones to Covid and to the recent typhoons. There are still many more who are suffering or dying from this coronavirus. But the birth of Christ will be celebrated in the predominantly Catholic Philippines with the same fervor and ever resilient hope for a brighter tomorrow.
Perhaps this is how it should be. A calibrated and restrained celebration in consideration of those who are still in pain and suffering because of the calamities. This is the Filipino way, the Christian way.
Isang makabuluhang Pasko sa inyong lahat!


---