After retiring and travelling to numerous destinations including Venezuela, Costa Rica, Tahiti, and Mexico, as well as Caribbean cruising, it's become clear to me that my preferred holidays are ones where I can shop at local shops, take the local buses, and meet local families.
The Philippines had not occurred to me as a destination that would provide warm weather, beaches, and reasonable prices until I spoke with a neighbour.
While looking for experiences that were less 'touristy', I discovered an expedition that would take us from Coron to El Nido [in the province of Palawan], with a company called Tao Expeditions. They offered a small group-five day, four- night remote island camping expedition by boat, seeing places and villages that are unseen by most other tourists along the way.
Being a hardy Canadian camper, I was unfazed by the idea of bucket showers and the warnings in the literature that this would be a very basic trip. We would join a group of 21 other intrepid travelers, travelling on the traditional Philippine boat by day to various islands where we could swim or walk the beach, and then camping on a remote island for the night. I was thrilled at the idea of getting totally away from the tourists and out into nature. And I was even more pleased to read of the Tao goal for ethically showing visitors the untouched side of the Philippines.
The company has 19 camps on various islands, and they have developed relationships with the families living there, based on trust and respect. Neither Tao nor the villagers want boatloads of tourists walking through their homes taking pictures and imposing on their privacy.
One of the goals that Tao has is to help the local residents develop agricultural and other skills. They are training local women to do massages, and these are provided to the campers on the beach in the evening. Some women have been helped to develop a type of co-op to make and distribute coconut products.
Another Tao project is building schools. Some of the money paid for the expeditions has been used to build schools for children on seven remote islands. They are also sponsoring a solar light project, and encourage travelers to bring solar lights for the locals, most of whom have no electricity. I was thrilled to be able to give one to a young family.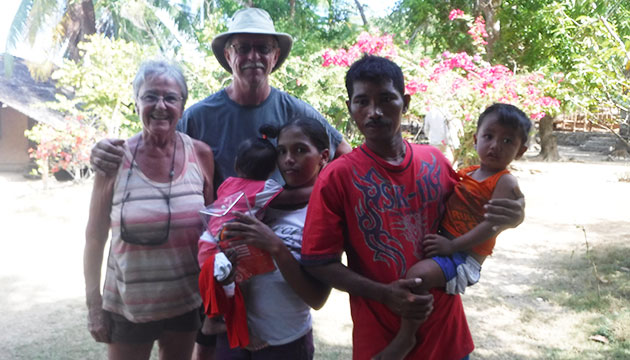 So that first night we were all a little nervous and unsure of how the whole hut assignment process would work. As it turned out, after we picked our own huts, our wonderful crew brought our sheets and foamies and mosquito nets in our own personalized re-cycled canvas flour bags. The village was a couple of wee huts just beyond our camp.
As an international group, we were united by dinners under the stars, snorkelling in crystal clear water, massages under the full moon, and a respect for a beautiful country with friendly, wonderful people.
This 2016 expedition was one of those unique and wonderful experiences that you know could never be repeated. The islands of the Philippines are stunning and the people seem unfailingly cheerful. Travelling by a traditional boat through the islands was the perfect way to see this beautiful country as it has looked for generations. The chance to step away from our modern world and have a glimpse of a life that is so much simpler is rare for us in the Western world.
Check out the Tao Philippines at taophilippines.com!
---