With self-quarantine and lockdowns being re-imposed in many cities, reinforced restrictions will make it even harder for artists to produce, promote, and perform beyond online platforms. There are also other trends affecting the arts and culture community for years to come.
Long before the pandemic, there are already tense competition and fraught relations between the film industry, network cable television, movie theatres, and web-based streaming services. There are also pronounced inequalities in the arts and culture sector. There are a few well-known, big-name artists raking in huge revenues while many other artists on the middle and further end of the spectrum share the shrinking size of the pie. These forms of competition will only get more intense as the post-pandemic recovery period continues to compete for our attention on our screens and the money in our pockets.
During the pandemic, our artists have used other alternative avenue artists to promote arts and culture. Some galleries and theatres have opened to limited audiences observing safety protocols. Others took to the open streetscapes, given their low-risk environments.
Take the case of the recent Pagbabasbas (Blessing) Plein Air (Open Air) Art Exhibition jointly sponsored last month by the Filipino Music and Arts Foundation (FMAAF) and the National Pilipino Canadian Cultural Centre (NPC3). Six highly accomplished Filipino-Canadian visual artists – Danvic Briones, Leo Cunanan, EsmieGayo McLaren, Ed Lantin, Chito Maravilla, and Rod Pedralba – took their art to the public because the public could not go see their art.
Held along the seawall at the David Lam Park in Yaletown, the place and weather were perfect to demonstrate their diverse artistic styles and skills in putting their imagination and creativity on canvas. They exposed the steady stream of walkers, bikers and other regular and accidental visitors to the Park that day to how they conceive and represent nature, architecture and other materials in their art.
Plein Air was the practice of choice by many European masters from Claude Monet, Camille Pisarro, Pierre-Auguste Renoir and others associated with Impressionism School. They took their art-making outdoors to take advantage not only of the fresh air, but also the light necessary for their hurried productions. In this open welcoming space, they also create a community of artists friends who inspire each other and appreciate each other's works.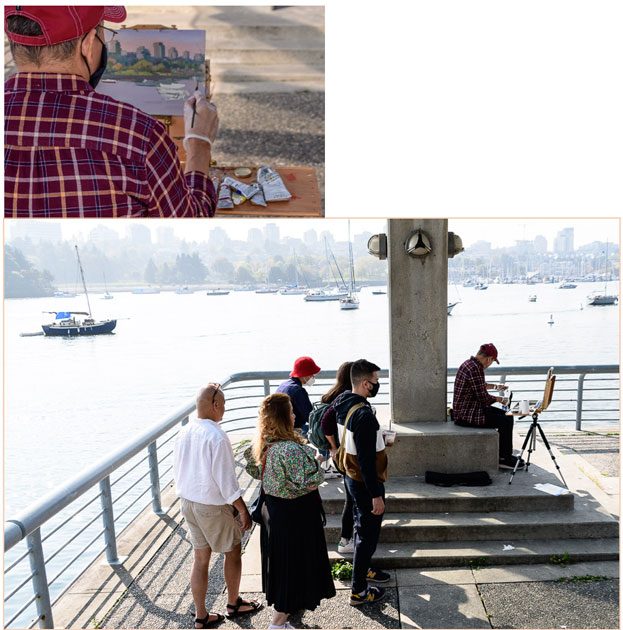 Onlookers, including fellow artist Chito Maravilla (far left) watch Pagbabasbas Plein Air artist Ed Lantin (far right) at work on his canvas (inset). (Photo credits: William Canero).
Such was also the spirit behind Pagbabasbas.
A blessing in many ways for the good weather in early October, the health and safety of volunteers and the six exhibiting artists, it was also a momentous occasion for the organizers. As the first public arts event for NPC3, organized by Lenore R. S. Lim, NPC3 Artistic Principal for the Visual Arts and FMAAF Co-Founder, it was a ritual blessing of camaraderie and much goodwill from the participants. It was a low-budget, all-volunteer affair.
NPC3 Artistic Principal for Dance Alvin Tolentino, Principal and Founder of Company Erasga Dance, came out to support Lenore and artists in the pandemic safety protocols necessary to protect the exhibiting artists. Alvin was beaming from a successful outdoor dance production just weeks ago in September at the nearby Yaletown Roundhouse grounds.
Likewise, Jeremiah Carag, NPC3Artistic Principal for Music, assisted by NPC3 intern volunteers William Canero, Josh Rasalan and Doug Craig, took photographs and interviewed Lenore and the six exhibiting artists during their production. The Philippine Consulate in Vancouver, led by Consul General Mei-An Austria and Consul Cham Guevarra, graced the event, capped by the Consulate's donation of ensaymada and hot drinks for the artists and volunteers at the end of the day.
Our Filipino-Canadian artists, along with other artists of color, need support more than ever in this time of the pandemic. Many of them do not even qualify for emergency relief benefits or regular unemployment insurance, given certain eligibility requirement to access these and other social safety nets.
If you want to know how a society is doing, and to look into its soul, find out how it is treating its artists. For artists and their work embody and mirror the soul of their society.
Artists and how they are thriving, not just surviving, are a good barometer of the overall health and wellbeing of a society, especially our cities. What good is a society when it abandons its soul?
Filipinos in Canada can continuously support our artists and cultural workers, especially during a pandemic. Artists themselves are asking for our collective help. Many of them write about how they want us to help them while COVID-19 infections still rage in our neighborhoods.
Artists need our support now, more than ever.
Supporting art and our artists now is essential to how we imagine our societies in the post-pandemic era. They are key to our mental health and the vibrancy of our cities needing hope through the arts during these difficult times.
---