Karon Liu is a Toronto-based food reporter with the Toronto Star.
On October 6, 2022, the paper published Liu's list of must-eat restaurants in the city, and one Filipino-inspired establishment made the cut.
It's Mineral, which Liu described as a bistro located at 1027 Yonge Street, and "best suited for date nights or a solo treat at the bar".
"Chef Danny Cancino first caught the attention of diners when he brought kamayan dinners to Queen West at the now-closed Filipino restaurant Lamesa almost a decade ago. His cooking at Mineral is hard to categorize in one word. Cancino, who has a Filipino background, picked up European cooking techniques in culinary school and then worked in different kitchens in town before running his own," Liu wrote.
The Toronto food writer continued, "When asked to describe his food, Cancino simply says, 'Canadian.'"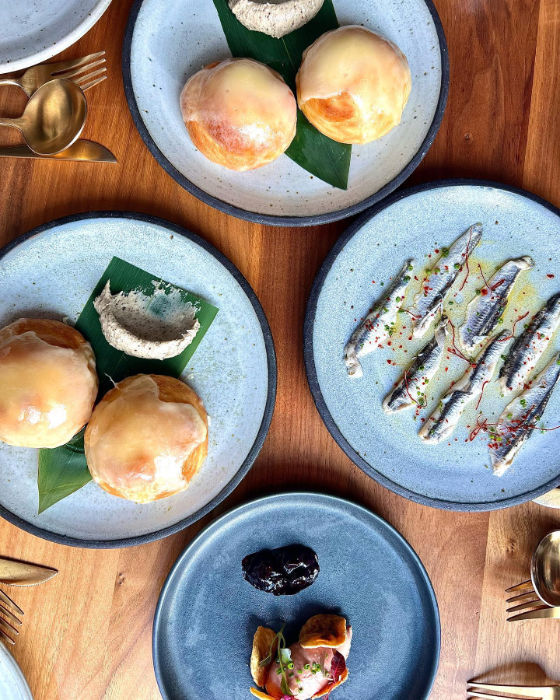 A side of foie gras, iberico soppressata or white anchovy is available with Mineral's ensaymada (brioche buns). Photo by Mineral.
Canadian Filipino Net featured Lamesa and Cancino in 2016:
https://www.canadianfilipino.net/culture/dining/lamesa-filipino-kitchen-pleases-critics-in-toronto
Cancino was born in Hong Kong, and lived in Manila as a young boy until the family moved to Canada.
Canadian Filipino Net took a look at Mineral's menu, and one of the featured items is Tuna Kinilaw, a Filipino version of ceviche. Cancino marinates his fish with blood orange marinade, and it's served with avocado and crab chips.
What caught Liu's eye was Cancino's version of the ensaymada, a Filipino brioche.
Liu related that Cancino adds truffle butter and hojicha honey to his ensaymada, and for an extra fee, diners can add foie gras or soppressata, a type of cured meat.
For more details: https://www.mineralto.com/
---