Beyond the runways of Vancouver Fashion Week rises ILUSTRADO – a unique fashion show slated for October 22 that highlights the Spanish cultural heritage of the Philippines while updating it for the new millennium.
The word ilustrado means "learned" or "enlightened" and references the great Filipino hero Jose Rizal and the year 1898 in the Philippines –a time of revolution, inflamed passions and nascent nationalism that eventually led to the declaration of independence from Spain.
ILUSTRADO: A Night with Jaki Penalosa celebrates the work of Jaki Penalosa, whose work has featured on runways in Milan, Austria, Norway, and the U.S., and was prominently included in the London Fashion Week House of Icons.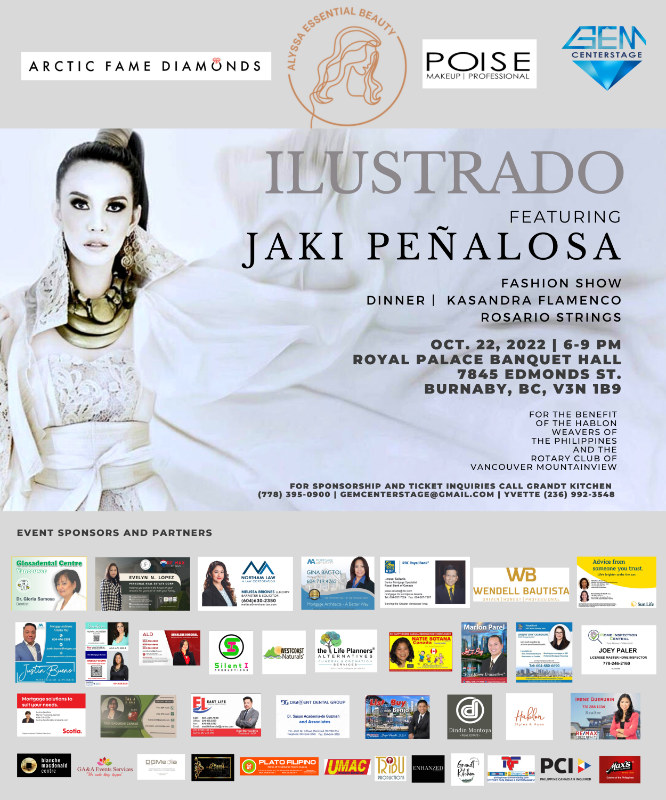 Ilustrado celebrates Philippine fabrics.
Penalosa proudly advocates for traditional handwoven fabrics and textiles, produced and woven in her hometown of Iloilo in central Philippines. Her extraordinary creations being made from indigenous fabrics are sustainable and environmentally responsible.
For ILUSTRADO, Penalosa cleverly incorporates handwoven fabrics like abaca, silk, hablon, pina, cotton and other heritage Philippine fabrics to create covetable frocks and evening looks with a luxurious, modern sensibility.
The show evokes this rich heritage accompanied by the beat and heat of flamenco and haunting melodies from Rosario Strings.
"ILUSTRADO is our response to Vancouver Fashion Week," say Dr. Gloria Samosa, Evelyn Lopez and Atty. Melissa Briones of Gem Centerstage, organizer of the show in cooperation with Beyond Edge Events Canada Ltd.
"Jaki Penalosa's artistry and genius offers a distinctive counterpoint to the mainstream while celebrating the creative passions that we all nurture."
Part of the proceeds will go to Iloilo Hablon Weavers (Hablon isa very intricate, traditional method of fabric production that can be traced back to the late 18th century) and the Rotary Club of Vancouver Mountain view.
Event details:
Date: Saturday, October 22
Time: 6 p.m. to 9 p.m.
Location: Royal Palace Banquet Hall, Burnaby, BC
Address:7845 Edmonds St, Burnaby, BC V3N 1B9
Other info:
Buffet Dinner. Entertainment includes Jaki Penalosa fashion show, The Rosario Strings, and Kasandra Flamenco
Parking:Free parking
Contact for tickets ($98Regular/ $150 VIP) and sponsorship: This email address is being protected from spambots. You need JavaScript enabled to view it., call Grandt Kitchen (778) 395-0900, or
Yvette (236) 992-3548
Link for ticket sales: https://coconuttickets.com/events/ilustrado-fashion-show-tickets
Media contact:
Yvette Lucas
(236) 992-3548
---