Scarborough, a film based on Canadian Filipino author Catherine Hernandez's debut novel, led this year's Canadian Screen Awards held virtually on April 8, 2022 winning awards for best motion picture, achievement in direction, actor in a leading role, achievement in casting, adapted screenplay and sound editing.
Scarborough premiered at the Toronto International Film Festival in 2021, which tells the story of children Bing, Sylvie and Laura, who form a strong friendship over their shared experiences living in an underserved community. It bested four other Canadian films that vied for the best motion picture category.
Canadian Filipino Shasha Nakhai shares the directorial and casting awards with partner Rich Williamson. In an interview with CBC News, Nakhai and Williamson tried to stay true to the film's source material, the 2017 novel by Hernandez who also wrote the film's script. Nakhai and Williamson also won the night's John Dunning Best First Feature Film Award.
Nakhai said, "We took a lot of care with the representation, but we also knew that no one film can encompass the breadth of stories within that specific neighbourhood within Scarborough, and then with Scarborough as a whole."
"As a producer…I feel so lucky to have had the chance to choose every single cast and crew member," said Nakhai whose film took over four years to produce with over 300 casts and crew. "The amount of talent in our team is immense and I'm so proud of us all."
Hernandez bagged the award for best adapted screenplay. In a speech delivered via social media, Hernandez exclaimed, "Our little film did really well tonight! A proper 'thank you' to all who made this possible." She acknowledged the cast and crew who she said experienced snowstorms, heatwaves and the pandemic to finish the film.
Hernandez extended her appreciation to her hometown, the namesake of both book and film: "Thank you again to the people of Scarborough for loving me through some really tough times and for supporting us for letting our crew in and for being you."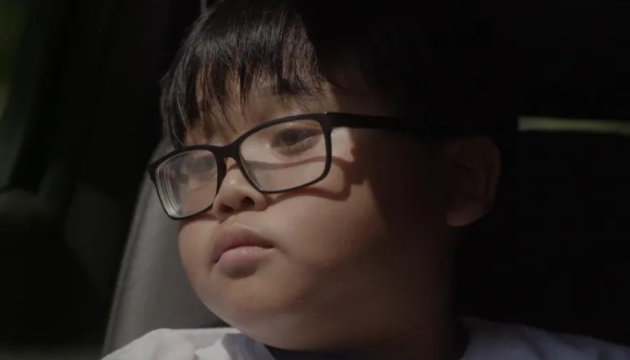 Thirteen-year-old Liam Diaz is one of the youngest actors in the history of the Canadian Screen Awards to win the best actor award. Photo by Kenya Jade-Pint, Compy Films.
Thirteen-year-old Liam Diaz, who portrays Bing in the film struggling with his own sexuality, has never had film acting experience prior to auditioning for the role. Diaz is now one of the youngest actors in the history of the Canadian Screen Awards to win the best actor award and the second youngest to have been nominated. Actor Jacob Tremblay was 10 when he won the same award in 2016 for his performance in the movie Room.
Diaz attends a Catholic school in Mississauga, Ontario and takes acting and singing classes on the weekend at the Josie de Leon School of Performing Arts in Scarborough.
Filmed on location in the Kingston-Galloway/West Hill neighbourhood in Ontario, Scarborough takes place over the course of a school year. It explores the struggles, endurance, and resilience of the culturally diverse suburban community through the lives of marginalized children growing up in a system that has set them up for failure.
Scarborough will be shown on demand and in theatres across Canada. For more information on current screening in select theatres, go to http://www.level.film/#/film/scarborough or follow https://www.facebook.com/ScarbFilm/.
---