To celebrate June as Filipino Heritage month, Canadian Filipino.Net is featuring Filipino artists in Canada who have made a name for themselves.
Sofronio Ylanan Mendoza, better known by his initials SYM was an internationally renowned artist who was also called "maestro" or master for mentoring and nurturing aspiring artists in the Philippines. He shared everything he knew with his students. To support and inspire each other, he formed a group of artists called Dimasalang, named after a street where his career started in a modest studio.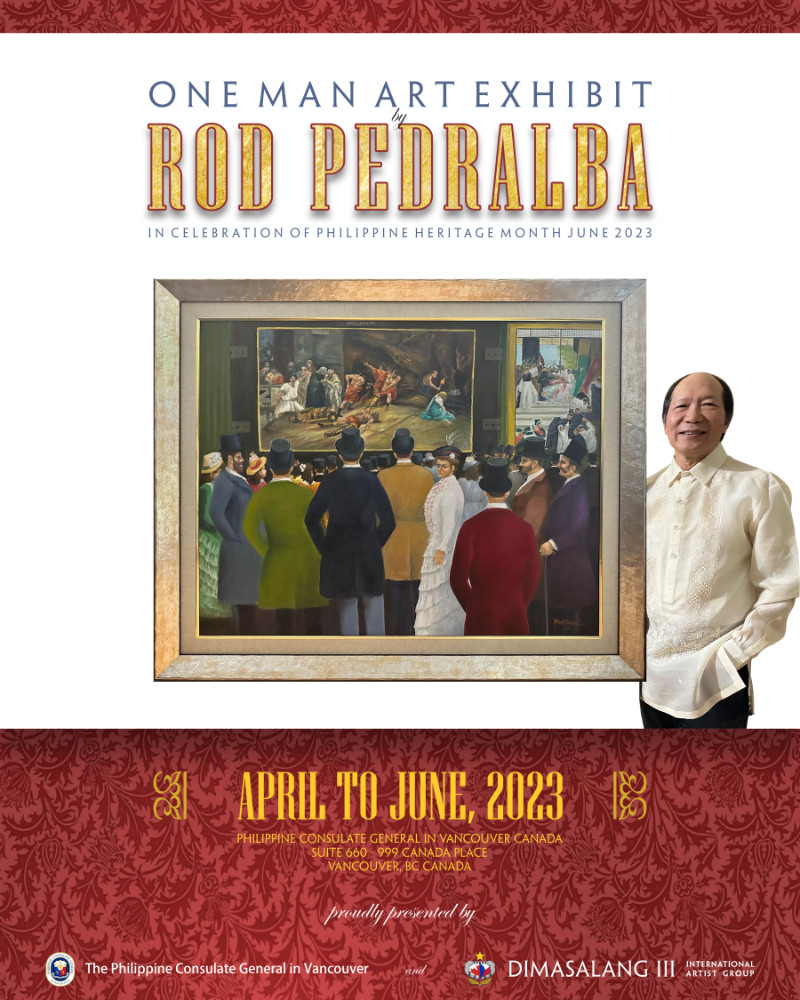 When he immigrated to Vancouver in 1981 with his family, he formed another Dimasalang group of artists with whom he continued to share his knowledge and techniques in art. With SYM's passing in 2021, his devoted young artists as well as artists who have already distinguished themselves in their own right are keeping his legacy alive by continuing to nurture a new generation of artists and inspiring them to improve how they see beauty, translate it onto canvas and share it with the rest of the world through art exhibits.
Rod Pedralba
A student of SYM's in the 1980s and now a signature member of the Dimasalang III International Artist Group, Rod Pedralba recently opened a solo Art Exhibit at the Philippine Consulate General in Vancouver. His works in the exhibition showcases the essence of his Filipino cultural heritage. It runs through June 28, 2023.
Pedralba was born in southern Philippines and trained as an Architectural Draftsman before immigrating to Canada. He pursued his passion for painting when he met SYM in Vancouver. He attended SYM's classes with other artists to learn theories of colors, negative and positive space, and formal and informal balance of composition. He absorbed whatever SYM taught him but eventually learned to take risks and form his own artistic style -- a combination of realism and infused with the essence of cubism.
Aside from SYM, Pedralba also learned from studying the art of 19th and 20th century masters, such as Robert Bateman, Pablo Picasso, the Impressionists, and the Group of Seven. He spent countless hours studying paintings in museums, as well as poring over art books.
He has participated in major group shows. Artist's of British Columbia Expo 86, International Original Art showcase in Toronto, Pacific Rim National Wildlife Art show and Auction in Tacoma earning his early recognition as a nature Artist.
Rod is also a generous supporter of worthwhile causes. He has donated his work to major community and conservation fund raising event, notably the Mount Pinatubo Relief Campaign, B.C.Wildlife Federation and the World Wildlife Fund. In 1989, he was featured in the international magazine Wildlife Art, which was a huge accomplishment for him.
---
---