The Vancouver Asian Heritage Month Society (VAHMS) has recognized Canadian Filipino visual artist Esmie Gayo McLaren for her "significant contribution to Pan-Asian Arts and Culture in the community and beyond".
The Vancouver-based artist received a certificate citing her work at the VAHMS's community awards celebration at the PAL Studio Theatre on May 21.
The event is part of this year's May celebration of Asian Heritage Month in Canada.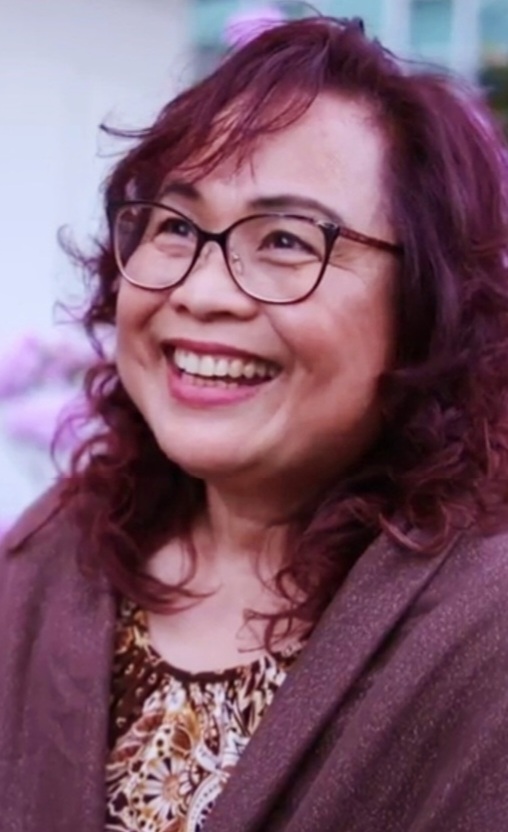 Esmie Gayo McLaren is based in Vancouver.
McLaren was nominated by VAHMS president Leticia Sanchez.
At the event, the artist was introduced by society director Jessica Lam, who related that in addition to sharing her works, McLaren also helps other artists showcase their gift through exhibits and shows.
McLaren said in her short speech that she is "tickled" by the acknowledgment.
"VAHMS has provided the most excellent and artistic platform for all of us to learn about each other's culture," McLaren said.
McLaren expressed hope that everyone will continue doing so, saying it's a "key to understanding" people of different backgrounds.
"I think it helps us overcome fear of the unknown," she said.
McLaren noted that fear is the basis of racism.
McLaren's artwork titled Playful Blossoms was used for a poster last year when community groups in North Vancouver banded together in response to anti-Asian graffiti in the city.
McLaren was commissioned to provide a poster image with the message "Inspiring Connection and Friendship."
The painting was inspired by sakura cherry blossoms.
In an email to Canadian Filipino Net in connection with the 2021 campaign in North Vancouver, McLaren reflected on her role as an artist in the community.
"At the time, I was wondering what I could do to counter racially motivated hate crimes. I was very honoured to be invited to collaborate for this poster where my ideas for a positive approach were met gladly," McLaren wrote.
McLaren's Playful Blossoms pays homage to children's ability to easily accept others and forge friendship.
VAHMS also recognized at the May 21 event two other recipients: artist Lam Wong, and Pacific Canada Heritage Centre- Museum of Migration founder Winnie Cheung.
McLaren's website describes her as an artist who "shares stories that provide healing and hope, rekindling joy and inspiration".
"She tells of passion, labour, simplicity, and childish abandon. She romanticizes, re-lives adventures, asks questions and embraces subjects that resonate with her being, as an artist, woman, and global citizen. Emphasizing motion and emotion, she narrates about the lightness of spirit in the whirls of skirts and spontaneous play. And as if to rejuvenate and rekindle, her stories return to nature and garden.
"McLaren works in both oils and watercolours, using either paper or canvas support for the latter. She enjoys texturizing canvas with gesso and grounds which add an element of play, strength, and an extra dimension of movement."
---