June 1, 2023 – Throughout the month of June, Filipinos all over Canada will celebrate Filipino Heritage Month (FHM) to highlight Philippine culture and Filipino achievements and contributions to Canada as the third largest and fastest growing Asian immigrant group in the country.
June is a significant month in Philippine history because it marked the country's independence from Spanish colonial rule (1521-1898).After its defeat in the Spanish -American War of 1898, Spain ceded the Philippines to the United States and theU.S. formally annexed the Philippines as part of its peace treaty. However, Filipino rebels led by Emilio Aguinaldo and General Antonio Luna refused to accept the change in colonial rulers and proclaimed independence from 300 years of abusive Spanish colonization on June 12, 1898.They waged war against another foreign invader and the Philippine-American war ensued. The Philippine struggle for independence continued until the United States finally granted it independence in 1946.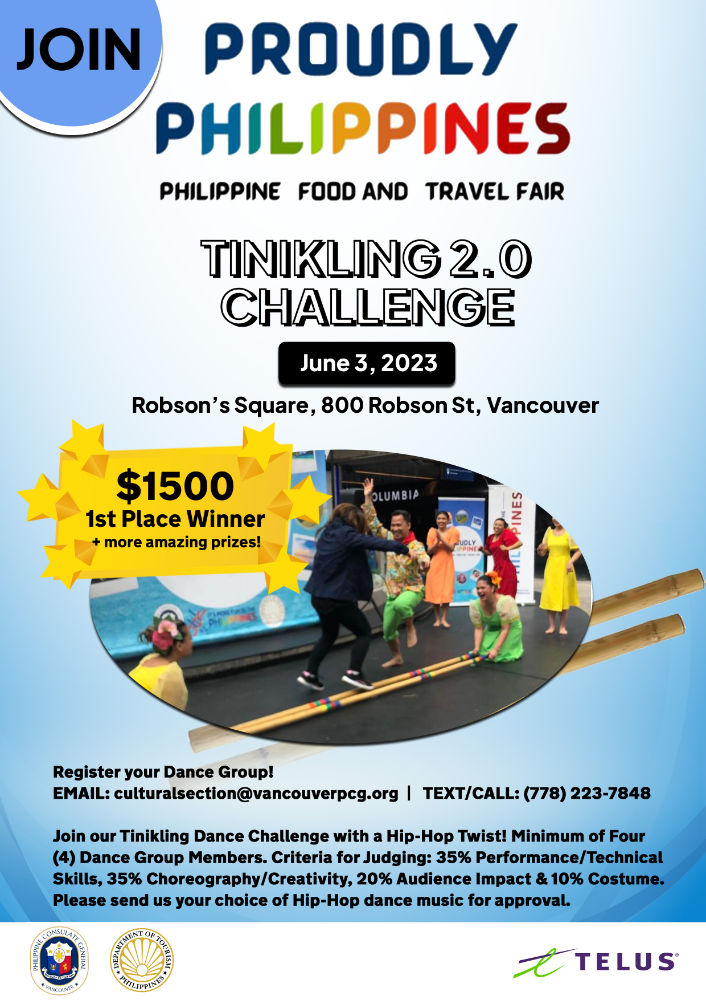 British Columbia
To commemorate the 125th anniversary of Philippine Independence , a flag raising ceremony and reception will be held on June 12 at 11 AM at the Philippine Consulate General in Vancouver. In addition, the PCG will hold its annual Proudly Philippine Food and Travel Fair on June 3 at Robson Square from 10AM. This year 's main attraction is a Tinikling 2.0 Dance Challenge with a $1,500 prize for the first place winner. The dance competition starts at 4 PM.
Tinikling is a traditional Philippine folk dance which originated during the Spanish colonial era. Traditionally it is a graceful and skilful dance where a couple beat, tap and slide two bamboo poles on the ground while another couple gracefully step over and in between the bamboo poles in coordination with a lively tune. The modern version of Tinikling, however, is a test of skill as in a vigorous athletic leaping exercise – more like an acrobatic feat than a dance. Thus the contest is to see how gracefully and fast the dancers can leap in and out of rapidly clapping bamboo poles without breaking a leg or stumbling over the poles. See video of modern tinikling at: https://fb.watch/kASYWeYo_v/
Another major event during FHM is the book launching of Indomitable Canadian Filipinos edited by CFNet editor Eleanor Laquian. It is the first book published and distributed in Canada about the Filipino community in its entirety that is national in scope. The book tells of how Filipinos who came under oppressive immigration programs as caregivers and temporary foreign workers turn their hardships into opportunities for a better life for their children.
The book launch is organized by Atty. Melissa Briones of Northam Law and sponsored by the PCG Vancouver. It will be held on June 7, in commemoration of Filipino Migrant Workers Day, from 6 to 8 PM at the PCG where violinist Kimwell del Rosario of Rosario Strings will perform a medley of Filipino songs.
Also on June 3, the Filipino Canadian lawyers Network (FCLN), a national organization of Filipino Canadian lawyers across Canada, will celebrate FHM with an in-person meeting of Vancouver lawyers with Justice Aubrey Danielle Hilliard, a Filipino Canadian justice based in Barrie, Ontario, as keynote speaker. The meeting will be at HIVE Vancouver Coworking Space at 128 W Hastings Street. FCLN was launched in June 2021 to connect Filipino Canadians of Philippine ethnicity in the justice system (lawyers, judges, law students, paralegals) to network, share business practices and personal experiences, refer clients, advocate for Filipino Canadian lawyers, and do pro bono work for the benefit of the Filipino Canadian community and the Canadian community at large.
As in past years since FHM was officially declared in 2018, Filipino organizations across Canada will hold song and dance festivals, food fairs, and other gatherings in June to share their Philippine heritage and culture with other Canadians. Watch for announcements.
Other FHM events in June

By Rachel Ramos-Reid

Ontario
Adopting the theme "Reconnecting with our Filipino Roots" for this year, the Toronto Catholic District School Board (TCDSB), will host a Filipino Canadian mass and cultural expose at the St. Maria Goretti Catholic School on June 8, followed by a virtual workshop for students grades seven to 12 on stories of teenage migrants scheduled for June 9 starting at 10:30AM.
At the St. Joan of Arc Catholic Academy, the TCDSB scheduled the Filipino Student Association summit and get-together on June 13 at 3PM. For more information and to register, visit https://www.tcdsb.org/o/communityrelations/page/filipino-canadian-heritage.
The City of Brampton in Ontario will celebrate this year's FHM with a "Halo-Halo" event at its city hall on June 11. This public event is made in partnership with the Federation of Filipino Canadians of Brampton. The day will begin with a community flag raising ceremony at the Ken Whillans Square hosted by the Brampton Filipino Seniors Club.
Canada's Senate in Ottawa will likewise host a flag raising ceremony on June 14 at the Parliament Hill.
Quebec
Montreal comes alive in June with Tianggehan ng Bayan: Filipino Heritage Market on June 3 and 4and performances by Kultura Filipino and Dalawang Kultura at Isang Pag-ibigon June 10. Both the Market and performances will be held at the Maison de la culture de Côte-des-Neige.
A Philippine Independence Day celebration will be held the following day, June 11 at the Parc Mackenzie-King. Highlighting the all-day celebration is a 21-Gun Salute by the Canadian Armed Forces Reserves. On June 12, a flag raising ceremony will be held at the FAMAS Centre starting at 6AM.
Hosted by FOCUS Concordia, a two-day event dubbed SHOWpao will be held on June 2 and 3 at the Loyola Campus of the Concordia University in Montreal. Themes of travel, time, and finding home are explored through this showcase in three acts that span over three decades, following a Filipino protagonist on a metro ride through the years significant to the history of Filipinos settling and living in Montreal.
For more information, visit https://filipinoheritage.ca/events.
Alberta
The PCG in Calgary will be hosting a month-long exhibit in June featuring artworks by up-and-coming Canadian Filipino artists. The exhibit, titled Malaya, will feature over 20 art pieces by six artists which include Day Pajarillo, Audere Santos, Thea Galang, Ryle Ramirez, Gladzy Kei at Filipinx Kasaganaan Artist Collective of Calgary. On June 11, the PCG will also spearhead activities starting with a Tagalog mass at St. Paul's Catholic Church in Airdrie and a flag raising ceremony and cultural show at the Dr. Jose Rizal Monument located at the Nose Creek Regional Park in Airdrie. .
---
---