University of British Columbia (UBC) students, faculty, staff, and Canadian Filipino community leaders attended the official ribbon-cutting ceremony and plaque unveiling of the Antonio and Marissa Peña Learning and Events Room.
The Peña Room is located on level three at the Irving K. Barber Learning Center (IKBLC) on UBC's Vancouver Point Grey Campus.
The Antonio and Marissa Peña Learning and Events Room is the venue for UBC Library's Equity, Diversity, and Inclusion (EDI) Scholars-in-Residence Program's public lectures that fosters dialogue and positive impact on equity, diversity, and inclusion for the UBC campus.
On November 9, the first EDI Scholars-in-Residence event features Canadian Filipino writer C.E. Gatchalian who will speak about "The Radical Centre"and share his personal knowledge and experiences on racism in Canada.
The ribbon-cutting celebration, hosted by UBC's University Librarian Dr. Susan E Parker and Dr. Ainsley Carry, Vice-President, Students, welcomed benefactor Tony and Marissa Peña and the invited guests to celebrate the room which was transformed and upgraded thanks to the generous gift from the Peña Family Foundation to the UBC Library in 2019 just before the COVID-19 pandemic.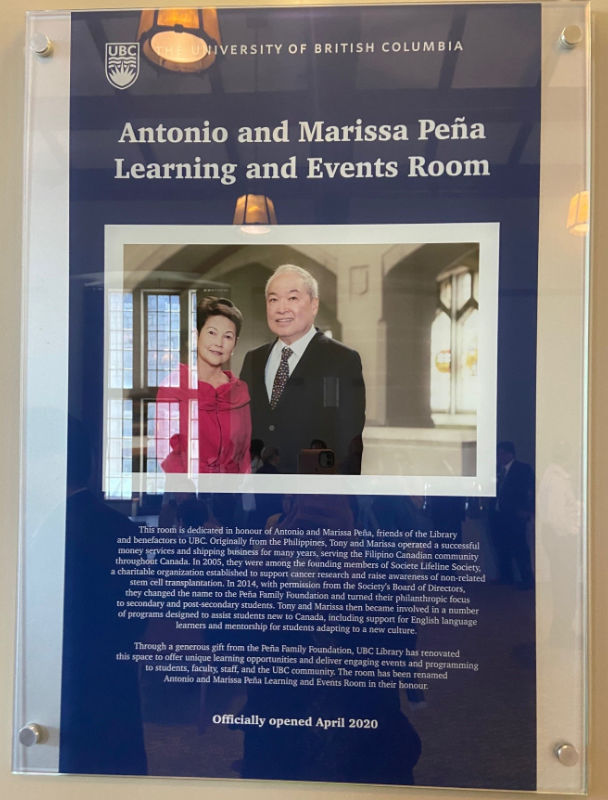 "The library is not only a repository of books but through Tony and Marissa's enhanced support for programming in the Antonio and Marissa Peña Learning and Events Room, it has become a critical component of community growth that creates relationships and invites questions to cultivate the spirit of exploration and innovation," Dr. Parker said.
Dr. Ainsley Carrey is likewise thrilled to see the students back in the campus again and extended his thanks to Tony and Marissa for their generosity and leadership in re-energizing the beloved spacespace that offers unique learning opportunities and deliver engaging events and programming to students, faculty, staff and the UBC community.
The Peña Room was officially opened in April 2020 but due to the pandemic restrictions, they held off having a big public ceremony until last October 12.About 50 invited guests from the Canadian Filipino community leaders, family and friends attended the festivities and enjoy the renovated space allocated for studying, collaboration, and social interactions.
---