Canadian Filipino artist Ovvian Castrillo-Hill recently received a grant from the Telus Storyhive 2021 Voices program which will enable her to produce a documentary series, Ex-Situ: Thriving in Our New Bayan, about fellow kababayans in British Columbia's Peace Region.
Castrillo-Hill tells Canadian Filipino Net (CFNet) that the project was inspired by the Filipino community in Fort St. John, "Getting to know the Filipino community in FSJ, I have come to know the many interesting stories of journeys that I feel need to be know." She is among 91 grant recipients who received $10,000 to fund the project which is slated to launch later this year.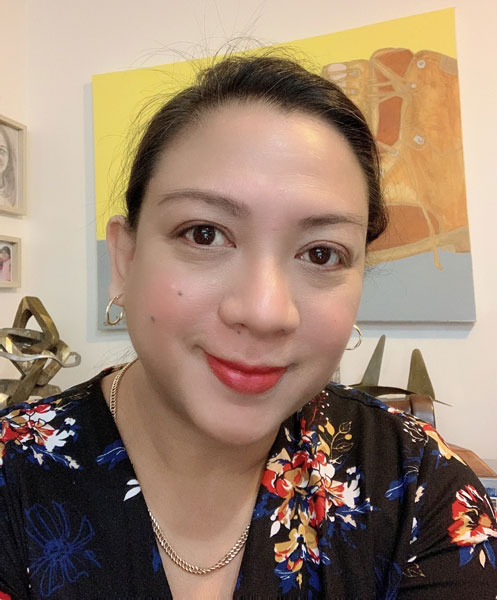 Ovvian Castrillo-Hill at her studio in Fort St. John.
Daughter of renowned sculptor Eduardo Castrillo who counts among his many works the People Power Monument on EDSA, Castrillo-Hill grew up in an environment surrounded by art. "I, like the rest of my siblings, were weaned on art," she shares with CFNet. "We grew up in our dad's studio, witnessing his work and appreciating his sense of aesthetics."
Castrillo-Hill herself is a prolific sculptor with artworks around the world including Macau, Hong Kong, Taiwan, and Canada. In 2018, she created a piece in celebration of national women's month for the Philippine consulate general in Vancouver.
Castrillo-Hill purposely avoided viewing documentaries on Filipino immigrants in Canada as she envisions the documentary to have a life of its own. "I am producing mine organically, with my own vision and intent. I am approaching this as a novice; and as with any art form I create, I am focusing on my own expression to convey what I envisage. As with my visual artwork, I do not refer nor rely on others' journeys."
Though born and raised in Manila, educated in California and receiving a bachelor's degree in interior design from the University of the Philippines in Diliman, Castrillo-Hill admits that she had to adjust to small-town living. "However, there are many love things about FSJ that I didn't have in the suburbs or Manila – fresh air, abundant nature and a laid-back way of life." She also remains grateful to the Filipino community in Fort St. John. "I am grateful for the Filipino Community here---especially the North Peace Filipino Canadian Association (NPFilCan), which took me in. It's the first registered Filipino Society in the North Peace Region. Truly, without having Filipino friends, I would have reconsidered living in Canada altogether."
Filming for the documentary started in February but Castrillo-Hill hopes to bring in more stories to tell of the challenges and successes of members of the Filipino diaspora in B.C.'s Peace region. Her own immigrant story involves many journeys. She notes, "I was a constant traveller, representing the Philippines in various cultural exchange programs, working in Hong Kong and Macau, studying in the US. Leaving the Philippines was not intentional, and neither was living in Canada. I have never really 'left' the Philippines, actually. It is and will always be my home."
Information about Castrillo-Hill can be found on her website www.ovvian.com.
---