October 16, 2023 — "I knew Rizal died for his country. I didn't know he had a very sad love story, and that his family also suffered greatly."
This was a common observation among Filipinos who came to watch Francis Matheu, a Filipino actor and director who holds a master's degree in theater from the University of Victoria, giving life to Rizal through the dramatic monologue Pepe by Malou Jacob.
The English version of Pepe was on stage at the Paul Philips Hall in Fernwood, Victoria, B.C., from September 30 to October 7. The Tagalog version will have a limited run at the Bayanihan Community Centere on October 20 and 21.
Indeed, Matheu's Pepe, his Jose Rizal, came down from the hero's elevated status to speak to the long and difficult road he travelled from suffering to greatness, leaving the uncomfortable message that much of what he worked against - the oppression of his people - continues to this day.
Matheu's Rizal brings us nearly to tears when he talks about his mother being arrested by Spanish authorities when Rizal was only 11 years old. We see Rizal dance, with love, and then weep, crushed by the marriage of his love of 11 years, Leonor Rivera, to railway engineerHenry Kipping. We see him comforted while in exile in Dapitan by the love of Josephine Bracken. We smile when he talks about craving green mango with bagoong (shrimp paste) and missing his mother's adobo. We learn of his deep gratitude and admiration for his brother Paciano, who had supported his studies abroad. We also learn of his deep love for his hometown of Calamba in Laguna.
But Matheu also showed us a Rizal who lay curled in pain on the ground after being beaten by the Spanish guardia civil, and who, as a young student, was denied literary and scholastic honours because the faculty at Ateneo could not believe an Indio - a non-Spaniard - had written the poem El Consejo de los Dolores - only one of the many indignities and injustices he endured in his lifetime on account of his race. Matheu's Rizal speaks to his audience saying: "I know what my fellow Filipinos experience in other countries - being discriminated against on account of their race and colour."
And then, of course, came Noli Me Tangere and El Filibusterismo, the sparks that lit a fire, leading to the foundation of the Katipunan's revolution against Spain, and ultimately, Rizal's execution. "In one moment," Rizal says, "my life and my dreams became one. In one moment, what I could not achieve in my life, I gained through my death."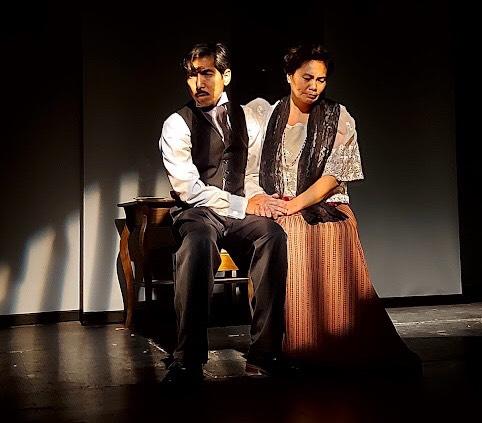 Francis Matheu as Rizal and Sheila Alonzo as his mother Teodora in Malou Jacob's Pepe. Photo by Sid Emmanuel and Francis Matheu.
With the staging of Pepe, Matheu has done a great service to Filipinos and non-Filipinos alike. Non-Filipinos who watched Pepe came away moved and impressed by the story of one man who did so much to liberate his country.
"What a very accomplished man!" said one theatergoer.
The play gave non-Filipinos a deeper understanding of the many historical layers and textures of the Filipino identity. Filipino audiences saw a hero they can truly be proud of - Rizal who embodied the best of Filipino values of love of country, love of family, service, and the pursuit of education. They also came away with the deep and sobering thought that so much of the inequality and injustice that Rizal gave his life to combat still exists, and that in Rizal they have a compatriot who experienced racist anger and hate.
The Filipino community in Victoria thanks Francis Matheu and his cast - Sheila Alonzo, Kendra Bidwell, James Gonzalez, Francis G. Matheu, Igor Melo, Jessica Somera, Janice Valdez - for making Rizal come alive and who still has much to say to the Filipinos of today. The choreography by Janice Valdez relieved the austere set and the painful messages of the play.
---