Since 1940, the Theatre Under The Stars (TUTS) has been producing shows literally under the stars in Vancouver's crown jewel – Stanley Park. Queen Elizabeth II and Prince Philip attended a TUTS performance of The Chocolate Soldier during their 1959 Royal Visit to Canada.
For its 79th year, Theater Under The Stars or its fun-sounding handle TUTS, will showcase Mamma Mia! and Disney's Newsies, running alternate evenings July 5 till August 17, 2019, at Stanley Park's all-green Malkin Bowl.
Mamma Mia! is a musical that was created by thematically weaving together the songs of the Swedish pop group ABBA – one of them happens to be titled Mamma Mia. I first saw the musical on Broadway New York. The show from beginning to end made me stand, stomp and sway on my feet the whole two-hours – I kid you not. Fortunately, I was at the rear. (You don't get to say this very often). It wasn't just me but all back rows and some in the front joined the party.
Set on a Greek Island, Mamma Mia! is a comedic tale of Sophie who invited three men to her wedding – one of whom could be her father. These were the three trysts her mother recorded on her diary – coincident at the possible time of her conception. Why the three dudes accepted the invite, pray tell me …
Forget the film version of Meryl Streep – live theatre with a live orchestra is LIVE!
Of Filipino descent, Joshua Lalisan has a lead role as Sky in Mamma Mia!

Joshua just completed his final year of the Musical Theatre program at Capilano University. Lalisan said his parents love Abba songs so the show would be a blast for the parents and their only child. Lalisan teaches dance, jazz, ballet, hip-hop, and tap at the Surrey Phoenix Dance & Music School Guildford. Many in his circles do not know Lalisan likes to collect crystals – with a preference for jade. He was in the Philippines in 2016 and found the country beautiful but the traffic in Manila was a very lengthy encounter.
The other TUTS musical this summer is Disney's Newsies. In 1899, New York City had its papers delivered by an army of scruffy orphans and runaways called 'Newsies'. When newspaper owners tried to exploit the youthful powerlessness of the Newsies, the street urchins decided to band together and strike against the unfair conditions. Well, the Newsies can stand up and fight for what is right. Why not sing and dance at the same time? Why not?
Also of Filipino descent, Caleb Lagayan is playing Race in Disney's Newsies. Caleb graduated from Capilano University's Musical Theatre program in 2018 – a year earlier Joshua Lalisan.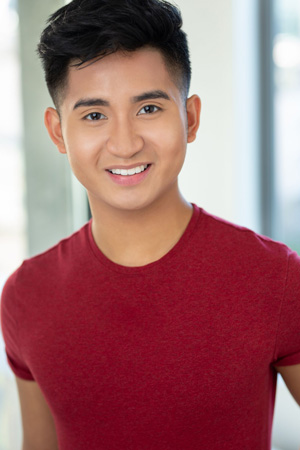 These days, Caleb is beyond ecstatic as he was chosen in the top 13 out of 600 applicants to attend the Royal Welsh College of Music and Drama in Cardiff Wales this coming September on full scholarship. Caleb had to audition in New York City this past January to convince the College of his abilities as a stage performer. His parents are equally overjoyed - a mother who portrayed Evita in the musical in the Philippines, and a dad who is a composer and an engineer at the same time.
Caleb says he is very driven and always reminds himself of what his drama teacher in Grade 9 told him, "Dreams don't work unless you do."
For more information on the show and tickets, see online tuts.ca
The author can be contacted at This email address is being protected from spambots. You need JavaScript enabled to view it.
---