May 1, 2023 - Jay Cabalu says he has been making pop art and collage for about 15 years, and that his method is always changing.
It's the evolution of the Canadian Filipino artist's approach to his chosen medium that he wishes to present in his second solo exhibit titled "POP ODY$$EY".
"Transformation and change is an essential part of life and my art frequently reminds me of that," Cabalu notes.
"I wanted to have a show that was about that process of evolution," the Vancouver-based artist adds.
"POP ODY$$EY" exhibits at Deer Lake Art Gallery in Burnaby (6584 Deer Lake Avenue), from April 29 to May 28, 2023.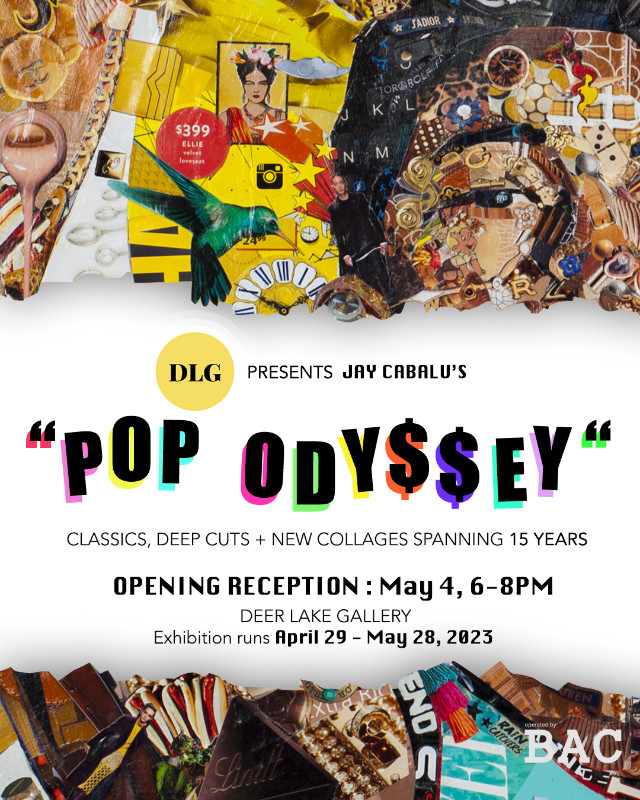 Jay Cabalu's second solo exhibit shows the evolution of his style.
The show features 20 of his wel-known works as well as new creations.
"I'll also be exhibiting seven new pieces including florals, which is a more recent direction," Cabalu relates.
"The process of creating the florals was so free, since I wasn't working within the constraints of portraiture."
"POP ODY$$EY" comes about a year after his first solo exhibit in 2022 called Extra, which was the artist's commentary on consumerism and consumerist excess.
"I think that ironic commentary on consumerist excess is still very much part of what I do and has long been a staple within the pop art tradition," he says.
"I'd say that "POP ODY$$EY" is an expansion of Extra with more personal context."
The show chronicles Cabalu's journey to find his own language as an artist.
"I'm including a few pieces from Extra for those who may have missed it, as well as many pieces I created prior, even going back to my art school days. Extra felt very full circle. I started out doing a very straight forward Warhol-esque style, then found my own visual language in collage creating self-portraits," he notes.
"Many of the works in Extra were my return to celebrity portraits, but in my personal technique I have been developing for years. You'll get to see this journey at "POP ODY$$EY"."
Cabalu adopted collage as his primary medium when he was a student of fine arts at Kwantlen Polytechnic University.
Collage is the art of putting together disparate pieces to form a new image. As a medium, collage speaks to his personal experience as an immigrant and child of immigrant-parents.
Cabalu was born in the Philippines, and his family lived in Brunei for some time. He was a young boy when the family immigrated to Canada in 1991.
One of his famous self-portraits is titled "De Los Reyes".
The work was inspired by the experience of his mother, Maria Bernardina De Los Reyes Cabalu, who went from being a stay-at-home mother for many years to working at a fastfood joint in Canada.
"POP ODY$$EY" celebrates what he has accomplished so far as he continues the journey.
"It gives me such joy to be a pop artist and after 15 years, I'm still in love with collage as a medium," Cabalu says.
"It's very exciting to work with so many different images with endless possibilities to create. Finding the right image can completely change a piece in a second, and this usually happens several times with one piece, many of which I work on for weeks, sometimes months.
"It really feels like an 'odyssey' and it's work that always keeps me inspired," Cabalu says.
---