The Philippine Consulate General in Vancouver successfully held 'Barong Filipino', a live exhibit and fashion show of the national attire for Filipino men on October 6, 2016 at its public reception area.
The event showcased the private collection of Michaelangelo Ebro Dakudao, a Barong Filipino collector from Davao.
Dakudao, an architect by profession who has worked for the National Historical Institute on projects for the conservation and preservation of historical buildings in the Philippines, started his collection of Barong Filipino upon the advice of his Japanese professor during his post-graduate studies in Japan.
Consul General Neil Ferrer, in his welcome remarks, thanked Dakudao for lending his fine garments for the appreciation of guests that included Joe Peschisolido, Member of Parliament for Steveston-Richmond East, and Suzanne Anton, MLA for Vancouver-Fraserview and Minister of Justice and Attorney General of British Columbia.
Ferrer expressed his hopes that the event, through an appreciation of the finely-crafted Barong Filipino made from the local and indigenous fabrics of the Philippines, may lead to better understanding and awareness of the rich and diverse Filipino culture in British Columbia.
Ferrer wore a hand-loomed pure piña Barong Mindanao with bead embellishments depicting geometric tribal patterns inspired by the Tausug tribe in Mindanao.
During the fashion show, 28 pieces were presented in two segments: the traditional Barong Tagalog and Barong Mindanao. The Barong Mindanao, popularized by respected Filipino designer Ben Farrales, featured elements from Mindanao's Moro tribes and the Lumad. The fabrics used were hand-woven using back-strap looms by Mindanao's talented artisans.
The show was co-presented by the Anyone Can Act Theatre (ACAT), an arts organization led by Filipino-Canadians involved in promoting awareness of traditional and contemporary Filipino arts, literature and culture within the Filipino-Canadian community in British Columbia and other provinces in Canada.
Romina Urra-Gonzales, a former Filipino supermodel in the 1990s, directed and choreographed the fashion show which featured volunteer models from the Filipino-Canadian community, consulate personnel, and MP Peschisolido.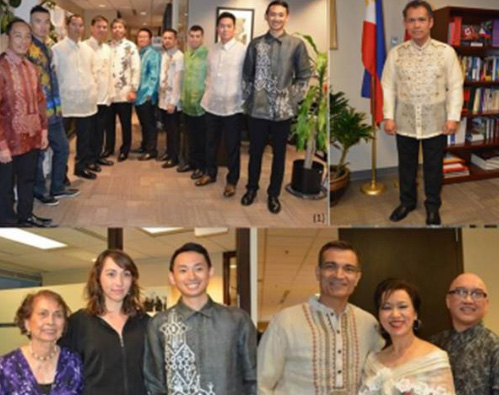 \
---