In February of this year, Immigration, Refugees and Citizenship Canada (IRCC) released details on the federal government's Immigration Levels Plan for 2022-2024. The plan aims to bring in over 1.2 million permanent residents over the next three years.
But what the plan also reveals is that a large part of the total target is composed of admissions under the economic class which includes applications made via the Express Entry programs (see Immigration pathways: finding one's way to Canada) and the Start-up Visa and Self-employed Persons programs. At almost 60 percent of the total target, Canada acknowledges that immigration continues to be a vital tool in its economic recovery and long-term economic stability.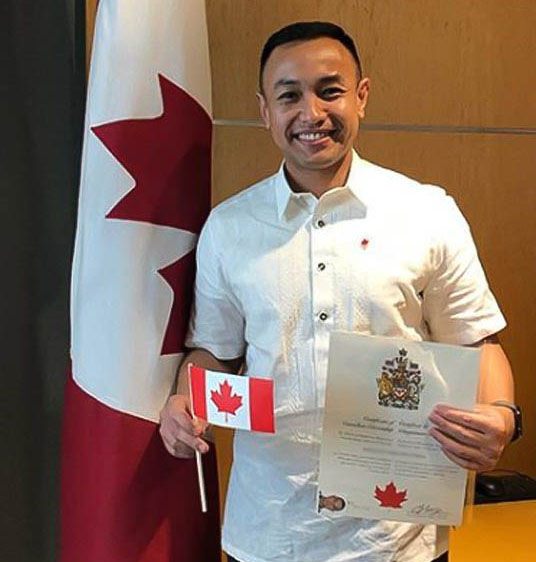 New Canadian proudly wears a barong Tagalog, a formal outfit for Filipino men. Photo by Immigration, Refugees and Citizenship Canada.
The Start-up Visa Program is designed to attract entrepreneurs who have the ability to build businesses in Canada. A major requirement of this application program is the support of a "designated organization" in order to start the process.
Applicants under the Start-up Visa Program would have to pitch the business proposal to the designated organization, whether a venture capital fund, an angel investor group or a business incubator, which in turn is required to issue a letter of support to the applicant and a commitment certificate to IRCC. Applicants would have to prove to the designated organization that the proposed business is feasible and worthy of its support.
Upon receiving a letter of support, the applicant would have created a business where each applicant (maximum of five) holds at least 10 percent of the company's voting rights and both applicants and the designated organization hold more than 50 percent of the total voting rights. For example, if there are two applicants each holding 15 percent of voting rights, the designated organization must have at least 31 percent for a total of 51 percent. This ensures that both applicants and the designated organization have majority control of the company's voting rights.
While applying for permanent resident status, applicants may simultaneously apply for a temporary work visa to land in Canada and start building the business. At the end of the process, the applicant has to prove the viability of the Canada-based business.
Some Canadian provinces have their own versions of this entrepreneur-type program under the provincial nominee program. The Saskatchewan Immigrant Nominee Program (SINP), for example, has a number of categories under its entrepreneur and farm owner and operator categories.
The other entrepreneur-related immigration pathway is the Self-employed Persons Program which attracts those with significant experience in cultural and athletic endeavours, either as an artist, cultural worker or athlete at "world-class" levels or self-employed in any cultural activities or athletics for at least two years.
The selection criteria under the Self-employed Persons Program are based on a point system that assesses the applicant based on education, actual work experience, and other factors. One would need to get a minimum of 35 points out of 100 to merit consideration.
As in all immigration applications, basic requirements include minimum language skills (English or French), ability to financially support oneself in Canada, police clearance and medical exams.
---