Since 1982, caregivers and domestic workers (CDWs) from developing countries have come to Canada to take care of the young, the elderly and the disabled.
Their work is strenuous, their responsibilities heavy and their pay minimum as temporary workers. So who takes care of them when they are cheated by recruiters, abused by employers and eventually grow old alone?
In Vancouver, CDWCR (Vancouver Committee for Domestic Workers and Caregivers Rights), was established in 1992, as a community-based non-profit to help CDWs improve their employment conditions and immigration status. It was started by domestic workers and their community supporters. It assists CDWs through counseling, lobbying and information. The organizers often spend personal funds to cover costs.
In 2007 CDWCR received a grant from Vancity Credit Union for a project to conduct a series of workshops to improve CDWs skills while adjusting to life in Canada. The series included training in first aid, CPR, childcare, eldercare as well as financial and career planning after the two-year LCP program. Former caregivers Julie Diesta and Lorina Serafico, who helped create the CDWCR, were volunteer coordinators.
When the Vancity grant expired after a year, other groups continued to fund the project. These were the BC Government and Service Employees Union, Hospital Employees Union, Movement of United Professionals, Health Sciences Association of BC, West Coast Domestic Workers Association and Immigrant Services Society.

In 2013, the musically inclined CDWCR members formed "The Singing Nannies." Filipino musician Kimwell Del Rosario trained and practiced the group for a successful fundraiser called Pasko na Naman!(It's Christmas Again!) at the UBC Asian Centre Auditorium.
In 2014, supported by the Annual Vancouver Jewish Film Festival and Scotia Bank, CDWCR presented a movie, "Transit" about Filipino caregivers in Israel, to raise funds for a CARE Centre to serve as a respite place with temporary accommodation for CDWs between jobs as well as CDWCR office for counseling and referral services. It opened in 2015.
Also in 2014, the City of Vancouver gave CDWCR a grant for various studies to support the CARE Centre. The additional funds were used to upgrade their website, create a logo/brand, pay for a feasibility study for a caregiver-referral business, and other activities. Unfortunately, the rental money for the CARE Centre ran out in 2016 and it was closed.
Yet CDWs from the Philippines continue to arrive in Canada needing support, counseling and information. At the same time, those who arrived in the early 1980s continue to struggle to achieve economic and social upward mobility. By 2018, many of them will be reaching the retirement age of 65.
The Aging of CDWs
From 1981 to 1989 under the Foreign Domestic Movement program (FDM) 30, 279 CDWs were admitted to Canada as temporary workers eligible for permanent residency. Almost all of them became permanent residents after five years. It was estimated that about 14% of them or 4,239 were in British Columbia. (Immigration, Refugees and Citizenship Canada website).
The FDM was replaced by the Live-in Caregiver Program (LCP) in 1992. While eligible to apply for permanent residency after two years, it then took them an average of eight years to become permanent residents and bring their families to Canada.
From 1993 to 2009, 52,493 CDWs landed in Canada under the LCP. From 1993 to 1997 (a five-year period when information on age of CDWs was available), about 7000 of them were aged 31 to 40 years. They would be about 50 to 60 years old by now. About 2200 caregivers aged 41 to 50 years arrived in Canada from 1993 to 1997. They are now more than 60 years old. (Source: PROFILE OF LIVE-IN CAREGIVER IMMIGRANTS TO CANADA, 1993-2009, Toronto Immigration Employment Data Initiative (TIEDI)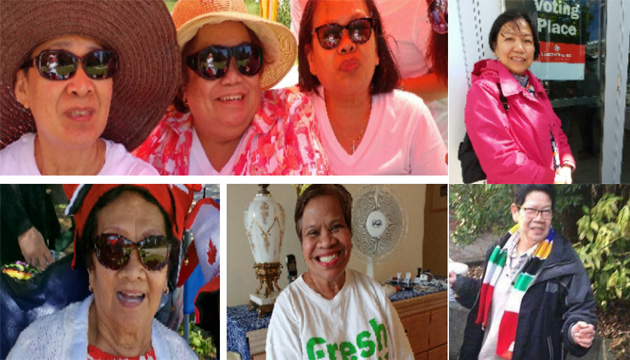 Why Aging Caregivers Need Caring
Because CDWs were not allowed to bring their family while on temporary status, they were separated from their families for many years. Some were unable to bring their family because they were single parents whose children have exceeded the eligibility age, or a vengeful ex-husband was unwilling to sign off on child custody. One of the unfortunate results of the LCP is broken homes and families. Many were also never married and were the sole support of aging parents back home. As a result, many aging CDWs end up living alone.
The work of CDWs is physical involving long hours. Because of low pay they need to work two jobs often resulting in physical strains, injuries and long-term physical illnesses. Under the FDM they were not included in the minimum and overtime wage provision of the BC Employment Standard Act. They received only $40/day regardless of how many hours they worked. It was only in 1994 that they got minimum wage plus overtime after eight hours of work. They paid taxes on their meager earnings.
Under the FDM or LCP, CDWs were allowed to work only with the employer specified on their work permit; part-time work was illegal. Most of their income was used for board and lodging and family support. Their low income entitles them to only a small pension under the Canada Pension Plan (CPP). Their Old Age Security may also be reduced if they do not meet the 40-year residency requirement so most CDWs must continue working after age 65.
After spending the prime of their lives in Canada on work that ordinary Canadians do not want, they have yet to see the better future they hoped to find 40 years ago. Many aging CDWs now face mental, emotional and physical challenges. CDWCR has launched a project to identify problems and develop programs to solve them. They need funds and sponsors to help CDWs grow old with the peace of mind and security they deserve after years of contributing to this country. For information to support CDWCR, visit: http://www.cdwcr.org.
Click here to view the CDWCR Photo Gallery
---
---