Allan Matudio traded nano-chemistry and analytical chemistry for pencil and paper in his quest to learn more about his Filipino heritage. His debut graphic novel Kasama (companion) chronicles the adventures of Kia and Allison in the fictional city of Orkidias where they come across dark forces belonging to Filipino mythology.
In creating Kasama, Montreal-born and raised Matudio learned that pre-colonial Philippines was a lot more complex and evolved than he first thought. "I discovered how little I knew and how much content was available to be learned!" Matudio shares with Canadian Filipino Net (CFNet), "I learned that the people of the Islands were highly sophisticated before the arrival of the Spaniards and Americans and that they were already creating art and doing lots of trade with neighbouring nations."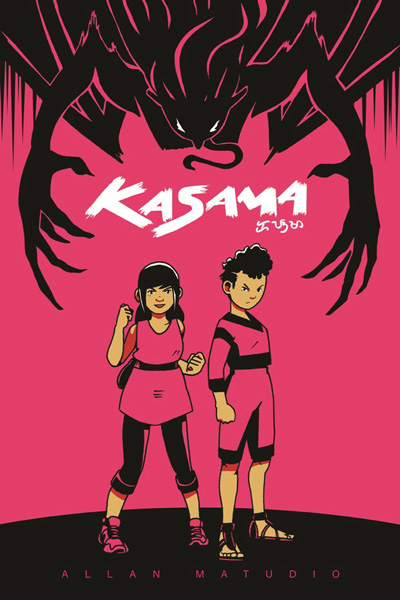 Friends Kia and Allison battle dark forces in the graphic novel Kasama.
Matudio holds a bachelor's degree in biochemistry and a master's degree in chemical engineering, working in the fields of nano-chemistry and analytical chemistry for a few years. But drawing and illustration have always been part of Matudio's life. "As a kid, I copied a lot of my favourite cartoons and would sometimes even create my own stories," he relates. "I decided to take art courses on a part-time basis and eventually became good enough to get hired by a video game company."
Kasama is the culmination of Matudio's personal experiences initially as a tourist and then as a community volunteer for Filipino Canadian community groups in Canada. "Kasama was created with the desire to communicate what I found both beautiful and also tragic with respect to what we as Filipinos go through," he adds.
It was Matudio's maternal grandmother who established roots in Canada by way of employment in Europe, particularly in Spain where his mother likewise found a job. "My mom ended up in Montreal and worked for three years before being able to save up enough to bring my dad over. Together, they managed to save up and bring the rest of the family over."
Kasama features the Filipino mythological creature manananggal (the remover) which Matudio deems to be in "constant evolution" in how it is being interpreted by artists. However, it is the main characters Kia and Allison, polar opposites in personality and culture, who represent the "diversity and beauty of our people."
Kasama is available for purchase through Anak Publishing http://anakpublishing.ca/Kasama.html. Follow Matudio via Instagram @allanmima.
---
---