What started out as a magazine exploring the identity of the "hyphenated Canadian", Living Hyphen now produces podcasts that uncover what it means to live in between cultures.
The seven-episode season gathers over 25 different storytellers across the country who come from over 20 ethnic backgrounds and Indigenous nations combined.
Through poetry and short story readings, as well as conversations, these Canadians reflect on the concept of "home" – whatever home might be in the context of this pandemic or in the diaspora, whatever one's relationship to their home(s) might be, and whatever being stuck at or far from home can mean.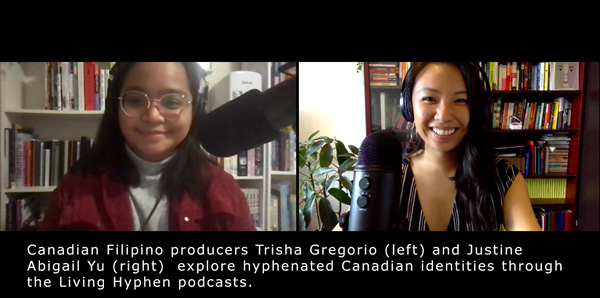 Living Hyphen founder Justine Abigail Yu together with writer-editor Trisha Gregorio, both of Filipino descent, co-produce and co-hostthe podcast series launched in early May with "Homestuck" which draws parallelisms between the pandemic and the experiences of Canada's many diverse diasporic communities.
"Homestuck" features Canadian Filipinos Kyle Jarencio, a digital storyteller from Scarborough, Ontario who likewise co-hosts the podcast @influxthepod, and Kathleen Zaragoza, co-founder of the Sliced Mango Collective, a youth organization based in Vancouver, BC.
"Digging Roots" explores how the hyphenated Canadian is uprooted from one place and planted in another. Award-winning poet Desiree McKenzie joins Indo-Guyanese poet Natasha Ramoutar and Canadian-Acadian-Metis singer-songwriter Micaela Comeau in telling stories about being uprooted and replanted and how one can either flourish or wither in a new environment.
Food as a vehicle for transmitting one's culture is discussed in "Tasting Memories" with Chinese Canadian poet Grace Lau, educator Brittany Scarfo and award-winning journalist Joelle Kidd as guests. The episode focuses on the importance of food in passing down family histories, uncovering secrets and understanding identity.
Artist and community arts worker Nimra Bandukwala with writers Hannah Atkinson Renglich and Micaela Pereira Bajard discuss being homesick while being stuck at home in an episode simply called "Homesick."
In "Storytelling for Survival", participants look at how different forms of storytelling whether written, by music or visual are vital to surviving. Vietnamese Canadian writer Linh Nguyen, Hong Kong-Canadian artist Christie Wong, theatre director Carmen Lee and music therapist Cassandra Lobo talk about how storytelling allows finding connection with one's community during this time of physical distancing.
"Word Limit" delves into the challenges of not just communicating to make connections but to articulate the depth of one's feelings. In this episode, Karachi-born poet Zehra Naqvi, Caribbean Canadian writer Alison Isaac and poet Thunderclaw Robinson share their thoughts on the topic.
An episode on loss, "On Grief", tackles the grieving process for people and things that were lost during the pandemic. Guests for this episode include queer Arab poet Eli Tareq El Bechelany-Lynch, Vietnamese Canadian writer Linda Trinch, Bangladeshi Canadian theatre artist Shohana Sharmin and poet Kasper Samantha.
Living Hyphen's podcast series' first season ends with "Love from Afar" with Canadian Filipinos Anne Claire Baguio, co-founder of the Sliced Mango Collective, and student Sam Castaneda, Portuguese Canadian writer Sonia Nicholson and Tamil Canadian writer Vanessa Vigneswaramoorthy.
In a media release, Living Hyphen founder Yu notes, "As we continue to live through this pandemic, we have been asked to stay at home, to quarantine, and to ultimately, maintain a "social distance" from our loved ones. We have been challenged to find new and creative ways to show our love from afar. But for those of us who are part of a diaspora or who have been displaced in some way – voluntarily or forced, right here on this land or abroad – that is simply a normal way of life for us."
New episodes are being shared weekly via podcast apps and the Living Hyphen's page at www.livinghyphen.ca/podcast.
---