The Victoria-Filipino Canadian Association (VFCA) works to instill in Canadian Filipinos an awareness, pride and appreciation of Filipino history and cultural heritage, to raise community awareness of Philippine culture and traditions, and establish strong ties with other ethnic minority groups in Victoria. At Mabuhay 2022, the VFCA achieved all these.
After a hiatus of two years due to pandemic-related restrictions against public gatherings, Mabuhay was back all things Filipino on June 11 and 12, 2022, at Victoria's Centennial Square. Mabuhay was a celebration of Philippine Independence Day (June 12), and of Philippine Heritage Month in Canada.
The program for each day started with the banging of brass gongs, followed by the Philippine and Canadian national anthems. Rose Henry, a member of the Sliammon Nation, gave an invocation to open the celebration. Mayor Lisa Helps, Victoria City Council members and various civic leaders attended the events with representatives of the BC Ferry and Marine Workers' Union which regularly supports VFCA events.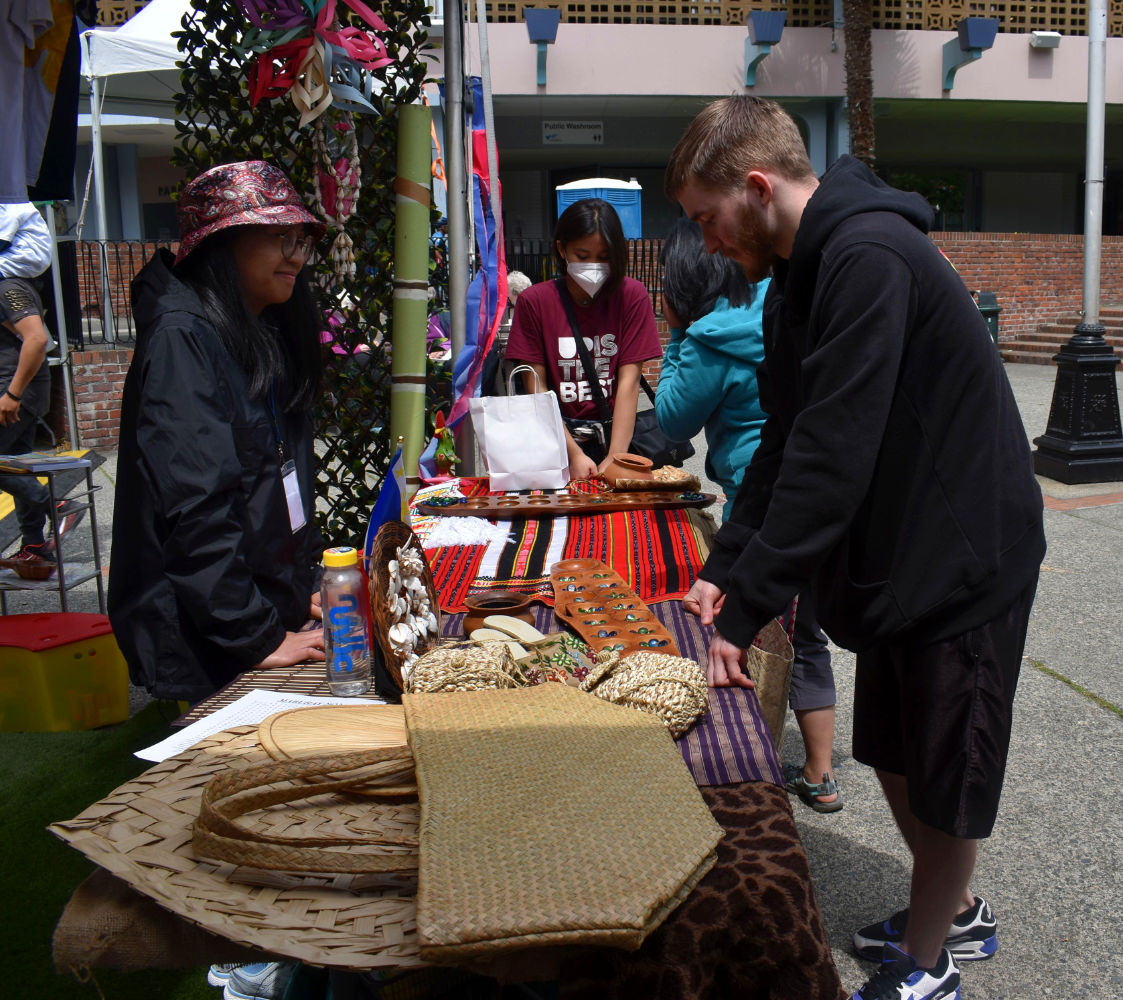 A guest tries his hand at playing sungka, a popular Filipino board game.
The two-day program showcased Philippine songs and dances. Familiar melodies wafted through Victoria's Centennial Park as Canadian Filipinos of all ages performed dances from different regions and cultures of the Philippines. The crowd was invited to participate in a tinikling (a traditional folk dance between bamboo poles) and the Pangalay dance from the Tausug people of Mindanao. Children in barong and saya teetered on benches as they danced the Sayaw sa Bangko. Young and old performers sang English and Tagalog songs and Filipino dancers and singers were joined by dance groups representing India, Polynesia, Mexico, Japan, Germany and Austria.
And then there was the food! The VFCA had its own food stall, but there was also a Filipino carinderia (local eatery) serving breakfast combos of tapsilog, longsilog, and salmon-silog, as well as pancit palabok from the Victoria Filipino-Canadian Caregivers Association. Filipinos could be heard giving non-Filipino attendees tutorials on Filipino food like pancit (fried noodles), lumpia (spring rolls), pork barbecue on skewers, siopao (steamed buns) and escabeche (fried fish in sauce).
Mabuhay afforded budding entrepreneurs a chance to showcase their products and services. Keem Herrera, a food service worker, launched Ice Keem, her home-made ice cream venture offering ice cream in ube (purple yam), Yakult, and durian flavors. Vanessa Sackmann, who manages a delivery service outlet in Victoria, treated visitors to popular Filipino street food like fish balls, kikiam (or quekiam - a kind of Chinese sausage), and isaw (skewered grilled chicken intestines). Stalls by various Filipino-run businesses included AJ Insurance Services, Family at Heart Home Services, Azalea Lashes and Nails, VNC Family HomeCare, and various realtors.
All the vendors and exhibitors took pride in showing off their products, putting Centennial Square in fiesta mode. Mabuhay was also a chance to rekindle the Canadian Filipino community spirit after a two-year absence. For the weekend, Canadian Filipinos were seen and heard, and came away with an even deeper love of their unique heritage and pride in being able to share it.
---