"There are many Filipinos in Canada who completed nursing degrees in the Philippines and had years of nursing experience but who are working as home caregivers or nursing aides here. They are not practicing the professions they were trained to do.
This is not right. It is my mission to change this - not just for nurses but for other Filipino immigrant professions and trades." This was one of the messages Philippine Ambassador to Canada Rodolfo Robles communicated to a small group of FilipinoCanadians gathered on December 10, 2021, at the Bayanihan Community Centre run by the Victoria Filipino Canadian Association (VFCA) in Victoria, BC.
Robles was in Victoria mainly for a courtesy call on the Honourable Janet Austin, Lieutenant Governor of British Columbia, but he took the time to meet with members of the Filipino community in the city.
Robles, who assumed his position in October 2020, has been traveling the length and breadth of Canada, visiting various provinces and meeting with provincial authorities in government, education and the labor sector to discuss the Philippine Embassy's Project Credentials Recognition in Canada (Project CRC) - a project that aims to eliminate what the Ambassador calls the "tortuous path" to recognition in Canada so Filipino immigrants can more quickly and more easily find work suited to the education and professional training they acquired in the Philippines.
Project CRC includes work in making the educational curriculum in the Philippines align more closely with the curriculum in place in different provinces in Canada. It also includes obtaining support and funding from Canadian provincial governments to assist Filipino immigrants obtain any additional training needed for licensing and/or certification. There is also the ongoing work of forging government-to-government labour agreements so various trades persons and professionals can come to Canada without having to go through high-priced and often unethical recruiters.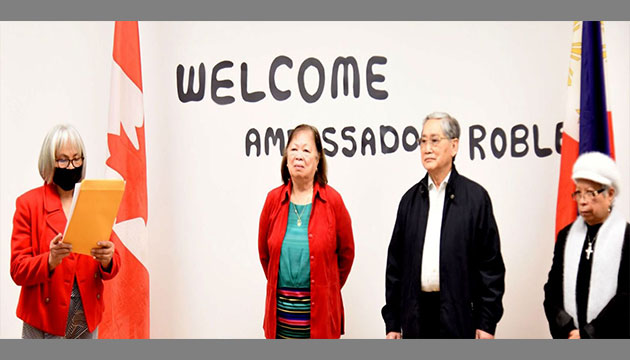 Ambassador Robles is flanked by Leonor Santos (left) and Norma Duy (right), two long-time Bayanihan Community Centre volunteers and board members being recognized by Bayanihan Cultural and Housing Society President Dominga Passmore. Photo by Sid Emmanuel.
Robles is a member of the Joint Commission on Bilateral Cooperation (JCBC), a body focused on improving Philippine-Canadian relations politically, economically, and socially. "The Philippines is a key partner of Canada by virtue of the large number of immigrants that come to Canada from the Philippines," stressed Attorney Francisco Noel Fernandez, Deputy Chief of Mission for the Philippine Embassy in Canada. Fernandez notes that Project CRC will also be a bonus to Canada because of critical staffing shortages in nursing and other professions in the country.
As a significant first step, Project CRC has issued an informative guide for Filipino nurses wanting to work in Canada. The guide may be accessed athttps://d7e978e6-bacf-4c66-bf52-99d54ea2b354.filesusr.com/ugd/5b0ec5_1fa43c31955a453a9f064035490cff77.pdf
Ambassador Robles, Mrs. Nora Robles and Deputy Chief of Mission Fernandez were accompanied by Philippine Consul General for Vancouver Maria Andrelita Austria, Attache Rodel Bendicio, and Ryan Macas, Consular Assistant. They were welcomed to Victoria by Agnes Miranda Myhre, President of the VFCA; Dominga Passmore, President of the Bayanihan Cultural and Housing Society (BCHS); Annette Beech, President of the Victoria Filipino-Canadian Caregivers Association (VFCCA), and BCHS Board Members Laila Pires, Sid Emmanuel and Nathi Orticio, as well as Bayanihan staff member Jean Penola and businessman Mike Gonzalez. Also on hand to welcome Ambassador and Mrs. Robles were retired Philippine Honorary Consul for Edmonton Esmeralda Agbulos and Mr. Virgilio Agbulos, who now reside in Victoria.
The Ambassador did the honors of presenting certificates of recognition to two long-time BCHS board members Norma Duy and Leonor Santos who are retiring from their volunteer duties at the Bayanihan Community Centre.
The gathering was also an occasion for Austria to highlight recent improvements in online and in-person services at the Consulate in Vancouver, and increased outreach visits to Filipino communities in British Columbia. She lauded the work and dedication of the VFCA, the BCHS, the VFCA and the Victoria Filipino-Canadian Seniors' Association in keeping the spirit of "bayanihan" alive and in fostering pride in Philippine cultural values and heritage.
---