The Tagalog word sayang (roughly translated into "what a waste") carries with it a myriad of Filipino cultural attributes to which perhaps only citizens of poor countries can relate. Indeed, fried rice is our solution to using days-old cooked ice. Even kaninglamig (cold rice) connotes not just leftover rice but the thought of not throwing away a single grain of rice.
Filipino Canadian entrepreneur Danison Buan channeled this deeply embedded trait when he created ReFood, a charitable organization that diverts "not-so-pretty" but viable food away from landfills and into the homes of those that need healthy meals.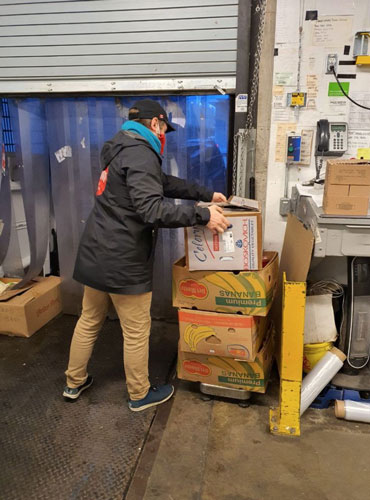 ReFood volunteer packs boxes of food onto a delivery truck on its way to beneficiaries.
While a student at BC's Simon Fraser University (SFU) in 2015, Buan participated in an entrepreneurship challenge sponsored by New Westminster's River Market ONE Prize. His idea of managing food waste while tackling issues of food insecurity and educating the youth on food wastage and insecurity won Buan the top prize with a small reward which he used to build on the ReFood idea. The following year, ReFood gained official charity status.
Over five years since and ReFood still operates on those basic premises. In an interview with SFU's The Peak, Buan expressed his philosophy on hunger: "Life is so short that one has to do what can be now, and not wait…one person can make a difference."
ReFood volunteers assume one or two from a variety of roles like food checking, pick up, logistics, information gathering from families, creating a healthy food policy, increasing food capacity and managing social media and public relations.
The pandemic and the consequent job losses further magnified the need to be smart about food. In a report by Food Banks Canada, more than half of food banks across the country noted an increase in food bank recipients, with a quarter of those seeing increases of greater than 25 percent. According to a report by the Toronto agency Second Harvest Food Rescue, almost 60 percent of food produced in Canada (about 35.5 million metric tonnes) is lost and wasted annually.
Prior to the pandemic, ReFood's membership consisted mainly of members in the marketing and logistic fields. Finding the need to expand its operations to address the worsened food insecurity in the time of the pandemic, Buan expanded ReFood's operations to provide support for more people more efficiently and effectively. Seven projects were created in 2020 to meet these needs: ReFood Food Truck, ReFood Farm, Filipino food bank, First Nations food bank, ReFood Bali and Social Enterprise. These projects partner with communities and other organizations.
ReFood recently partnered with One Filipino Co-operative of BC to identify Filipino families who are food insecure and facilitate distribution to them. Local charities like the Union Gospel Mission and the Dixon Transition Society benefit from ReFood as well as refugees, low-income seniors, single parents and shelter patrons.
In an exclusive with Canadian Filipino Net (CFNet), ReFood described how the food distribution system has evolved from volunteers going into a partner store to pick out items to a more systematic and efficient process where the stores set aside food items for ReFood and contact ReFood for a quick pick up.
With an initial goal of 10,000 meals a day in 2016, ReFood shared with CFNet: "Currently, the food that is being redirected from landfills is producing close to 14,000 meals per day in the Lower Mainland." The charity also continues to grow its membership, starting with 15 members in 2019 to 70 current members and counting.
---