Celebrating is a huge part of our Filipino identity. The start of Christmas observance alone in the "ber" months starting in September long before Advent Season and ending in the second Sunday of January – a total of four and a half months – is proof positive of this celebratory culture.
The last two years of Canadian Filipino Net (CFNet) featured people, places and events that celebrate being Filipino in this adoptive land we call home.
Here is a sampling of why #IAmCanadianFilipino is something we can always be proud of.
Agency with heart – AV Communications
In May of this year, CFNet contributor Jo Flach introduced this little agency that can, in her article AV Communications: Multiculturalism at its core – an agency with heart. AV Communications, led by Filipinos Marvi Yap and Anna Maramba, "translate" to their multicultural clients the North American nuances of the English language. Yap and Maramba took the oft-repeated immigrant story of starting out in part-time, menial jobs to the "aha!" moment in a Toronto subway where the expression "break the bank" led them to establish a full-service advertising agency that has garnered numerous awards and is continuing to do so.
Recently, AV Communications' social media advocacy #DearCanada was shortlisted for the famous Shorty Social Good Awards, Immigration and Refugees category. The Shorty Social Good is an awards program created to raise global awareness around the positive impact brands, agencies and non-profits can have on society. Say Yap and Maramba, "Just being nominated is already an honour and a testament that the work we produced is of excellent value (as) agencies from around the world, big or small, most of them being multinational participate to vie for recognition."
Wounded warrior and trailblazer Mike Fuentespina
When Canada hosted the Invictus Games in 2017, CFNet discovered wounded warrior Mike Fuentespina whose proud Filipino roots can be found in Filipino naval history. While his feature story was still being drafted, Fuentespina was promoted to Chief Warrant Officer, the most senior non-commissioned officer rank in the Canadian Armed Forces. For its 2017 Remembrance Day edition, CFNettold Fuentespina's story in A Canadian Filipino's Road to the Invictus Games.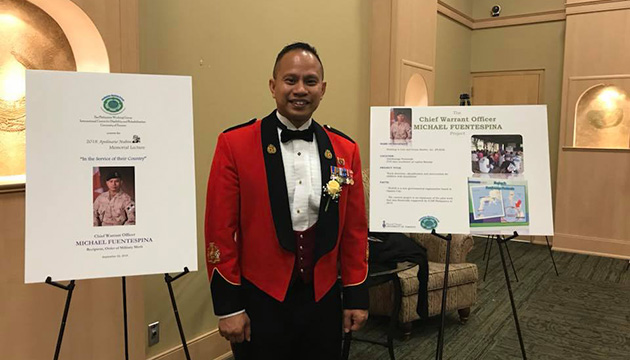 In September this year, Fuentespina was keynote speaker for the Philippine Working Group's Mabini lecture at the International Centre for Disability and Rehabilitation gala event in Toronto. Subsequently, the Philippine Embassy of Canada feted his accomplishments by naming a charitable project based in Ozamiz City in the Philippines after him. The Michael Fuentespina Project goals are the early detection, identification and intervention for children with disabilities. Just recently, Fuentespina was invited to captain the Canadian team for a charitable bike race from October 25 to November 25 in New Zealand.
The hollow flashlight by the great Andini
Five years ago, when audiences around the world saw then 15-year old Ann Makosinski demonstrate her invention hollow flashlight on TV, there was an almost audible collective "aww" towards this young lady who also just happens to be a scientific genius. And yes, there was no stopping Makosinski from then on. CFNet told her story in late 2017 in The Girl Next Door is a Young Scientist.
Since then, Makosinski has been touring Canada and the world (Argentina, Saudi Arabia, the UK and the US to name a few), giving talks and inspiring young girls like her to pursue their dreams no matter what. A global influencer using the handle "Andini" on Twitter and Instagram, her latest passion is advocacy for women and girls in STEAM (science, technology, engineering, arts and math).
Proud to be #IAmCanadianFilipino
And what a year it was, literally, for the Canadian Filipino. What started out as small groups advocating for recognition of Filipinos' contribution to Canadian society in stories like Edmonton arts group launches petition for Alberta declaration of Filipino Heritage Month led to cities and provinces declaring June as Filipino heritage month in Parliament to tackle motion declaring June as Filipino Heritage Month across Canada and Alberta becomes first Canadian province to designate June as Philippine Heritage Month.
But the best piece of news came quietly towards the end of October when the House of Commons gave a unanimous national nod to the Filipino spirit – cementing the Canadian Filipino's rightful place in the Canadian historical landscape in Canada declares June as Filipino Heritage Month
---
---