Community Art Space. Three innocuous words that when put together acquire several meanings to artists everywhere – a school of art, a gallery, a creative sanctum. This is what Art Centrum is all about.
Art Centrum was initially conceptualized by four college friends from the University of the Philippines, who are based in Canada and the Philippines with backgrounds in art, advertising, mass communications and multi-media events management. The team thought about offering creative spaces for artists, a venue for learning dedicated to providing competent, professional instruction in art with an eye towards a personalized approach to each client and their needs.
Managing Art Centrum is Danvic Briones, a mixed media artist, graphic designer, art teacher, innovator and social worker. Also a member of the Federation of Canadian Artists, Briones uses visual narratives and visual aids to teach life skills, literacy and essential skills to non-English speaking clientele.
"While my colleague speaks, I draw. I don't speak any Chinese or Middle Eastern language but our clients and colleagues look at what I draw and their eyes light up. It just proves art is a universal language," he says.
According to Briones, "The combination of art making, art teaching, marketing and branding, community building and social work has made this endeavor quite unique. It is a safe, positive venue for individuals and communities who hunger for free expression, free discussion and accessible learning. It is an exciting venue because it has the community in mind. It is accessible, relatable and timely. With its colours and expression, it is 'social media come alive'."
Based in Richmond, B.C., Art Centrum reconfigures its space from displaying powerful images on canvas to quiet spaces for creative reading or musical renditions and even some forms of dance, making it a true venue for free expression.
"My partners and I envision a salon or a tambayan – a venue where talent is showcased and nurtured, where artists and non-artists can feel they can create, mingle, observe, be passionate and be engaged – or not. There is no judgment in Art Centrum, only encouragement, and discourse – a lot of good discourse, and laughter, of course."
Art Centrum has workshops every weekend ranging from classes on visual perception, figure drawing, watercolor on canvas and a philosophical take on the Art of Living through "Self Care".A seminar and events venue, it will also hold movie, music and book appreciation nights for film, music and literary aficionados.
"We might just have an informal piano night singing the songs from Sound of Music, or watching Barbra Streisand, or reading from Eleanor Guerrero-Campbell's novel 'Stumbling Through Paradise," Briones adds.
With its network of artistic professionals in all fields – art, music, philosophy, digital art, movies, photography and videography – Art Centrum aims to be home to every kind of artist and art enthusiast.
For more info: www.artcentrum.space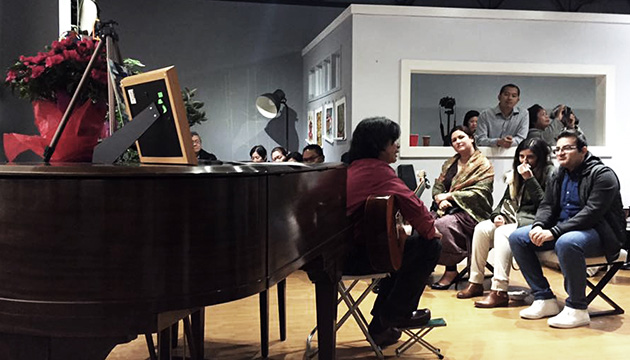 ---